Top 12 Most Downloaded Apps In 2022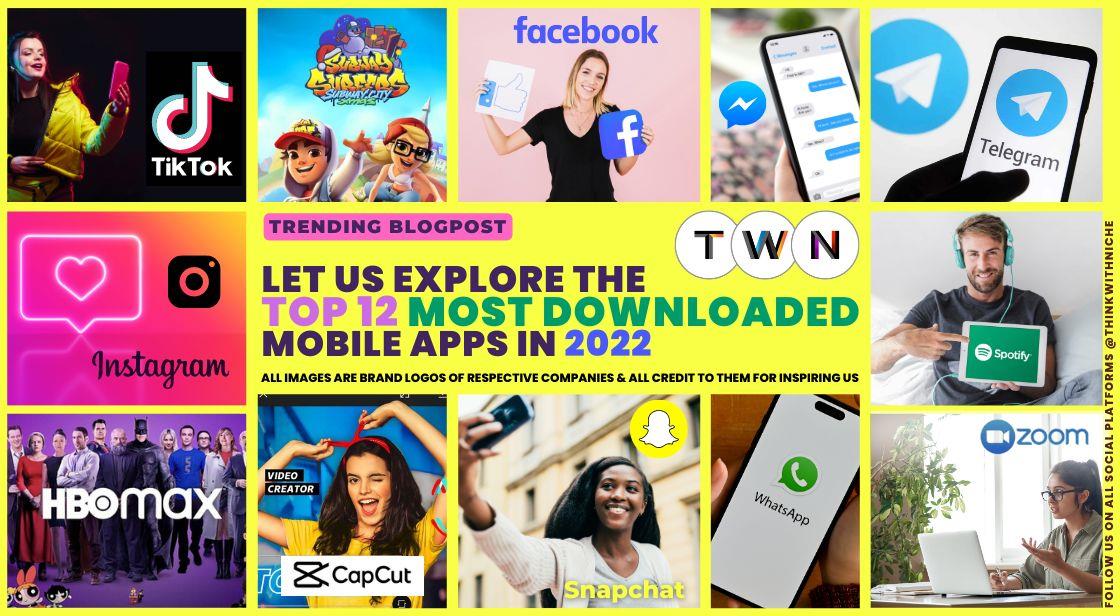 It's hard to keep up with all of the new mobile apps that are released every day. It can be difficult to pick the best one, so if you intend to develop your own app, look at the most widely used ones to get an idea of what goods are the most successful on the market.
Mobile apps are now an essential component of many people's daily life, whether they're offering a service like ride-sharing or simply serving as a source of entertainment.
Spending on apps for things like premium access, in-app purchases, and subscriptions increased by 30% from the previous year to $111 billion in 2020.
The majority of the world's COVID-19 limits are being relaxed, but app spending isn't going to slow down any time soon. Spending is anticipated to increase to $270 billion by 2025.
The Top 12 Most Downloaded Apps In 2022 across all stores and categories give a general idea of the direction that users were going. There was a sharp rise in app downloads and popularity in the months after the lockdown and shelter-at-home policies were implemented globally.
Continue Reading..
What apps people are downloading is an important metric if you want to know what's going on in the world. Facebook experienced a more than 25% decline in 2022, TikTok continued to dominate, and CapCut, a formerly obscure video editing application, entered the top four most downloaded apps globally. It's hardly surprising that it's created by TikTok's parent firm and that influencers prefer to use it to make, you guessed it, TikTok videos.
The parent company of Facebook, Meta, can rejoice that WhatsApp, a formerly European-focused messaging app, has continued to grow both globally and in the United States even as Facebook app installations are down. Sadly, it's doing so at the expense of Meta's own Messenger app.
It is impressive that most app sectors were able to stay up with 2020 downloads in a year whereas some saw five years increase in a few months.
The top 12 most downloaded apps worldwide, according to estimations for Q2 2022, are listed here.
Top 12 Most Downloaded Apps in 2022
1. TikTok
For the eighth time in the previous ten quarters, TikTok continued to hold the top rank as the most downloaded app in Q2 2022. Only Zoom (Q2 2020) and Instagram (Q4 2021) have outperformed TikTok in a quarter since the year 2020 began. The pandemic-related global lockdown contributed to the increase as well. For many people, TikTok provides income in addition to being a source of entertainment.
Given that the app was banned in India as of June 2020, this achievement is remarkable. India accounted for 30% of TikTok's downloads before the ban.
TikTok use is prohibited in many nations, including those besides India. TikTok has been blocked many times in Pakistan because of concerns over "inappropriate" content. It's important to remember, though, that the restrictions in Pakistan were only in place for a short time before they were lifted, and that people there can now access the platform. TikTok once again demonstrated its supremacy in the category of highest-earning applications by leading the combined earnings list with approximately 55 million dollars in revenue.
Instagram, which is owned by Meta, was the most popular app in Asia in Q2 2022 for the fourth consecutive quarter, followed by Facebook. Instagram is the most widely used app in India, accounting for about 65% of all Instagram installs in Asia.
One of the most widely used apps and biggest social media networks is Instagram. There are roughly 1.4 billion users per month. It was introduced in 2010, and Facebook bought it two years later.
In order to engage the audience, several major brands often post content on this site using Instagram Lives, IGTV, and stories. Reels entered the market two years ago, and TikTok is now directly in competition with it.
The most widely used social networking app worldwide is Facebook. It is practically universally utilised for both social and professional communications. TikTok was dethroned from the top rank on Google Play in the United States by Facebook in Q2 2022.
Facebook is one of the most well-known apps, with 2.9 billion monthly active users and 416 million downloads in the last year. People can now communicate with long-lost pals and others they don't frequently run into.
Users can now connect with others who share their interests thanks to Facebook. Additionally, it has aided in corporate expansion, consumer acquisition, and advertising. With this app, you can achieve a lot.
To help in capturing and snipping moments, CapCut provides basic video editing features. Free in-app fonts, effects, and innovative features like stabilization, chroma key, smooth slow-motion, and keyframe animation have all been offered. CapCut achieved its biggest quarter on the App Store since Q4 2019 in Asia, surpassing 20 million downloads.
CapCut is a mobile application for iOS and Android smartphones that was created exclusively to enhance the basic video editing features of the well-known social media platform, TikTok. The app is promoted as a free TikTok editing app and is free to download. Similar capabilities in CapCut for iOS and Android let you edit your TikTok movies with things like filters, stickers, speed adjustments, background music, effects, and more. To make your TikTok movies look more polished and professional, it also includes editing options like split, reverse, and many others.
WhatsApp is one of the most well-known and commonly used messaging applications, having been downloaded more than 100 billion times. WhatsApp facilitates international phone network connection as well. In Europe, WhatsApp rose one position to take the third-most installed spot.
With the help of WhatsApp, you may chat, make audio or video calls, and send messages. Thus, there are no phone network fees associated with making international calls. Launched in 2009, Facebook acquired it in 2014. It has already reached the benchmark of 1.5 billion global users.
Social networking and messaging app Snapchat will rank sixth in popularity in 2022. It enables users to chat with other Snapchat users and send snaps in the form of images, videos, and emojis. As of April 2022, India had the largest global Snapchat user base, with 144.35 million users. The US came in second position with over 107 million Snapchat users. Parents may be concerned about their children's privacy because it is widely used by young people, particularly those under the age of 16.
Also Read: 12 Best Free Online Movie Streaming Apps To Checkout In 2023
In January 2021, Telegram surpassed 500 million active monthly users. It was the most downloaded app internationally in January 2021 with 1 billion downloads as of the end of August 2021. In June 2022, Telegram's monthly active users topped 700 million.
On April 23, 2006, Daniel Ek and Martin Lorentzon founded Spotify, a privately held Swedish supplier of media services including audio streaming. One of the largest providers of music streaming services, as of September 2022, it had over 456 million monthly active users, including 195 million paid members.
Due to the pandemic, practically all firms now operate remotely. Despite becoming commonplace, video conferencing was still utilized by many businesses. More than 300 million people participated daily in April 2020, and in January 2021, it had been downloaded more than 38 million times.
It has been a very helpful app for people to stay in touch with family and friends during the pandemic.
For holding meetings, classes, or even just casual video conversations with family, Zoom is a really helpful application. A sizable crowd can be added to the gathering.
Messenger, a proprietary instant messaging application developed by Meta Platforms that allows users to send messages, exchange files, photos, videos, stickers, audio files, and other types of data, is ranked seventh among the most downloaded apps in 2022. In addition to interacting with bots, users can reply to messages sent by other users. Voice and video calls are also supported by the service.
HBO Max is the app you'll adore if you enjoy watching outstanding TV series and films. With the most watched shows and exclusive programming, it has over 10,000 hours of entertainment. You can either download the app or access it using a web browser. By downloading them, you can also watch movies and TV series without a connection. You will never get bored with HBO Max. You can watch a limitless number of movies, TV shows, documentaries, and other types of material online. Alternatively, you may download them and view them on the go.
Kiloo created the incredible website and mobile game app known as Subway Surfers for single-player play. To outrun a railway inspector is to win the game. You will need to avoid approaching trains and navigate obstacles while doing that. Coins can be gathered along the journey to receive a variety of benefits. It is fairly comparable to Temple Run but is easier to operate.
One of the most downloaded apps is Subway Surfer. If you enjoy playing frequently, mobility, and by yourself. There are many missions with diverse tasks, and you can make use of various features.
Conclusion
As a result, these are some of the most downloaded apps that are also on the list of the most downloaded apps. There are numerous other apps that users adore having because of their usefulness or unique features. You can download any programme on this list that you haven't tested to see whether it appeals to you.
You May Like
Lifestyle and Entertainment

Lifestyle and Entertainment

Lifestyle and Entertainment

Lifestyle and Entertainment