Three Reasons Why Blackberry Failed In The Smartphones Business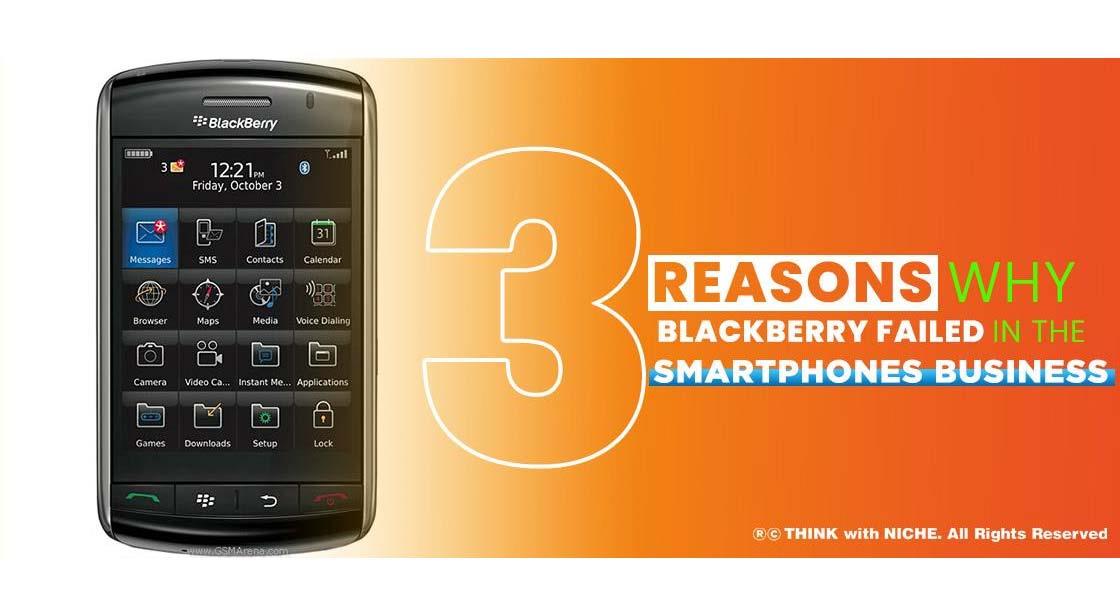 There is a memory of the days when business people were glued to their blackberries. In the early 2000s, Blackberry established itself as the exclusive brand of wealthy professionals, representing high prestige and a steadfast dedication to protecting its users' privacy.
One starts to wonder if there are any hopes for the tech giant to come back as the new decade gets underway. Is it still used by the more affluent classes, who are known for accumulating cutting-edge technology? What specifically caused this failure that disappointed customers around the world? BlackBerry's demise has been equally spectacular on a global scale. According to Gartner, only 210,000 devices running its operating system were sold in the fourth quarter of 2016. That was a significant improvement over Q4 2015, which saw fewer than 907,000 devices sold and a 0.2 percent market share. Here in this blog, we will discuss Three Reasons Why Blackberry Failed In The Smartphones Business.
Continue Reading..
In the smartphone industry, it used to be difficult to look past BlackBerry. Its supremacy in this sector was undeniable at the start of the decade, but things quickly altered.BlackBerry has almost completely vanished from the smartphone landscape today. Even when the iPhone gained ground, BlackBerry introduced its BlackBerry Messenger (BBM) platform to the App Store, some couldn't save hope.
Blackberry originally began as Research in Motion with a distinct name and purpose. The business, which was established in March 1984, initially focused on creating connectivity and data technology products.
The business noticed a growing desire to develop tools to support wireless connectivity. Thus, it started developing an Intel wireless modem with RIM modem Firmware in 1993. Being a private company, RIM quickly sought out a private placement to raise money. RIM received pre-IPO financing worth a total of $30,000,000 due to an investment from a Canadian business. The Inter@ctive Pager 900 was released by the firm in 1996 after it had switched its focus to developing pagers.
Those who are unaware of the initial success that Blackberry experienced saw it as a failing company that failed to pay attention to its competitors. However, Blackberry's early success was substantial enough for them to turn away from its competitors.
In 1999, Blackberry launched its first phone and grabbed the business community. Blackberry used to be seen as completely insane, but it later evolved into a symbol of social class. It was difficult to run into a Blackberry user. And if you do, you'll learn that he's a politician, industrialist, etc.
BlackBerry launched two additional devices in 2002 RIM 850 and RIM 857. At the time, using certain services like emails, internet faxing, etc. required a desktop. But with the introduction of these gadgets, customers could use them on their mobile devices.
The first company to offer push email on its phones was BlackBerry.
The company reached its height in 2013 when there were approximately 85 million BlackBerry users worldwide. Although some might disagree, Blackberry entered the smartphone industry first and had access to approximately 50% of the market in the US.

BlackBerry has sunk even deeper into the abyss in the United Kingdom since the end of 2013. According to the same survey, BlackBerry handsets now account for only 0.01 percent of the UK smartphone market as of May 2021. The fall from grace of BlackBerry was stunning, and it didn't happen overnight. Failures of this nature are usually the culmination of years of poor decisions. Three possible contributors are listed below.
Failure To Adapt- BlackBerry's ingenuity kept us all on our toes at its heyday. BBM revolutionized instant messaging, and its devices aided in the transformation of cellphones into portable minicomputers. BlackBerry, however, eventually succumbed to its own obstinacy. One of the most prominent examples is the touch screen's lack of innovation. In the early 2010s, many customers preferred to use their keyboards, which is one of the reasons the BlackBerry Storm was a flop.
The failure of the Storm may have influenced BlackBerry's future phone decisions. Unfortunately for them, customers were ready to adopt touchscreen technology by the time Apple and Samsung's gadgets became more ubiquitous. BlackBerry's demise could also be attributed to its failure to adapt in other areas, such as its camera. As we can see today, many smartphones feature cameras that are capable of competing with DSLR and mirrorless cameras.
Ignoring Its Competition And Losing The Core Market- Another explanation for BlackBerry's precipitous fall from favor is that it didn't pay enough attention to business-oriented BlackBerry phones. As a result, the iPhone was not seen as direct competition. The intention of BlackBerry to cater to corporate users was clear in the design of its devices. You could read emails, send instant messages, make phone calls, and browse the web, but you couldn't do nearly as much as the first iPhones allowed.
The other smartphone behemoths, on the other hand, looked to the everyday customer for the smartphone's future. Their devices were about convenience and accessibility, two things that, ironically, big-company employees also want from their smartphones. Consumer-oriented phones got more common in professional situations as time went on. They could also perform all of the functions that BlackBerry smartphones could, plus some. In the end, the only option was to go down.
The BlackBerry Operating System- Another reason for BlackBerry's demise was its steadfastness in sticking to its operating system, despite its shortcomings. When compared to Apple and Android devices, one drawback with BlackBerry's early OS versions was the limited number of apps available for download. With these technologies, you could and still can acquire pretty much anything you need on your smartphone. While BlackBerry ultimately let more popular programs into its app store, the damage had already been done. For a variety of reasons, BlackBerry consumers detested accessing its app store. For starters, it wasn't user-friendly, and the app layouts hampered the user experience.
Conclusion- BlackBerry, despite its spectacular demise, taught us a lot about business and creativity. While one could argue that Apple, Google, Samsung, and others had a superior long-term view of how the market would grow, the company's demise was largely due to its own actions. BlackBerry is unlikely to reclaim its previous position of dominance. However, its 5G device may turn a few heads—or at the very least demonstrate that it has learned from past blunders.
You May Like