The Three Basic Mantras Of Real Estate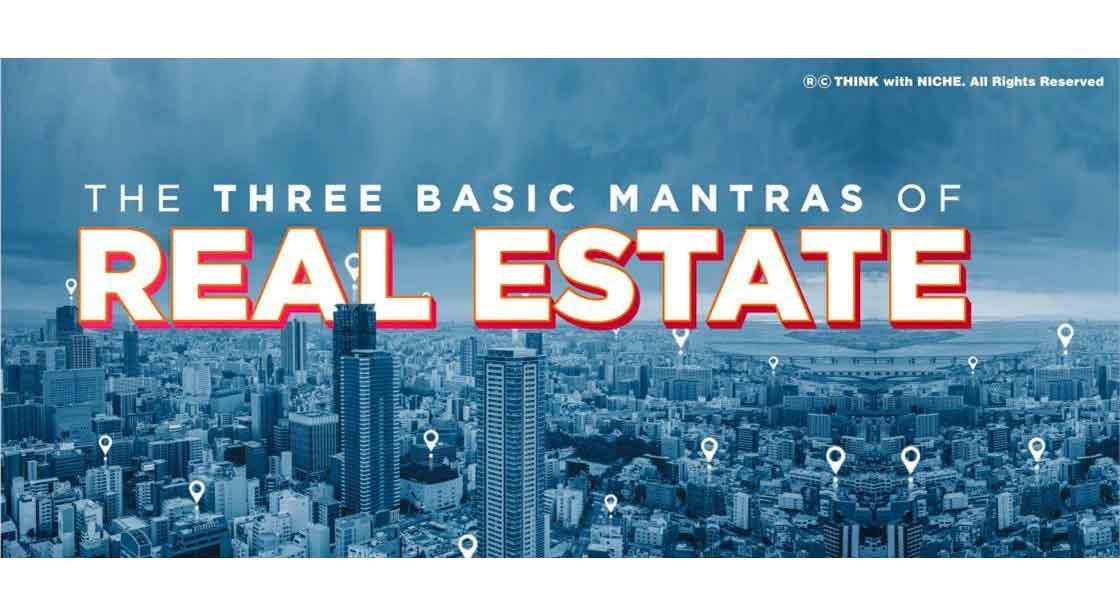 The real estate sector is one of the most globally known sectors. It comprises of four sub-sectors - housing, retail, hospitality, and commercial. The rise of this sector is well-complimented by the growth in the corporate environment and the demand for office space as well as urban and semi-urban accommodation. The construction industry ranks third among the 14 key sectors in terms of direct, indirect, and induced effects in all sectors of the economy.
In India, the real estate sector is the second-highest employment generator, after the agriculture sector. It is also projected that this industry will entail more non-resident Indian (NRI) investment, both in the short term and the long term. Bengaluru is likely to be the most desired property investment destination for NRIs, followed by Ahmedabad, Pune, Chennai, Goa, Delhi, and Dehradun. In India, after the agricultural sector, the real estate sector is the second-most significant employment.
So if you are interested in this sector this blog post will provide you with an overview of the real state scenario in India as well as three basic mantras of real estate.
Continue Reading..
After the primary sector and agriculture, the real estate market in India is one of the largest in the world. These industries contribute between 6.5 and 7%, and they are a significant source of employment for the unorganized sector of the Indian labour market.
This industry benefited greatly from the post-liberalization era when India became a sought-after destination for foreign direct investment, numerous big ventures were starting up every day, and middle-class earnings in India experienced a rapid rise. Since the 1990s, it has experienced significant growth, and Indian metropolises like Chennai, Mumbai, Delhi, and Kolkata have seen a surge in the real sector.
As soon as a new government took office at the center in 2014, the sector experienced one surprise after another with the introduction of the Real Estate Regulatory Authority (RERA), the Goods and Services Tax (GST), demonetization, the act against benami property, and the insolvency code. After demonetization, RERA, and GST, not only have new project launches in the residential real estate sector decreased significantly but so have housing sales.
An overview of the Real State scenario in India
Market Size of Real Estate in India
By 2040, real estate market would expand to Rs. 65,000 crore (US$ 9.30 billion) from Rs. 12,000 crore (US$ 1.72 billion) in 2019. The real estate sector in India is predicted to reach US$ 1 trillion in market size by 2030, up from US$ 200 billion in 2021 and contribute 13% to the country's GDP by 2025. Retail, hospitality, and commercial real estate are also increasing considerably, providing the much-needed infrastructure for India's growing requirements.
India's real estate market saw over 1,700 acres of land deals in the top 7 cities in 1 year. Foreign investments in the commercial real estate sector were at US$ 10.3 billion over 2017-21. As of February 2022, Developers expect demand for office spaces in SEZs to spike up after the replacement of the present SEZs act.
As per Investment Information and Credit Rating Agency ICRA forecasts, Indian enterprises are likely to raise >Rs. 3.5 trillion (US$ 48 billion) through infrastructure and real estate investment trusts in 2022, as compared with raised funds worth US$ 29 billion to date.
The office market in the top eight cities recorded sales of 22.2 msf from July 2020 to December 2020, but new completions were recorded at 17.2 msf in the same period. In terms of the percentage of sectoral occupiers, Information Technology (IT/ITeS) sector dominated with a 41% share in the second half of 2020, followed by BSFI and Manufacturing sectors with 16% each, while Other Services and Co-working sectors recorded 17% and 10%, respectively.
Around 40 million square feet were delivered in India in 2021. It is projected that the country will have a 40% market share in the next 2-3 years. India is anticipated to deliver 46 million square feet in 2022.
According to Savills India, real estate demand for data centers is estimated to expand by 15-18 million sq. ft. by 2025.
According to the Economic Times Housing Finance Summit, about 3 houses are built per 1,000 people each year compared with the desired construction rate of five units per 1,000 population. The present scarcity of housing in metropolitan areas is projected to be ~10 million units. An extra 25 million units of affordable housing are required by 2030 to match the rise in the country's urban population.
Government Initiatives in Real Estate
The government of India together with the governments of various States has taken several measures to stimulate development in the sector. The Smart City Project, with an ambition to develop 100 smart cities, is a fantastic opportunity for real estate companies. Below are some of the other notable Government initiatives:
In October 2021, the RBI announced holding the benchmark interest rate steady at 4%, offering a substantial boost to the real estate sector in the country. The low house loan interest rates regime is predicted to fuel the housing demand and raise sales by 35-40% in the Christmas season in 2021.

Under Union Budget 2021-22, tax deductions up to Rs. 1.5 lakh (US$ 2069.89) on interest on housing loans, and tax holidays for affordable housing projects have been extended until the end of fiscal 2021-22.
The Atmanirbhar Bharat 3.0 package announced by Finance Minister Mrs. Nirmala Sitharaman in November 2020 included income tax relief measures for real estate developers and homebuyers for primary purchase/sale of residential units of value (up to Rs. 2 crores (US$ 271,450.60) from November 12, 2020, to June 30, 2021).

In order to revitalize about 1,600 delayed housing projects across prominent cities in the country, the Union Cabinet has approved the setting up of Rs. 25,000 crores (US$ 3.58 billion) alternative investment fund (AIF) (AIF).

The government has launched an Affordable Housing Fund (AHF) under the National Housing Bank (NHB) with an initial corpus of Rs. 10,000 crores (US$ 1.43 billion) utilizing priority sector lending shortfall of banks/financial institutions for microfinancing of the HFCs.

As of January 31, 2021, India formally sanctioned 425 SEZs, of which 265 were currently active. Most special economic zones (SEZs) are in the IT/ BPM sector.
The Securities and Exchange Board of India (SEBI) has given its clearance for the Real Estate Investment Trust (REIT) platform, which will allow any kind of investors to invest in the Indian real estate market. It will offer an opportunity worth Rs. 1.25 trillion (US$ 19.65 billion) in the Indian market in the coming years.
Responding to an increasingly well-informed consumer base and bearing in mind the element of globalization, Indian real estate developers have altered gears and embraced fresh challenges. The most notable change has been the move from family-owned businesses to that professionally managed ones. Real estate developers, in addressing the increased requirement for managing many projects across cities, are also investing in centralized systems for the source material and organizing manpower and engaging qualified professionals in areas like project management, architecture, and engineering.
A real estate marketing plan can help your company gain a stronger market presence and build long-term connections with stakeholders. Here are the steps to follow if you want to create a real estate marketing strategy that is well-thought-out, thorough, and likely to be successful.
1. Soft Skills Can Make You "THE KING"
You must have heard the famous quote: "You are what you think." Well, in business it converts into something like this: "You are what you speak, you are what you represent." In the field of real estate, people skills or soft skills are very important. It is the deciding factor that you concretes the deal being made. When you dive into this ocean of wealth, your words and the power to deal with emotions are what you are asked for. Your words are what make the conversation come alive.
If you do your research, you'll notice that these real estate personalities are always upbeat and joyful, and conversing with them makes you feel better and lighter. It's all a game of words and presentation; the greater your ability to strike up a discussion, establish common ground and steer the topic toward your profits, the better you'll be as a real estate agent.
2. Network
Entering the real estate market is similar to weaving a net in which even the most distant links are related to one another and eventually meet in the middle. Now, you are the center, and the web is what you must construct. In layman's terms, creating this web is referred to as networking. This simply implies that you must use your soft talents to make connections with everyone around you on a regular basis.
This does not imply that you must call all of the high-profile individuals to improve your relationship.No, it is not always the case. While it is true that high-profile contact is important, it is equally important to realize that these connections might be as insignificant as your friendship with your washerman. Each link, no matter how small or big, is important.
3. Referral
The method is similar to that of the second step, which was completed by the first. Once you've formed a network (Pause!, you may move on to the next step. A gentle reminder: networking is a never-ending activity; there is no such thing as a rigid network; it continues to grow.) You'll need to work your way through the conversation to connect the dots. What this simply means is the joining of relations and using them as a trustee to add ease and trust to a deal. These referrals not only work as your trust buddies but also help you speed up your process and reach.
You May Like