The Social Network 5 Lessons Entrepreneurs Can Take Away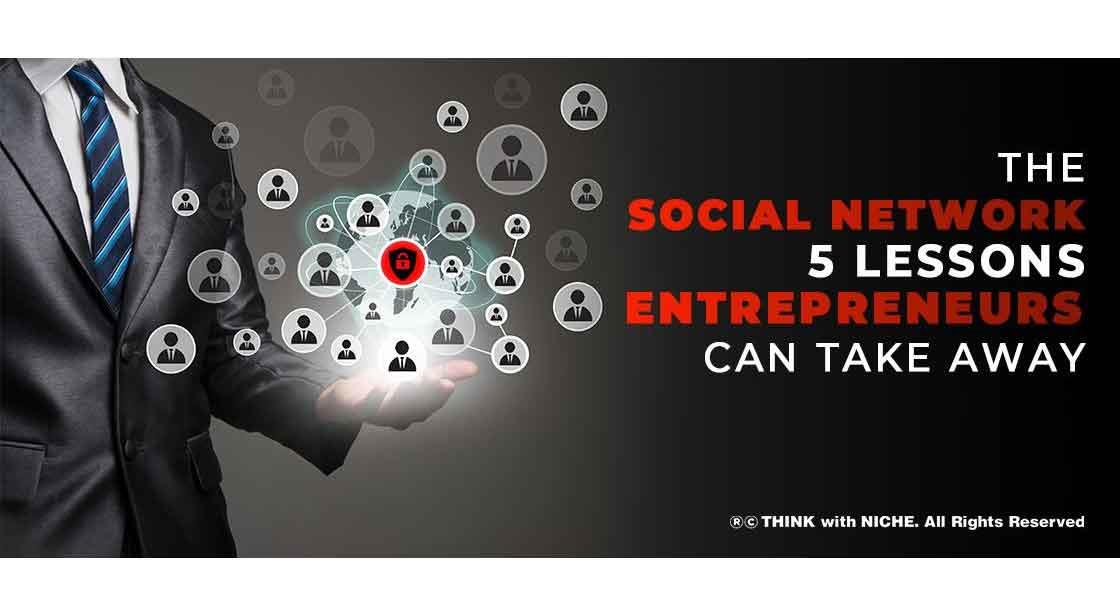 No one knows the full reality of what happened between Zuckerberg, the Winklevai, and Saverin, according to Aaron Sorkin, the writer of "The Social Network." However, the truth is revealed in the end result. Mark Zuckerberg had the chops, the confidence, the vision, and the discipline to make Facebook a reality. So, if you've had a brilliant idea, you should know that you're not alone. It's up to you to get to work on making it happen. Take a look at how quickly Zuckerberg designed and launched Facebook.#ThinkWithNiche
Continue Reading..
The following are some of the Entrepreneur's lessons that can be gleaned from "The Social Network."
1-Visualize success as your final result- One of the best aspects about "The Social Network" is that you know from the start that Zuckerberg's efforts would result in success. That provides the audience a fantastic perspective since we know that no matter what difficulties he faced, he eventually achieved accomplishment. This is a fantastic perspective to have on your life. Whatever difficulties you experience in life, remember that all will work out in the end, and you will be successful.It might work for idea one or 10,000, but the important thing is to think about success and know that's how your story will end if you want it to.

2-Figure out how to be service- Mark Zuckerberg's programming skills have little to do with Facebook's popularity and rapid development. He could have easily created a million other websites with his programming skills. However, the site he decided to create provided such a high level of value to the consumers that the product sold itself through the most powerful means available: word of mouth. Facebook brings us together. We can express ourselves on Facebook. It allows us to stay in touch with the rest of the world as well as our loved ones. Facebook can even assist us in finding a date. That is what it means to be of service. Figure out how your product can solve problems and be of value if you want to succeed in your business. This is the most important factor in your success. Everything else is really a minor detail.

3-When you have a great product, money finds you- When you make a terrific product that is both valuable and useful to your customers, they will tell their friends about it. Money will find you if you continue to give high levels of value while also improving the value you provide. Money will come from both your customers and your investors. Investors choose companies with a strong track record and compelling stories. Investors seek more than a concept these days, thanks to the Internet and the comparatively low prices and hurdles to entry into many enterprises. Consumers are unable to purchase ideas; they can only purchase tangible commodities and services. Concentrate on making the product as fantastic as possible, and it will sell itself.

4-Don't screw over your friends- The state of one's finances has an impact on one's behavior. Don't be like the rest of them. Prioritize your friendships over your finances. Friendships, on the other hand, are incalculably valuable. You don't want to be the one sitting on top of the money pile by yourself. Place a larger value on building strong relationships and a lower value on money. Amazing people and love have an immeasurable value. Don't take these vital resources for granted.
5-They make living worthwhile. Content and community first and revenue second- Zuckerberg's decision to forego marketing, in the beginning, has completely inspired me. One of the most important messages in the film is that if you have something cool, don't sell it too soon. Yes, we're all businesses seeking to make a profit, but Sean Parker's comparison of having a lot of small fish versus a lot of big fish is spot on. Consider the big picture and go for the big fish. Maintain your product's temperature. Produce the best possible content and build a large community of loyal customers and users. If you concentrate on that, the numbers will naturally increase. "Where traffic expands, income will follow," adds my partner Malcolm CasSelle. Prioritize content and community. Revenue will be generated.

Conclusion- Don't dismiss your thoughts. Develop a strong desire to make it happen right now. No one is exempt from the passage of time. Get to work, get to work. Focused and bold activity is respected by the cosmos. When you concentrate on one item at a time, you'll be astonished at how much progress you can achieve.
You May Like