The Most Expensive Perfumes for Women!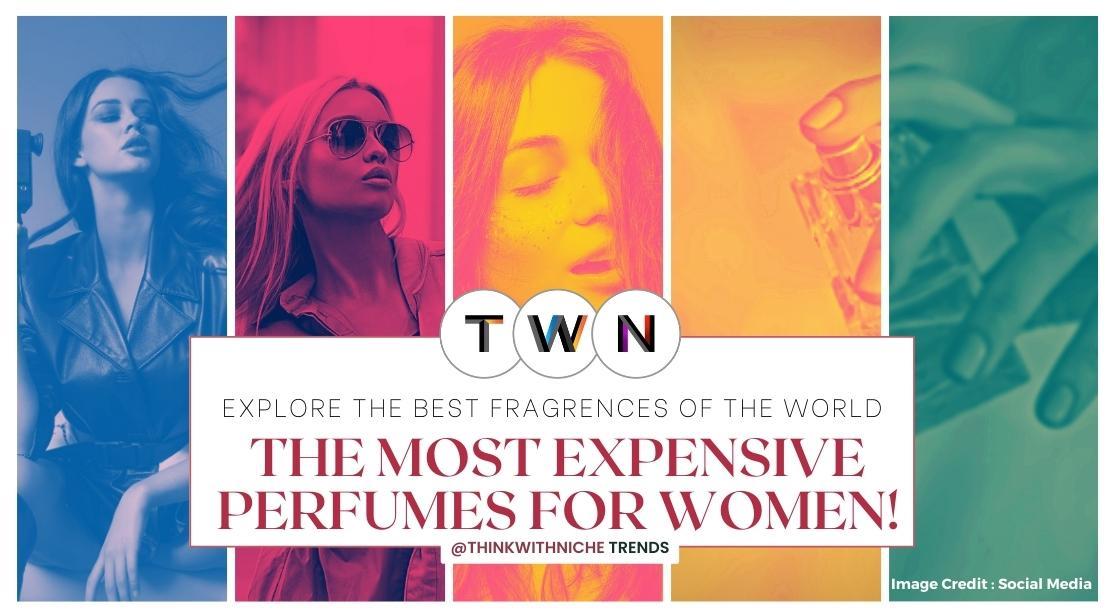 How much money are you willing to spend on luxury scents? There is a cost associated with purchasing an authentic and unique fragrance, but did you realize that costs can rise to as much as $1,000,000?
Most people would think it crazy to make such an investment, and this is an extreme case. But for those who can afford the most expensive perfumes, the quality and exclusivity of the item are the most important factors. Someone with money may purchase designer clothing or bags, just as they might lavishly scented fragrances as a luxury purchase.
Perfumes are not only pleasant fragrances, but they become a part of your identity. Therefore, it becomes essential that you pick up the right perfume. So, presenting here in this blog some of the most expensive perfumes for women! Select yours! #TWN
Continue Reading..
There is a saying in Dukes Avenue, "A Perfume heralds the arrival of a woman and prolongs her departure!" Indeed, perfume is just a beautiful fragrance, but it gets absorbed in your very being and becomes your identity! How many times do we see in movies that the suspect or murderer gets exposed to her perfume? A perfume not only neutralizes the body odor, but it helps you smell nice and fresh all day. It increases your confidence to go anywhere and socialize with people! It also helps in putting a good impression on people! So perfumes are never a luxury! They are the requirement of your personality. When we say the most expensive perfume brands, we do not mean a mad show of money, but we mean supreme quality!
The Goodness of Most Expensive Luxury Perfumes!
Luxury perfumes are not just the most expensive perfumes for women, but they are the perfumes with class! Their class manifests in the rare ingredients and their quality of lasting longer than the cheaper ones! It will help you smell even more marvelous than the rest! Plus, it is skin-friendly and soft! The most expensive perfume for ladies is also about your personal choice. If a specific perfume appeals to your senses, you would want to use it for life! In comparison, ordinary perfumes are alcohol-based and may not be that skin-friendly! Some of them also have an intoxicating smell! But some perfumes do have a soft fragrance! However, it all depends on your choice! If Hermes Paris suits your senses, why buy Revlon Charlie? So, let us check out the most expensive perfumes for women, in 2022.
Ummm! The glorious fragrance of Jasmine! You just get lost in it! Joy is an endearing creation of a famous Perfumer and French Fashion designer. Manufactured under the well-known brand Proctor & Gamble, the most expensive perfume for women is made of Bulgarian Roses and Jasmine flowers! It is one of the oldest masterpieces of Patou and dates back to 1929. Even today, this perfume costing $850 per ounce, is one of the most popular perfumes in the world! No wonder it enjoys the love of actresses like Audrey Hepburn and Jane Seymour!
Clive Christian is known for his kitchen designs. He designed these super sleek, beautiful bottled perfumes. The perfume is a tribute to a royal couple of Britain, Prince William and Catherine Middleton! It is dedicated to their world-famous wedding celebrations! The price of the perfume is $2150 per ounce. The crystal bottles are made for Him and Her and are titled W and C. With the enduring fragrance of Chinese Imperial Jasmine flowers and smoky black tea, the perfume lingers on for a long time!
Hermes! We know it as a famous purse brand! But little do we know that Hermes is also a world-class, most expensive perfume brand for women! Hermes 24 Faubourg is named after the brand's flagship store in Paris! The price is $1500 per ounce with just 1000 bottles released! The fragrance fills you up with blossoms of vanilla and orange.
Caron Poivre is one of the oldest houses of French Perfumes. Established in 1904, the fragrance of this perfume house refuses to vanish! It is one of the best expensive perfumes for ladies! It is a stunning bottle consisting of perfume made of Geranium, Sandalwood, Roses, and Spices! Pick up yours now!
The wonderful perfume range is the brainchild of an American Jeweler by the name of Joseph Arthur Rosenthal. He lives in Paris. This famous range of perfumes has an interesting title, The Bolt of Lightning! The perfume includes tuberose and floral ingredients! Elizabeth Taylor and Barbara Walters are some of the celebrities who take pride in wearing this $765 per ounce!
Shumukh – The Diamond-studded Falcon of Fragrance!
This grand perfume is designed by Asghar Adam Ali. It was unveiled in the Armani Ballroom at Burj Khalifa in Dubai. The ingredients include Indian Agarwood, Musk, Turkish Rose, and Sandalwood. The bottle is a work of art! It carries symbols of the heritage of UAE. It features a trio of gold Arabian thoroughbreds with three silver clamshells holding a rich pearl. It also has three marble pillars, and a diamond-studded falcon sits on the top of the dome. No wonder the cost of the perfume is 1.29 million.
DKNY Golden Delicious: The glittering Floral Woody Luxury!
This was the most expensive perfume until recently! This Golden Delicious perfume was designed for a charitable cause. All its earnings were donated to the cause - "Action against Hunger"! It costs $1 million, making it one of the most expensive perfumes for women. It took 1500 hours of intense hard work to design the fabulous bottle! The bottle has 2909 precious stones, 2700 diamonds, 183 yellow sapphires, four rose-cut diamonds, 15 diamonds from Australia, and many gems from Sri Lanka and Brazil! But it is the floral fragrance of Lily, Orchids, and Apple that takes your heart away!
Baccarat Les Larmes Sacrees de Thebes
Les Larmes and Baccarat first introduced this fragrance in 1998. The Les Larmes Sacrees de Thebes fragrance by Baccarat comes in a stunning pyramid-shaped crystal bottle. Amber, jasmine, sandalwood, musk, ylang-ylang, and myrrh are among the perfume's pricey constituents. The perfume, which costs over $6,800 per ounce and was made with inspiration from Egypt and King Tut's tomb. The rarest and most expensive of the three limited-edition Baccarat scents released in 1998 was Les Larmes Sacrees de Thebes.
Tom Ford Black Orchid Gold
With the intense Black Orchid Gold, you may stroll back into the era of old Hollywood drama, complete with velvet drapes and a touch of red matte lipstick. In this sensual and glitzy scent by Tom Ford, Black Orchid, Ylang Ylang, and its namesake Black Truffle proudly take center stage. The bottle is all-gold and begs for attention.
The forbidden fruit of the scent world is Black Orchid's dark and oriental notes, which include Black Plum, Patchouli, and Rum. This enhanced version of the traditional unisex fragrance is hypnotic and enticing and lasts forever on the skin.
Conclusion
Wow! The rich elegance of these perfumes makes you wonder - Are we in love with the fragrance or the bottle? They are much like a woman - a beautiful body, having the wonderful scent of virtues and talent! So why wait? Find your fragrance and take on the world with your charm! As the legendary actress, Elizabeth Taylor once said, "The beauty of a perfume is that it speaks to your heart and hopefully someone else's!" So, pick up the most expensive perfume for women, and let the magic of your perfume last forever!
You May Like
Lifestyle and Entertainment

Lifestyle and Entertainment

Lifestyle and Entertainment

Lifestyle and Entertainment