The World's Most Expensive Burger That Costs $6000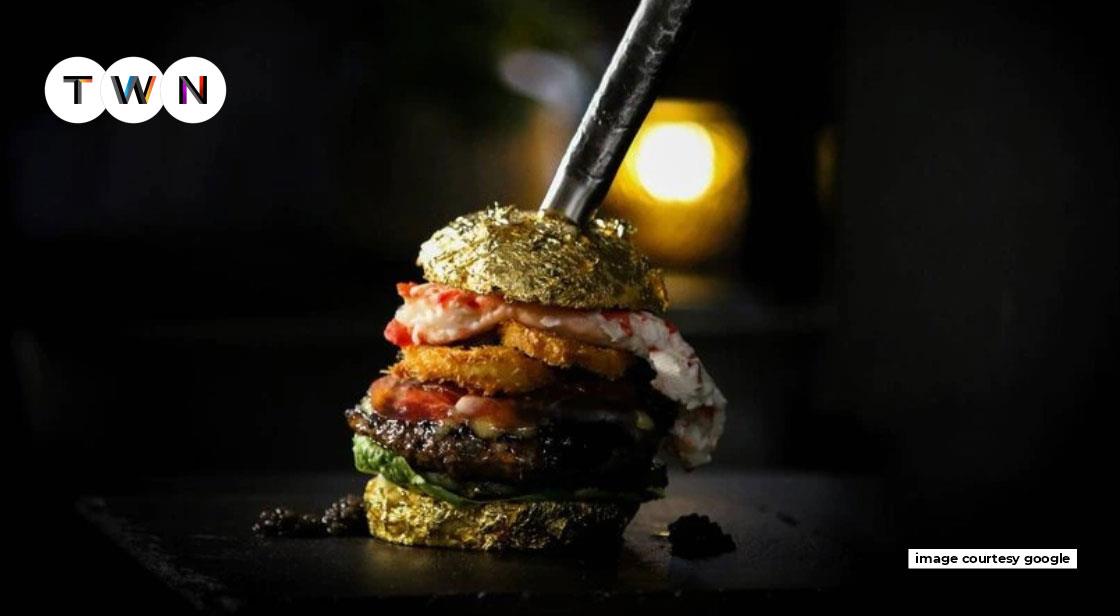 Over the last decade, there have been several pricey burgers, but none can match Jan de Veen's creation which stood proudly as the world's most expensive burger. What's the story behind its exorbitant price? Ingredients from throughout the world are among the most expensive. It all starts with the burger, which is produced of A5 Japanese Wagyu beef and chuck short ribs ground together. White truffles, Paleta Iberico Bellota ham, onion rings battered with Dom Perignon, Beluga caviar, and king crab are then added. All of this is sandwiched between two pieces of a saffron gold-leaf bun with some Dom. Even the condiments are high-end, as the "Golden Boy" comes with a barbecue sauce made with Kopi Luwak coffee and Macallan single malt whiskey. The flavor of the burger is described by De Daltons as "intense," and it's easy to see why. #TWN
Continue Reading..
Few foods hit the spot like a cheeseburger when you're searching for something affordable and filling to eat. Nonetheless, this hasn't stopped a slew of chefs from attempting to elevate the fast-food staple.
Robbert Jan de Veen, of De Daltons diner in Voorthuizen, Netherlands, is the most recent. The burger, dubbed "The Golden Boy" due to its gold-leaf bun, takes something that can still be found on McDonald's Dollar Menu and transforms it into a sumptuous monstrosity that costs more than an Omega Speedmaster.
According to today's conversion rates, the quoted price is €5,000, or just under $6,000. By a wide margin, it is the most expensive burger in the world. The word was once associated with a $5,000 burger served at Fleur at Las Vegas' Mandalay Bay Casino. However, that wagyu beef, foie gras, and black truffle shavings burger came with a bottle of Bordeaux's 1995 Chateau Petrus, which made up a large amount of the price.
The first "Golden Boy" was already sold for $6,000, which some may consider exorbitant. Most importantly, the proceeds will go to a local food bank, ensuring that the exorbitantly priced sandwich will feed a significant number of people.
Apart front the Golden Boy, there are other expensive burgers that deserve our attention.
So here is the list of the World's Most Expensive Burgers
4. The Burger – $186
The Burger is the culinary creation of the fast-food behemoth Burger King, which set out to make the world's most costly burger. It was the year 2008, and they had achieved their goal. The Burger lived up to its name and was only offered at the West London location of the eatery.
The main component was Wagyu steak, which was accented by white truffles, Spain's finest Pata Negra prosciutto, and Cristal champagne-infused onion tempura. All of these were served with saffron and truffle bread from Iran. The Burger costs a reasonable $186, but it missed out in the battle for the best burger.
3. The Indulgence Burger – $250
The Indulgence Burger, created by Beer & Buns of New York's Midtown's St. Giles Court Hotel, is a burger featuring unique ingredients that can't be found in any typical market or farm.
The main component is Kobe beef, which is topped with caviar, white truffles, pancetta, and foie gras, turning The Indulgence Burger into a delectable culinary excursion. The cost of such an adventure is a whopping $250.
2. Le Burger Extravagant – $295
Serendipity 3 in New York's newest culinary innovation is Le Burger Extravagant, a restaurant known for prior extravagances such as the world's most costly hotdog and sundae.
The Japanese Wagyu beef in Le Burger Extravagant is topped with white truffle butter, 18-month-aged cheddar cheese, shaved black truffles, a fried quail egg, and Kaluga caviar, creme fraiche, and herbs and smoked marine salt. The makers decided to add a diamond-encrusted gold toothpick to it to raise the price even further. What's the end result? $295 is a decent price.
The Absolutely Ridiculous Burger, created by Mallies Sports Grill & Bar in Michigan, is another parody of the same concept. It has 30 pounds of bacon, 30 pounds of tomatoes, 36 pounds of cheese, and 15 pounds of lettuce and weighs 338.6 pounds.
The massive burger can take up to 22 hours to prepare. It has a calorie count of 540,000, requires three strong guys to lift it, and we're not sure how many people will consume it. The burger is completely ludicrous, as the name implies, but it's on the menu, so anyone who wants to order it can.
It's entirely up to them what they do with it after that. And the guys don't deliver to people's homes. The cost of this monstrous burger is a staggering $1,999.
Conclusion
The previous title of the most expensive burger was given to a 777-pound burger created by a restaurant in Oregon, which restaurant owner Robbert Jan de Veen described as "certainly not for one person." "So I reasoned that I could do better." All proceeds from the sale of the first Golden Boy burger will go to a local food pantry.
You May Like