Speeches that left an Impact at COP26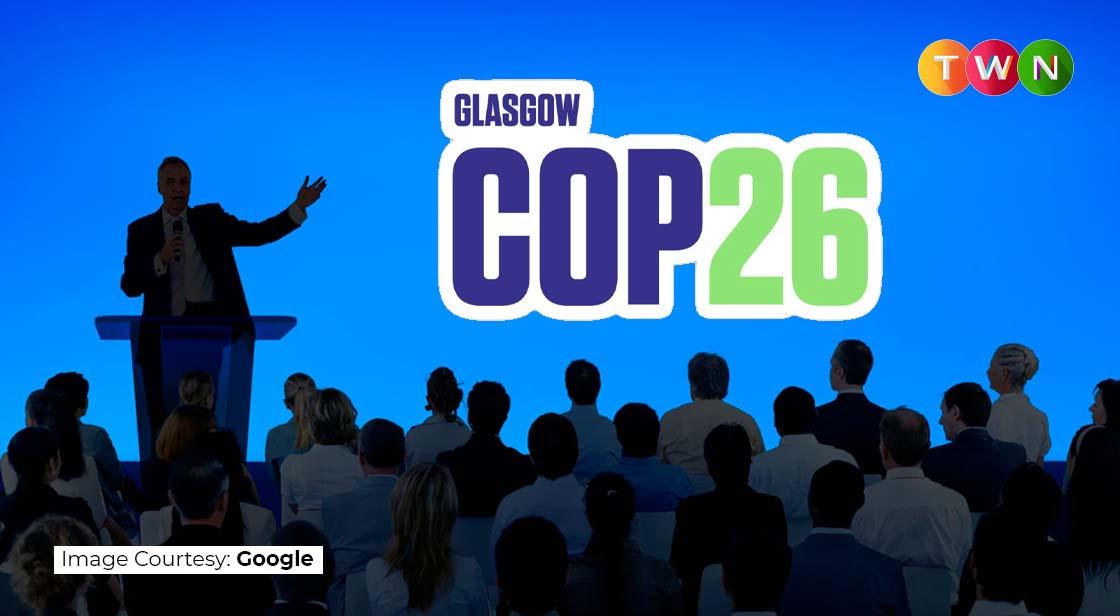 COP26 was successfully held at SEC Centre in Glasgow, Scotland, United Kingdom, from 31 October to 13 November 2021. During this summit, many negotiations were done and quite a lot of statements were made, but few of them left an impact on the listeners. We will take a look at a few of those speeches and by whom were they delivered. #TWN
Continue Reading..
To deal with climate change, the United Nations Framework Convention on Climate Change organized its 26th conference, which was attended by 198 countries. Many statements and speeches were delivered at the conference, but few of them grabbed a lot of attention and were considered to be the most impactful statements of all. We are gonna take a look at the statements that stood out at the conference because of their audacious and spectacular nature.
Statement of India's PM Narendra Modi
Narendra Modi is the 14th and current Prime Minister of India. Although he is the Prime Minister of India, he is recognized globally, and according to a survey, he is currently the most popular politician not only in India but in the world. He was also present at the COP26 and delivered some spectacular statements, he began his speech with a Sanskrit shloka. He said that India gave this mantra to the world "Sarvey Bhavantu Sukhinaha," which means the happiness of everyone. He quoted." Although India is 17% of the world's population, its contribution in the emission is just 5%." The promises made by him are as follows:
By 2030, India will increase its non-fossil fuel energy capacity to 500 Gigawatt.

By 2030, India will fulfill its 50% energy requirements by Renewable Energy Sources.

India will reduce its carbon emission by 1 billion tons.

By the year 2070, India will achieve the goal of Net-Zero.
He also demanded that all developed nations should provide a fund of 1 billion dollars for the Climate Finance budget.
Sir David Attenborough's Powerful Speech to Leaders
Sir David Frederick Attenborough is an English broadcaster, natural historian, and author. He is known for the BBC Natural History Unit, a nine natural history documentary series forming the Life collection, which included a comprehensive survey of animals and life on planet Earth.
At COP26, he delivered a powerful speech addressing the world leaders. He quoted, "Everything we achieved in the last 10,000 years was enabled by the stability during this time." He further quoted that due to the burning of fossil fuel and emission of carbon in the atmosphere, the stability we rely on is breaking. He said that we have together destabilized the planet, and we are powerful enough to re-stabilize it if we all work together.
Prince Charles of Wales
Prince Charles is the Prince of Wales and the eldest son of Queen Elizabeth. He is the oldest as well as the longest-serving apparent in British history.
As Queen Elizabeth was not able to attend the seminar due to her health issues, Prince Charles came as the representative of Great Britain. He stated that Climate change poses a greater existential threat to humanity than the Covid-19 Pandemic. He addressed the world leaders and stated that the eyes of hope are upon them and do not need to tell them the burden they are carrying on their shoulders. He further quotes, " We need trillions of dollars to reduce the emission produced by the industries." He urged and requested the leaders to find a practical way to come together and get down to work together to save the threatened future of our young people.
Former President of U.S.A. Barack Obama
Former and the most loved president of the United States of America, was also part of this summit and addressed the world leaders. He said that business leaders are rewarded for boosting short-term profits and not for addressing major social issues like climate change. He said that keeping the temperature rise to 1.5 degrees is difficult but, even in the past, by coming together we have achieved many difficult things in the past. He quotes, "Our planet has been wounded and that wound won't be healed today, tomorrow or, day after, but it can be healed eventually." He ended his speech by simply saying, "Let's get to work." He received a standing ovation from everyone present in the hall because of his expression and the impact he created with his speech.
US President Joe Biden
American politician Joe Biden is the 46th and current President of the United States. He is currently the 2nd most popular politician in the world. He has also served as a Vice-President of the United States from 2009 to 2017. Joe Biden was a representative of the United States at the summit. He began with a question, "Will we act? Will we do what's necessary? Or will we cause our future generations to suffer?" Joe further quoted that this is the decade that will decide the future of our generations. He also threw light upon the increased number of Forest Fires and said that increasing the use of clean energy is not just a moral imperative but also an economic imperative. He requested a generous investment in climate finance. He also announced Tax Benefits for the individuals who installed solar panels at their homes in the United States. He said that the production of clean energy will not only benefit the environment but will also generate a lot of income sources for the American citizens. He concluded his speech by quoting, " with every day we delay the cost of the action increases, let this be the decade of start of transformative action. We can do this. We just need to choose between doing this."
If you liked reading this article, we have two more for you on a similar theme. Click on the link below to explore!
You May Like
Climate Actions and Goals
Climate Actions and Goals

Climate Actions and Goals
Climate Actions and Goals