From High-school Dropout to Knighthood: Sir Richard Branson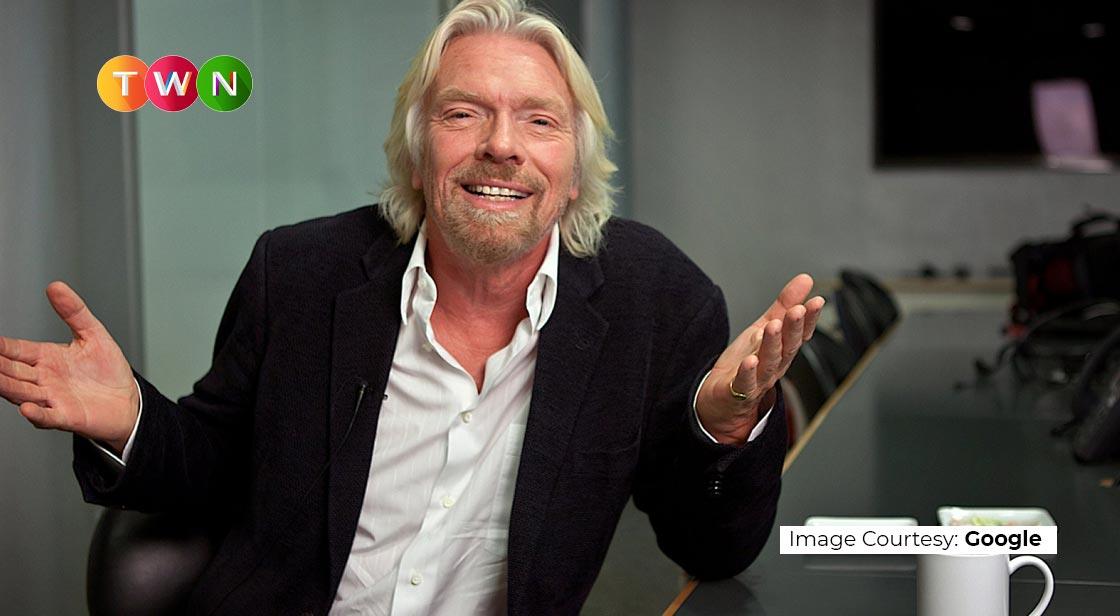 Richard Branson is one of the most celebrated Business tycoons. He is often said to be the Business magnet. He is a knighthood and has received numerous awards and honors. Let's take a look at his tremendous journey and how became Sir Richard Branson despite his dyslexia. #TWN
Continue Reading..
Description
Full Name- Sir Richard Charles Nicolas Branson
Born- 18 July 1950
Occupation- Founder of the Virgin Group
Net worth- 4.6 Billion dollars
Nationality- United Kingdom
League- Business Leader
Parents- Eve Branson and Edward James Branson
Richard Branson, a billionaire, awarded with a knighthood, owner of more than 400 companies and, a boss whom every employee adores, But did you know that Richard Branson was a High-School dropout. Still, he managed to be a billionaire. Branson was determined to become an entrepreneur at a very young age. He set up his first business venture at the very young age of 16, and by the age of 22, he founded the company Virgin, and after that, it was no looking back for Sir Richard Branson.
Early Life
Richard Branson was not born with a silver spoon in his mouth. His early life was not easy at all, he was born in Blackheath, London, to Eve Branson and Edward James Branson, while her mother was a Flight attendant and his father was a barrister. He has two younger sisters, Lindy Branson and Vanessa Branson. He received his early education at Scaitcliffe school before attending Cliff View House School in Sussex. His family was financially unstable, and he was forced to live in a boathouse as a normal house was too expensive for them. Branson was very poor in his academics because of his dyslexia problem. On his last day at school, his Head Master told him that he would either end up in a prison or become a millionaire and, the rest is history.
Early Businesses
Branson started a magazine called Student in the year 1966, along with Nik Powell. The student was first issued in the year 1968, and a year later, Branson's net worth was £50,000. The office of this venture was set up in the crypt of St. John's Church, off Bayswater Road, in London. Branson used the magazines to promote popular albums, which drove him to record sales. In the same year, he was questioned in connection with the selling of records declared export stock. The matter was never presented in front of a court as Branson agreed to pay the fine of £70,000.
The Start of Virgin
Using the money earned from the early businesses, Branson launched his Virgin Records record label. He also started his recording studio, The Manor studio, and started renting it to the fledgling studio. After the success of Virgin Records, Branson launched his Virgin Atlantic in 1981 as an airline company, and Branson also launched his Virgin Holidays in the year 1985. Now the time was for stepping into telecom, and Branson launched his Virgin Mobile in 1999. In the year 2000 airlines Virgin Blue was launched in Australia.
The biggest decision ever made by Branson was to step into the space travel industry, which was launched on 25 November 2004, with the name Virgin Galactic which was funded by Microsoft co-founder Paul Allen. The vision was to take paying passengers into suborbital outer space and turn the space into a travel destination. He also became the first billionaire to launch himself into space.
Virgin group is also betting on the Virgin Hyperloop, which is a train service based on Electric Hyperloop which can travel at a hypersonic speed. This project is still in its early stage.
Honors and Awards
Sir Richard Branson received the Golden plate award of the American Academy of Achievement in 1992.

Doctorate of technology from Loughborough University in 1993

Was knighted by Prince Charles on 30 March 2000.

He was 9th in The Sunday Times Rich List 2006

On 11 February 2012, Branson was honored with the National Academy of Recording Arts and Sciences.

On 9 October 2014, Branson was named, as the No. 1 LGBT ally by the OUTstanding organization.

He was 9th in The Sunday Times Rich List 2006.
Get a detailed study and close observation of the life of Sir Richard Charles Nicolas Branson on Wikipedia.
Explore our other articles on Visionaries of the World. Click on the link below!
You May Like