Rise Of K-Pop: The South Korean EDM Trap Music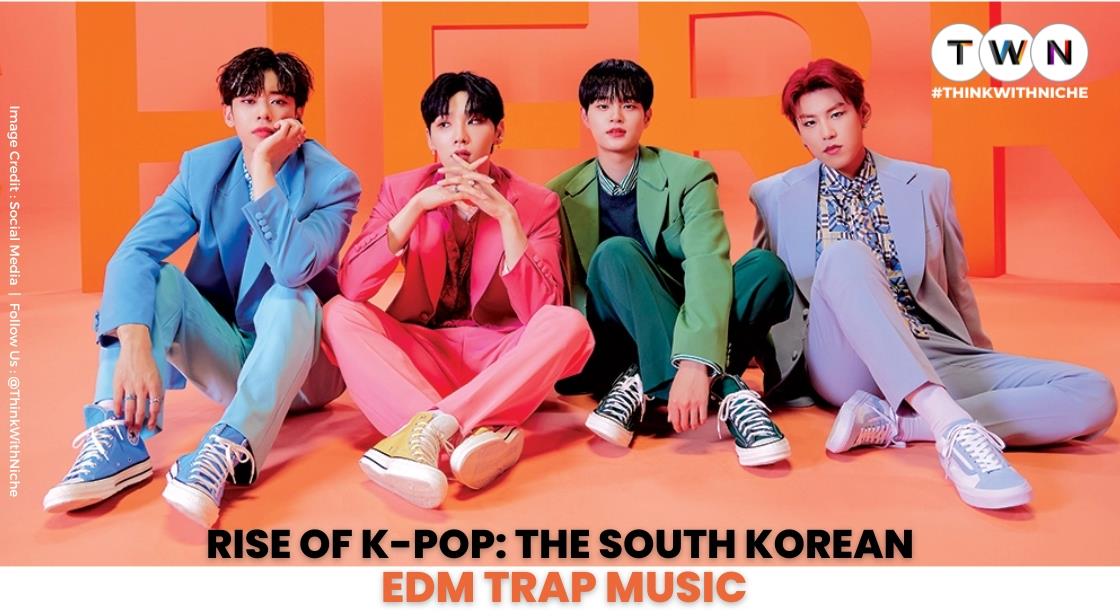 K-pop idol groups are a worldwide phenomenon with millions of devoted admirers. The K-pop industry has exploded in popularity over the past 20 years as artists like BTS and Blackpink break down barriers to become successful across the globe. Rap, rock, and electronic dance music are just a few of the types and genres that have affected Kpop music over the years.
Western pop music has had the most influence on kpop music recently, which has contributed to the success of kpop groups like EXO, BTS, and Blackpink.
K-pop idol groups have millions of devoted followers all around the world. The K-pop business has grown in popularity over the previous two decades, with groups such as BTS and Blackpink breaking through obstacles to attain global fame.In this blog we will explore the Rise Of K-Pop and its influance on the world.
Continue Reading..
K-pop is a subset of the "Korean Wave," a term that refers to the global appeal of Korean pop culture, including Korean television series, music, and films. South Korean K-pop is a popular music genre. Hip-hop, electronic dance, jazz, and rock are just a few of the musical inspirations found in K-pop songs, which are performed by groups of four to twenty individuals. Aspiring K-pop stars go through intensive training together, studying dance choreography and other abilities until they are ready to perform in front of an audience for the first time.
What Is K-Pop?
K-pop, also known as Korean popular music, is a well-liked musical form that has its roots in South Korea. Hip-hop, electronic dance, jazz, and rock are just a few of the musical genres that may be heard in K-pop songs, which are often performed by groups with four to 21 performers. Until they are ready to perform live for the first time, aspiring K-pop stars work hard together, mastering dance choreography and other skills.
The "Korean Wave," also known as Hallyu, is the word used to describe the popularity of Korean pop culture, including Korean TV shows, music, and movies, throughout Asia and other areas of the world. K-pop is one component of this trend.
An Overview of Modern K-Pop
Modern K-pop has its roots in 1987, a year of intense political transition that ushered in democracy in South Korea. During the late 1980s and early 1990s, as Western cultural influences increased, musical artists started fusing elements of rap, rock, and jazz with the modern sounds of Korean music. This is a look at how the music genre has changed over time:
The Boys and Seo Taiji introduce modern K-pop. When Seo Taiji and the Boys' breakthrough song, "I Know," was released and spent 17 weeks at the top of the Korean music charts, modern K-pop began to take shape. The band's sound, which combined modern pop with American New Jack Swing, outshone the country's then-dominant slower ballads. Idol Culture, a catch-all phrase for the fandom that supports well-known musical artists (also known as Idols) in Japan and Korea, was developed as a result of the band's success in building a large fan base and inspiring a number of bands with a similar sound.
K-pop surge in the late '90s. Entertainment companies started hiring more young performers for extensive idol training after Seo Taiji and the Boys' success to meet the demand for new talent. The development of bands like H.O.T., Baby Vox, Fin.K.L, g.o.d., and Sechs Kies was a result of this training model, which was a spinoff of a comparable economic strategy utilised in J-pop, or Japanese pop.
K-pop spreads abroad. With the help of bands like Big Bang, who made their debut in 2006 and received widespread acclaim, K-pop grew throughout the 2000s. K-pop gained popularity among mainstream Western audiences over the past ten years, partly as a result of the enormous success of BTS (short for Bangtan Boys), a well-known boy band that was formed in 2010. The group's performance at the American Music Awards in 2017 was a first for the genre, giving them exposure to millions of Western fans. In addition to smashing records, selling out tours, and releasing their first English-language single, "Dynamite," which topped the Billboard charts upon its debut in 2020, the group has continued to chart internationally.
Trap Electronic Music
Trap electronic music is a music genre that originated in the 1990s and has subsequently grown in popularity in the United States. Within the dance music genre, trap electronic music is growing increasingly popular. Trap music began in the South with a lot of low-end 808 bass samples, snares, and percussions. Today, the trap electronic music genre has transformed that original sound into "EDM Trap Songs," which combines hip-hop, dance music, and low-frequency dub.
You probably may be confused if you should relate EDM (Electronic Dance Music) Trap music with K-pop. After all, K-pop is regarded as being catchy and more vibrant than other genres of music. You're incorrect if you think K-pop boys and grungy EDM Trap can't mix. Korea has not only embraced this change in sound but has actively experimented with it, with spectacular results. CL, the leader of the iconic K-pop girl duo 2ne1, has worked with well-known DJs such as Skrillex and Diplo, as can be seen. CL, a strong rapper from South Korea, has put her unique stamp on trap music. This song was published in 2014. Therefore, she, like most of her work, is ahead of the curve.
South Korean entertainment industry has grown in popularity in recent years, becoming a major impact on worldwide culture. K-pop is at the vanguard of this movement, with an ever-increasing number of musicians and a correspondingly large fan base. K-pop has matured into an undeniable international sensation, with performers like SoBangCha and Seo Taiji and Boys existing before the term "idol" was even established, to current super idols, BTS singing about the weight that the title brings.
SoBangCha (1987-1996) is commonly regarded as the first Korean boy band. Their debut, together with that of Seo Taiji and Boys (1992-1996), heralded the start of what is now known as K-pop. Seo Taiji and Boys were also notable for their willingness to defy traditional Korean music norms by incorporating American rap, rock, and techno influences, as well as expressing social themes in their music despite ethical and censorship committee criticism.
They also started incorporating English lyrics into their songs, laying the groundwork for the union of Korean and Western music. This laid the groundwork for modern K-pop. The Hallyu Wave was born as a result of Seo Taiji and Boys' unique musical style, which allowed Korean pop music to break into overseas markets.
Hip-hop influenced Korean music heavily later. Deux, a K-pop duo that existed from 1993 to 1995, was one of the first to bring hip-hop into mainstream Korean music. Other groups, such as DJ DOC, followed suit, bringing the Korean hip-hop scene to the foreground, which had previously stayed mainly hidden. DJ DOC's music, which typically had satirical lyrics that critiqued societal inequalities and explicitly used profanity, has been a commercial success for them since 1994.
During the mid-to-late 1990s, this drew a lot of criticism, but the group gained popularity among a younger generation who were already fed up with the Korean government's severe censorship regulations on free speech.
H.O.T. is widely regarded as the first modern K-pop idol group, having existed from 1996 until 2001 and again from 2008 to the present. The group consisted of five charming male performers who entertained not only through their singing and dancing but also through their diverse abilities and appealing personalities. This idol group formula would subsequently become the template for many K-pop groups to follow. S.E.S. (1997-2002), H.O.T.'s female counterparts and labelmates, had equal success and paved the way for junior artists like BTS and Blackpink to follow in their footsteps.
Other K-pop singers, such as BoA, who has been dubbed the "Queen of K-pop" since 2000, and TVXQ, began broadening the genre's reach as their popularity expanded in nations like Japan. Following the removal of obstacles that had limited the spread of entertainment between the countries since World War II ended, BoA became the first Korean pop sensation to breakthrough in Japan.
Psy's Gangnam Style reached a pinnacle of fame in 2012. With 3.5 billion views on the music video, it was the first - but certainly not the last - time that a K-pop song caught the attention of the rest of the world. Gangnam Style is the most well-known song in the K-pop genre, thanks to its catchy melody and irresistible dance for fans all over the world.
BTS, on the other hand, made K-pop genuinely global. BTS's popularity soared when it debuted in 2013, catching the attention of both the Western and Asian entertainment sectors. BTS's musical style grew to cover a wide spectrum of genres after starting as a hip-hop group. They were noted for writing and composing most of their songs, just as their predecessors, Seo Taiji, and Boys.
Furthermore, their lyrics contain personal and social criticism, addressing issues such as mental health and the special problems that young people confront, such as grief, the road toward self-love, and individualism. BTS used its fame to give back to the community, partnering with UNICEF to launch the Love Myself anti-violence campaign.
Following that, they spoke before the United Nations' 73rd General Assembly and were later awarded the Order of Cultural Merit by South Korea's President for their contributions to the propagation of Korean culture and language. With their English single 'Dynamite,' BTS became the first all-Korean act to top the Billboard Hot 100 in 57 years.
Best EDM Trap Songs
Here is the list of some of the Best EDM Trap Songs:
Major Lazer – Original Don

Mayhem & Antiserum – Hustle

RL Grime & What So Not – Tell Me

Gent & Jawns – Turn Up

Bro Safari – The Drop
5 Well-known K-Pop Artists/Groups
Several K-pop bands achieved success both inside and outside of the Korean music industry, gaining sizable fan bases across the globe. The following is a list of some of the most well-known K-pop acts over the years:
The four-member K-pop group, founded by YG Entertainment, combines hip-hop, trap, and electronic dance music (EDM) sounds with a current, hip-hop-inspired aesthetic. Like the colours in their name, the group's distinctive bright and dark themes are reflected in their music, fashion sense, and lyrics. Since making its debut in 2016, the group has risen to the top spot among K-pop girl groups on the Billboard Hot 100 chart.
Since debuting on the music scene in 2013, this K-pop group of seven members has seen success on a global scale. Although it took them some time to find their footing, the boys' switch to sentimental and intimate songs improved their appeal to younger audiences. During a performance at the American Music Awards in 2017, they immediately gained popularity in the entire world.
3. Exo:
This nine-member Chinese-South Korean boy band combines pop, hip-hop, and house music into its memorable compositions. By the end of 2014, they had surpassed all other artists in sales in Japan, and by 2017, they had attained international success.
4. Girls' Generation:
Commonly referred to as SNSD, this eight-member Korean pop group was created by SM Entertainment in 2002. Even though their sound has changed over the years, bubblegum pop and electropop are frequent comparisons.
5. Psy:
In 2013, the success of the music video for his track "Gangnam Style" caused the popular Korean musician and rapper Psy to break records. He frequently uses humour and satire in both his lyrics and performances.
Conclusion
Even though the popularity of K- pops has exploded in recent years, each singer has contributed to the sustained prominence of Korean entertainment and culture. K-pop veterans like Seo Taiji and Boys continue to influence and even collaborate with modern superstars like BTS, who reworked their song "Come Back Home," which you can watch in the video below. From the dawn of modern K-pop to the present day, there have been far too many significant groups to count. With the records that musicians like BTS have broken, it's impossible to predict what new heights future K-pop artists will be able to achieve.

You May Like
Lifestyle and Entertainment

Lifestyle and Entertainment

Lifestyle and Entertainment

Lifestyle and Entertainment