Power Of A Routine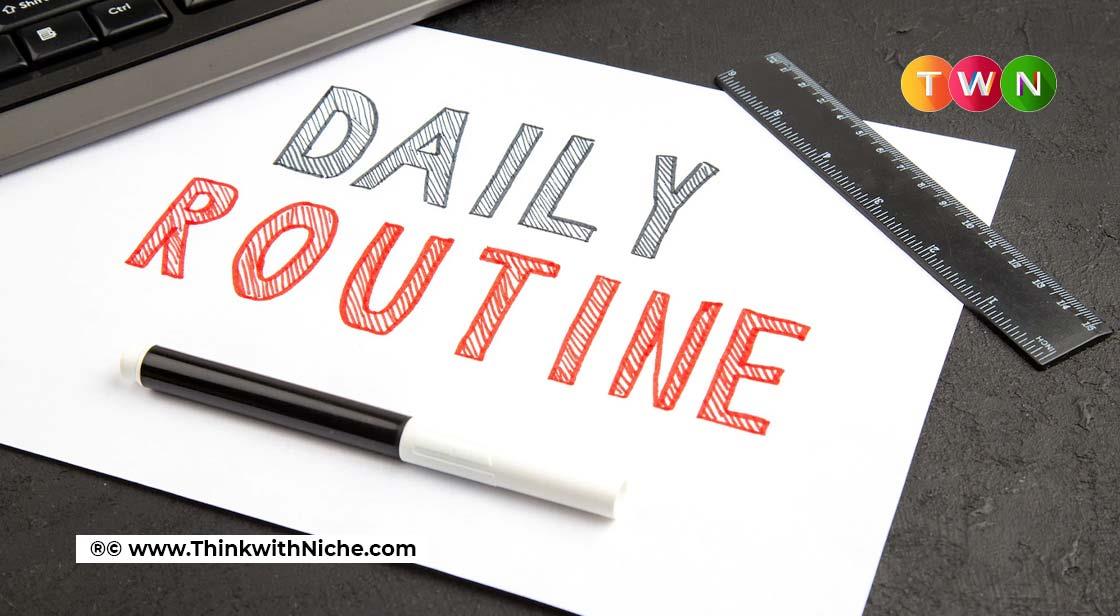 Life can be lived in a structured way and still be enjoyable, that is, not so boring, as many of us surmise that living a life with a fixed routine is dull. Plan your day and then proceed, it will result in a more organized 'you' and hence you would be somehow less stressed than normally. Stay focused and eliminate distractions, don't be a workaholic and spare some time to relax, so as to have improved sleep quality. A good and a planned routine is a self-investment which helps you achieve more, ponder peacefully over your long-term goals and do the work which actually matters. #ThinkWithNiche
Continue Reading..
"Depending on what they are, our habits will either make us or break us. We become what we repeatedly do"- Sean Covey.
You may have a purpose for life but you may not be living your life the way it should be lived to achieve that purpose. It's good to go with the flow but you must be aware of the way in which you are flowing. Life can be lived in a structured way and still be enjoyable, that is, not so boring, as many of us surmise that living a life with a fixed routine is dull.
Having a day with a good routine saves you from later chaos and gives you more time for unpremeditated activities which you desire. It makes a space for a wider set of affairs in which we want to engage ourselves, thus resulting in more valuable output.
Certainly, our daily routine has taken a big turn in this lockdown period due to pandemic, confining ourselves inside the four walls, but still this cannot be all about having rest or breaks and also not all about office work from home. It needs to be balanced. It should consist of office work, hobbies, upskilling yourself and of course a lot of self-care. Plan your day and then proceed, it will result in a more organized 'you' and hence you would be somehow less stressed than normally.
All the successful souls like Steve Jobs, music sensation Beethoven, the honourable president Barack Obama and many more, followed a planned routine with proper sleep and work pattern for their respective fields and made the best out of their day. Steve Jobs is known for his innovations, even today Beethoven is one of the most admired composers of all time and Obama is known for his finest presidential skills. Stay focused and eliminate distractions, don't be a workaholic and spare some time to relax, so as to have improved sleep quality.
Know your body, the way it feels comfortable, don't force yourself to be an early riser (though it's good if you're one) but being a night owl is okay if your sleeping hours does not exceed 7-8 hours or are less than these; your body will give you signals about when to eat or exercise. Be around affirmative influences and stay hopeful.
Having a proper routine with time for all the desired plans for the day adds a purpose to your life and makes it more fulfilling. The work doesn't pile up and not a single task is neglected. You are more organized and able to increase your productivity day after day.
Prepare your goals for the next day and reflect on your day's achievements before dozing off, ask yourself "Is that all I made out of the whole day and is it enough? Could it be more?" Clear your head before sleeping by maintaining a journal, reading a book, listening to music or anything which makes you feel at peace with yourself. Take regular breaks throughout the day from regular work.
Routine is directly related to habits, all our unproductivity, fears, anger and confusions are majorly the result of a disorganized or a foolish routine we follow day after day. A good and a planned routine is a self-investment which helps you achieve more, ponder peacefully over your long-term goals and do the work which actually matters. Be firm about how much you want to make out from the day for both professional and personal subjects, it gives a sense of accomplishment.
"You'll never change your life until you change something you do daily. The secret of success is found in your daily routine."- John C. Maxwell.
You May Like