Oprah Winfrey A Live Inspiration To Overcome All Adversity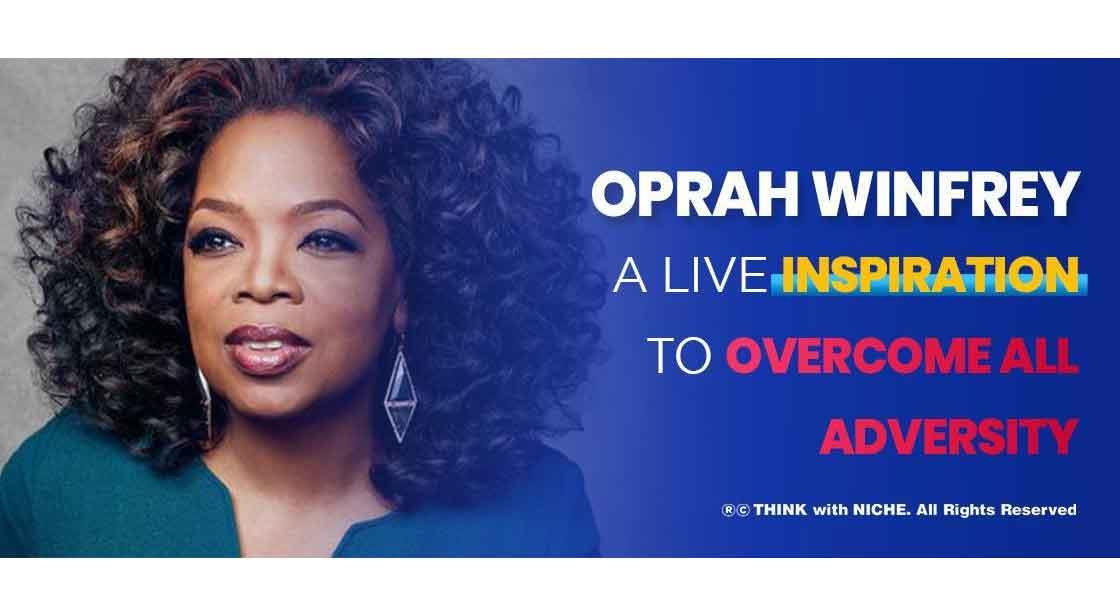 Oprah Winfrey is a global celebrity and one of the world's most successful women. A genuine inspiration to millions of people throughout the world. Oprah Winfrey's path to becoming the person she is now is equally inspiring. Read the success story of Oprah Winfrey and get inspired. #ThinkWithNiche
Continue Reading..
Oprah Winfrey Success Story
"The greatest discovery of all time is that a person can change his future by merely changing his attitude" – Oprah Winfrey
Oprah Winfrey is one of the most successful and inspirational women in the world, whose life demonstrates that life isn't always a bed of roses, but those who can stand up to the thorns may create their rose bed. Her life narrative is full of tragic events that might motivate a person from a low-income family to reach the pinnacles of success. Let's explore the success story of Oprah Winfrey!
Life History
Oprah Winfrey was born in the countryside of Mississippi in 1954. She was born to a single teen mother who worked as a housemaid in a remote part of Mississippi, and she couldn't afford even the most necessities. She had to go through a traumatic childhood full of abuse and poverty. She spent her formative years bouncing back again and again between her mother, grandmother, and father, always trying to make sense of her situation. While her grandma abused her, there was no one to care for her. Oprah was abused by her cousin, uncle, and a family friend when she was nine years old. She ran away from home at the age of 13 after years of abuse, neglect, and molestation. She gave birth to a preterm baby when she was 14 years old, who didn't survive and died shortly after birth. Being a poor black girl in America in the 1960s, born into such a difficult environment, was hardly a prescription for phenomenal success. Oprah has had a powerful personality since she was a child. Her grandmother remarked on how effortlessly Oprah stepped to the stage and performed, regardless of whether she was really on one.
Beginning of The Successful Journey
Despite her grandmother's apprehensions, Oprah was forced to learn to read and write. Oprah took advantage of the chance and quickly memorized and repeated all the Bible's passages, earning her the name "The Preacher" in church. She was afterward transferred to her father, who placed a high value on her education and sent her to school. Despite being ridiculed by her classmates because of her poverty and skin color, she never gave up. Oprah worked hard in school, taking public speaking and theater classes. She was also elected as the president of the school. She won a public speaking contest after finishing high school and was awarded a scholarship to further her education. Her outgoing attitude prompted her to pursue a career in television broadcasting, which she excelled at.
Oprah's manner and passionate delivery drew the attention of and landed her a job with a Nashville radio station in 1971 when she was still in high school. She went to Chicago in 1983 to anchor the low-rated AM Chicago morning program after moving to television in Nashville and Baltimore. With high ratings, Oprah Winfrey surpassed Phil Donahue as Chicago's most popular talk show. The show was renamed The Oprah Winfrey Show after a few years and went on to run for 25 years.
Despite being on national television, Oprah's distinctive manner resulted in an altogether new type of communication on television: a more personal confessional. She pioneered and transformed what is now known as tabloid talk shows.
The Unforgettable Oprah Winfrey Show
The Oprah Winfrey Show aired from 1986 till 2011. During that period, the show produced 4,561 episodes. It has won 47 Daytime Emmys until Oprah decided not to submit the program for Emmy consideration in the year 2000. It is ranked as one of the top 50 television shows of all time by TV Guide. After 25 seasons on the air, it is still the highest-rated daytime talk program in American television history.
She founded her specialty television network in 2011, and it was a big year for her. It had a sluggish start, but by 2015, the channel had reached an estimated eighty-one point nine million households in the United States.
Oprah Winfrey Net Worth
As indicated by Forbes, Oprah Winfrey's net worth is an expected $2.6 billion as of March 15, 2022. The world's most richest lady is in excess of multiple times as well off as Winfrey. Françoise Bettencourt Meyers is the most richest woman on the world, yet not at all like Winfrey, she is a long way from independent. Bettencourt Meyers' has generational abundance: Her granddad established L'Oréal, of which she goes about as director.
Queen Of All Media
She became known as the "Queen of all media" after excelling in her work and achieving international recognition. Oprah Winfrey Network, better known as OWN, is a cable network owned by Oprah Winfrey. She quickly wrested control of the show from ABC, transferring it to her own production firm, Harpo Productions, which would profit from syndication. Harpo is now a major player in the cinema and television industries, as well as magazine publishing and the Internet.
The show won three Daytime Emmy Awards in 1987, its first year of eligibility, for Outstanding Host, Outstanding Talk Service Program, and Outstanding Direction. The next year, Winfrey became the youngest individual to be named "Broadcaster of the Year" by the International Radio and Television Society.
With a net worth of 2.9 billion dollars, she is the only black multi-billionaire and largest black philanthropist in American history. She is currently the wealthiest African-American woman in history. President Barack Obama has given Oprah the Presidential Medal of Freedom, as well as honorary doctorate degrees from Duke and Harvard.
Oprah Winfrey has unquestionably achieved a great accomplishment. Oprah Winfrey's success story has smashed walls and inspired millions of people across the world, despite her wealth and honors.
Conclusion
Oprah has altered the face of popular media throughout her career, becoming an inspiring figure for several generations in the process, but she's not done yet. While she has openly declared that she is uninterested in politics, Oprah has lately revealed her ambition to develop original content for Apple and continues to extend her brand with new initiatives.
If you liked reading this article, we have another one for you on a similar theme. Click on the link below to explore!
Famous Personalities who are Highest Paid Motivational Speakers
You May Like