Remembering The Legend – Martin Luther King Jr. Day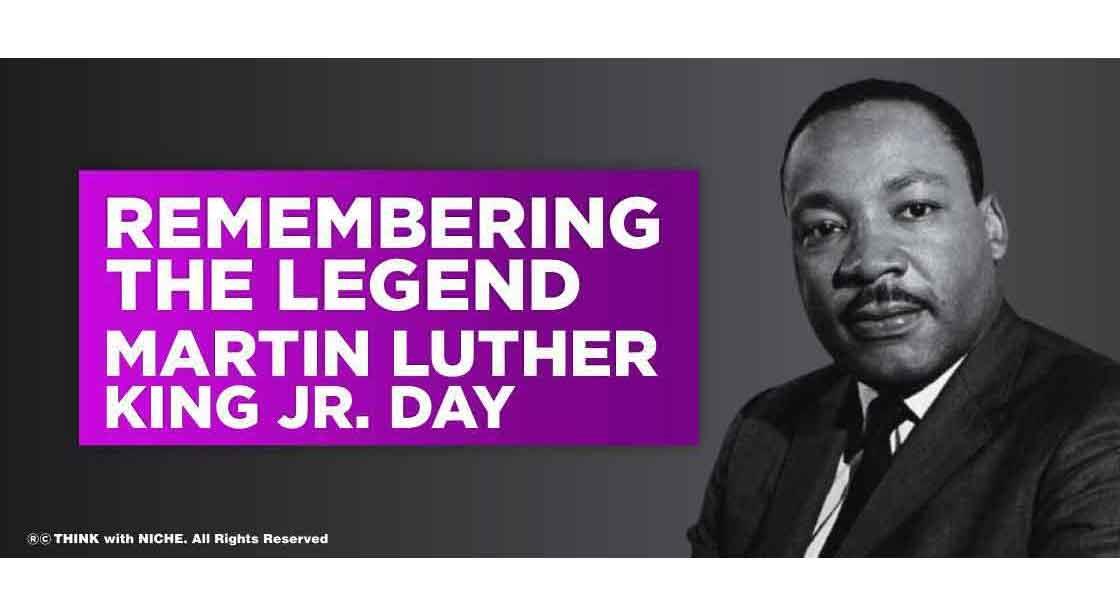 Martin Luther King Jr. was a man of his words. He fought for people and put up a fair fight against racialism. He is the man behind civil rights and the reason why people now are talking about it. America is a developed nation, and Martin played a very crucial part in it. No matter how old or young you are, you must have heard about him once for sure. He was a man that will never be forgotten. On his birthday, let us thank him for his contribution to human society. #ThinkWithNiche
Continue Reading..
Who doesn't know Martin Luther King Jr.? He is the man behind the civil rights movement in America. His achievements and ways to tackle serious social issues have made him the person we know today. He was way before most of us were born, but his contribution to society still prevails, and we must be thankful for this. To celebrate his birthday, a federal holiday was declared in his name. Let us know more about him and the day we are celebrating today. January 17th, 2022, is the day we celebrate his birthday.
Who was Martin Luther King Jr.?
He was a son born to Martin Luther King Sr. and Alberta Williams King. King Jr. was an American minister (Baptist minister) who later became an activist. He was one of the most influential spokespersons of that time. During his presence in America, there was a lot of misconduct towards African-American people living in the country. He was the one to liberate them and grant them their rights. His civil rights movements were inspired by our father of the nation, Mahatma Gandhi. His Christian beliefs played a very important part in his social activist career. His career and life were short-lived, but his ideology is for eternity. The original name given to him was Michael, but in later years, he changed his name to Martin. He completed his doctorate in 1953 and received the degree two years later. While he was in Boston for his degree, he met Coretta Scott and was hooked on her completely. He was attracted to her intellectual capabilities and artistic approach. They got married and had four children later on (two daughters and two sons). In 1957 Martin was elected as the president of the Southern Christian Leadership Conference! After that, he marched in Washington D.C. and gave his world-famous speech, "I Have a Dream." For this, he was awarded five honorary degrees. But his life was cut short when he was assassinated in Memphis, Tennessee, on the evening of 4th April 1968. He may not be among us, but his principles will always be.
Martin Luther King Day
Sometimes this day is referred to as MLK Day. It is a federal holiday in The United States of America. MLK Day marks the birthday of Martin Luther King's birthday. The third Monday of the month is chosen to celebrate his birthday. In 1983, Roger Reagan, the 40th president of the USA, signed this holiday into law. After getting into law, this holiday took almost three years to be celebrated. In 2000, MLK Day was celebrated in all the states of the country (50 states). The historical moment it must have been!
Last year MLK Day was celebrated on January 18th, and this year, it will be celebrated today, i.e., January 17th. Talking about the coming years, it will be celebrated on 16th January and 15th January in 2023 and 2024, respectively.
Alternative names of MLK Day
As mentioned above, all states celebrate MLK Day, but every state does not have the same name for the holiday. For instance, it was called "civil rights day" in New Hampshire until 1999.
Let me list some states with alternative names for the holiday:
Alabama – Robert Lee/ MLK birthday

Arizona – MLK Jr./ civil rights day

Arkansas – Dr. MLK Jr.'s birthday

Idaho – Idaho Human Rights Day

Mississippi – Robert Lee's birthday

Virginia – Lee-Jackson-King Day
Many states and many names were given, but soon MLK Day was the final name for this federal holiday. We thank Martin Jr. for his courageous acts against racialism and his fights for civil rights. America today is what he imagined it to be. Today it is our duty to thank the legend in every way possible.
You May Like