23 Parsis Who Have Great Contributions to India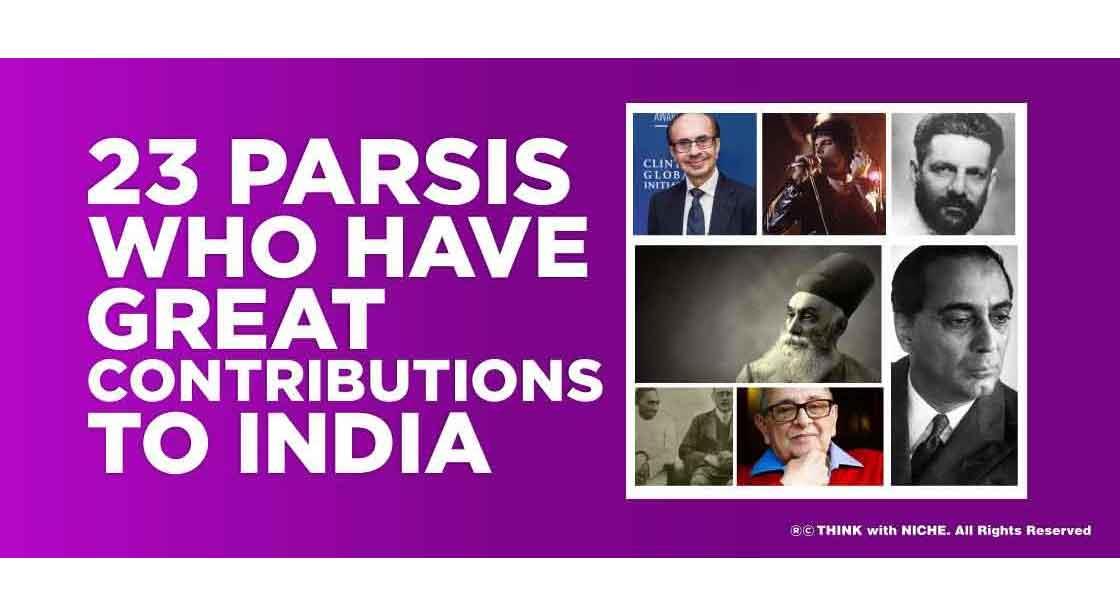 Many of India's social and economic reforms have been spearheaded by the Parsi minority. Their presence in India dates back to the eighth century when they fled persecution in Persia due to Arab conquests. They are a close-knit community recognized for their Zoroastrian faith. Their numbers have fallen over time, and the current estimate puts the Parsi population in India at around 69,000. Parsis are noted for leading by example, whether as businesses or legal geniuses, or in the army.
This blog post will take a deeper look at 23 Parsis Who Have Great Contributions to India.
Continue Reading..
In India, the Parsi community is credited with starting the industrial revolution. They have a vast cultural history in India and have made a lasting impression. This article looks at the 23 most renowned Parsis in India. But first, let's go through their history.
A Parsi, often spelt Parsee, is an Indian devotee of the Persian prophet Zoroaster (or Zarathustra). The Parsis are derived from Iranian Zoroastrians who came to India to escape religious persecution at the hands of Muslims. They predominantly live in Mumbai and a few cities and villages to the north, but they also live in Karachi (Pakistan) and Bengaluru (Karnataka, India). They do not form a caste in the strictest sense, but they do form a separate group because they are not Hindus.
The Parsi community in India is credited with initiating India's industrial revolution. They have a long cultural history in India and have left an indelible mark. Here are the Prominent Parsi names associated with making India proud!
23 Parsis Who Have Great Contributions to India
1. Ardeshir Godrej
Godrej Company was formed by Ardeshir and his brother Pirojshah Burjorji. Ardeshir was born to a Parsi-Zoroastrian family in Mumbai in 1868. He was a law student at the time, but he didn't like law and returned to India soon after. He then went on to work as an assistant at a pharmacy shop, where he discovered a passion for making surgical tools, which he eventually turned into his first business. In our country, Godrej is a well-known brand, and we've all utilized their appliances or other things at some point.
2. Fali S Nariman
Nariman, a well-known lawyer, and constitutional specialist have worked on several high-profile issues for clients. With the Padma Vibhushan in 2007 and the Padma Bhushan in 1991, Nariman's contribution to jurisprudence and public affairs is unsurpassed. Nariman was born into a Parsi family and graduated from Mumbai St Xavier's College in Economics and History before enrolling at Government Law College in 1929 to pursue his law degree. From May 1972 to June 1975, he served as the Additional Solicitor General of India but resigned after the Emergency was established.
3. Byramjee Jeejeebhoy Esq.
Byramjee was a philanthropist who created various educational institutions in Mumbai during the eighteenth century. Byramjee Jeejeebhoy College, in Charni Road of South Mumbai, and Byramjee Jeejeebhoy Medical College in Pune, are two important colleges he founded. In October 1830, Byramjee leased from the British East India Company a grant of seven villages located between Jogeshwari and Borivili. Byramjee was also given Land's End, Bandra, which included the Bandra Fort and became known as Byramjee Jeejeebhoy Point. The city's fifth-largest landowner is presently Byramjee Jeejeebhoy Properties Limited.
4. Homi Jehangir Bhabha
Homi Jehangir Bhabha was born into a distinguished Mumbai Parsi family. The first head of the Indian Atomic Energy Commission and the father of India's nuclear program. Homi Bhabha was an Indian physicist who was instrumental in developing India's nuclear energy program. Bhabha's contributions to the creation of atomic energy made him a household name in scientific circles all over the world. He supervised the United Nations Conference on the Peaceful Uses of Atomic Energy, which took place in 1955.
5. Jamsetji Tata
Another well-known Parsi from India was Jamsetji Tata. He is a businessman who has aided India's ascension into the developed world. He was a patriot and philanthropist whose ideas and vision helped build an unparalleled commercial empire. The founder of the Tata group began his business in central India in the 1870s with a textile mill. His vision powered India's steel and power sectors, set the framework for technical education, and supported the country's rise into the developed world.

6. Ratan Tata
Ratan Tata, an Indian industrialist, and philanthropist is the former chairman of Tata Sons. He was chairman of Tata Group from 1990 to 2012, then interim chairman from October 2016 to February 2017, and now leads the company's charity foundations. Padma Vibhushan in 2008 and Padma Bhushan in 2000 are two of India's highest civilian distinctions.
7. Freddie Mercury
Freddie Mercury, also known as Farrokh Bulsara, was a British singer, songwriter, and record producer who was the main singer of the rock band Queen. He was recognized as one of the best vocalists in the history of rock music because of his flamboyant stage persona and four-octave vocal range. Queen's artistic orientation was motivated by Mercury's extremely theatrical flair, which broke rock frontman traditions.
8. Bahman Pestonji Wadia
In India's Workers' Unions, Pestonji Wadia is regarded as a forerunner. He was an Indian labor activist and theosophist, also known as Bomanji Pestonji Wadia. At first, he was a member of the TS Adyar and later the United Lodge of Theosophists. In 1918, Wadia and V. Kalyanasundaram Mudaliar co-founded the Madras Labour Union, which was one of the first organized labor organizations in India.
9. Dadabhai Naoroji
Dadabhai Naoroji, the "Grand Old Man of India" and the "Unofficial Ambassador of India," was an economist and political activist who was the first to publicly urge India's independence. He was also a trader and writer who served as a Liberal Party Member of Parliament in the United Kingdom House of Commons from 1892 to 1895, the first Asian to do so since Anglo-Indian MP David Ochterlony Dyce Sombre, who was disqualified for corruption. Naoroji is best remembered for his work in the Indian National Congress, where he was a founding member and three times served as president in 1886, 1893, and 1906.
10. Kaikhosrov D. Irani
Professor of Philosophy of Science at City College of New York and former pupil of Albert Einstein. For nine years, he served as Chairman of the philosophy department at City College of New York, where he also taught for 41 years. In addition to the Academy of Science in New York, he was a member of the American Philosophical Association, the Philosophy of Science Association, and the American Academy of Religion. He was a judge for the Templeton Prize, which recognizes persons who believe in the spiritual component of life.
11. Homi Nusserwanji Sethna
Homi Nusserwanji Sethna was an Indian nuclear scientist and chemical engineer. He rose to international notoriety as the Chairman of the Atomic Energy Commission during the Smiling Buddha nuclear test at the Pokhran Test Range in 1974. He spearheaded India's civilian nuclear program as well as the construction of nuclear power plants. In 1991, he was named Mumbai's Sheriff. The Padma Vibhushan, India's second-highest civilian accolade, was bestowed upon him by the Indian government in 1975.
12. Fali Homi Major
Air Chief Marshal Fali Homi Major, who was born into a Parsi family, was the Indian Air Force's 21st Chief of the Air Staff. He served in a variety of command, staff, and instructional positions during his nearly four-decade-long career. Major handled countless perilous missions with his 7,765 hours of flight time. His helicopter unit participated in operations in Siachen, the world's highest battleground, and commanded a Mi-17 squadron during IPKF operations in Sri Lanka, which included a rescue mission for 11 tourists stranded in a cable car, among other things.
13. Nanabhoy Palkhiwala
Nanabhoy Palkhiwala, another Parsi who was a brilliant jurist and economist, entered the profession in 1946 and immediately excelled as an expressive and fluent barrister. He co-wrote The Law and Practice of Income Tax with Jamshedji Behramji Kanga, which is still considered an authoritative treatise in commercial and tax law. He was a staunch supporter of the right to freedom of expression and the freedom of the press. Indira Gandhi contended in the Supreme Court that newsprint served more than just a basic commodity when she put import bans on it in 1972 to quell opposition.
14. Feroze Gandhi
Feroze Gandhi was an Indian politician and freedom fighter who was the husband of Indira Gandhi and the publisher of The National Herald. Gandhi published two newspapers, The National Herald and The Navjivan. He served in the regional assembly and then the Lok Sabha, India's lower house of parliament, from 1950 to 1952.
15. Jehangir Ratanji Dadabhoy Tata
JRD Tata, the chairman of the Tata Group, was an Indian aviator and industrialist who founded Air India, the country's first commercial airline. In 1929, he became India's first licensed pilot, his mother being the country's first lady to drive an automobile. He is also the founder of the Tata Group's Tata Consultancy Services, Tata Motors, Titan Industries, Tata Salt, and Voltas. He received the French Legion of Honour in 1983 and the Padma Vibhushan and Bharat Ratna in 1955 and 1992, respectively.
16. SH Kapadia
Sarosh Homi Kapadia, another prominent legal figure from the Parsi community, served as India's 38th Chief Justice. He was appointed as an additional judge in the Bombay High Court in 1991 and then as a permanent judge in March 1993. In 2003, he was appointed Chief Justice of the Uttarakhand High Court and was soon elevated to the Supreme Court as a judge. He is arguably most known for his decision in Vodafone v. Union of India, in which he determined that the Indian revenue agency lacked territorial jurisdiction to tax offshore transactions.
17.Pallonji Shapoorji Mistry
Shapoorji, the richest Irish person, is a billionaire construction entrepreneur and chairman of Shapoorji Pallonji Group. Pallonji Mistry was born into a Gujarati Parsi family. His net worth is predicted to be US$28.0 billion as of April 2021. The Hong Kong & Shanghai Bank, the Grindlays Bank, the Standard Chartered Bank, the State Bank of India, and the Reserve Bank of India were all founded by Shapoorji, the group patriarch, around the Fort region. Shapoorji Pallonji Construction Limited, Forbes Textiles, and Eureka Forbes Limited are all owned by Pallonji Mistry's Shapoorji Pallonji Group. He was the chairman of Associated Cement Companies in the past.
18. Cyrus S. Poonawalla
Cyrus S. Poonawalla is an Indian businessman and the chairman and managing director of the Cyrus Poonawalla Group, which comprises the world's largest vaccine maker, the Serum Institute of India. He was placed number 5 on Fortunes' India wealthy list in 2021, with a net worth of $19 billion.
19. Sam Manekshaw
During the Indo-Pakistani War of 1971, Major-General Sam Hormusji Framji Jamshedji Manekshaw, better known as Sam Bahadur, was the first Indian Army officer raised to the rank of field marshal. He fought in the army in five wars during his four-decade military career, starting with World War II as part of the British Army. He was born into a Parsi family in Punjab and fought in the British army during WWI. He played a crucial role in blocking reservations for Scheduled Castes and Scheduled Tribes in the army during his time as COAS.
20. Farokh Maneksha
Farokh Maneksha, a former cricketer from India, is an audio speaker. He represented Bombay in India from 1959 to 1975 and Lancashire County Cricket Club in England from 1968 to 1976. No other Parsi male has played for India since the engineer.
21. Aruna Irani
Aruna Irani is a Hindi, Kannada, Marathi, and Gujarati actress and dancer who has acted in over 500 films, usually in supporting and minor roles. She has won two Filmfare Awards for Best Supporting Actress, for Pet Pyaar Aur Paap in 1985 and Beta in 1992, and has been nominated for a total of ten awards, making her the category's most-nominated actress. Irani was inducted into our list of notable Parsis of India after receiving the Filmfare Lifetime Achievement Award at the 57th Filmfare Awards in 2012.
22. Diana Edulji
Diana Fram Edulji is the first Indian woman to captain a cricket team. She represented India in Test cricket. She was up in a Parsi home in Mumbai and was always interested in sports. She liked to play tennis ball cricket at the railway colony where she grew up. She subsequently switched to cricket after playing junior national basketball and table tennis. Diana went on to become a successful slow left-arm orthodox bowler for the Indian Railways and subsequently the national cricket squad. In 1978, she was named captain of the team. She is still the third most successful wicket-taker in Test cricket.
23. Homai Vyarawalla
Homai Vyarawalla, better known as Dalda 13, was India's first female photojournalist. She worked for the company from the late 1930s through the early 1970s. In 2011, she was awarded the Padma Vibhushan, India's second-highest civilian honor. She was one of the first Indian women to work for a mainstream journal when she started at The Illustrated Weekly of India.
Conclusion
Parsis have traditionally been involved in education, society, and industry. They have guided our country to a prosperous future. Comment here on some of India's most prominent Parsis whose tales have impacted you the most. They have steered our country toward a promising future.
You May Like