Life of the King of Kathak: Pandit Birju Maharaj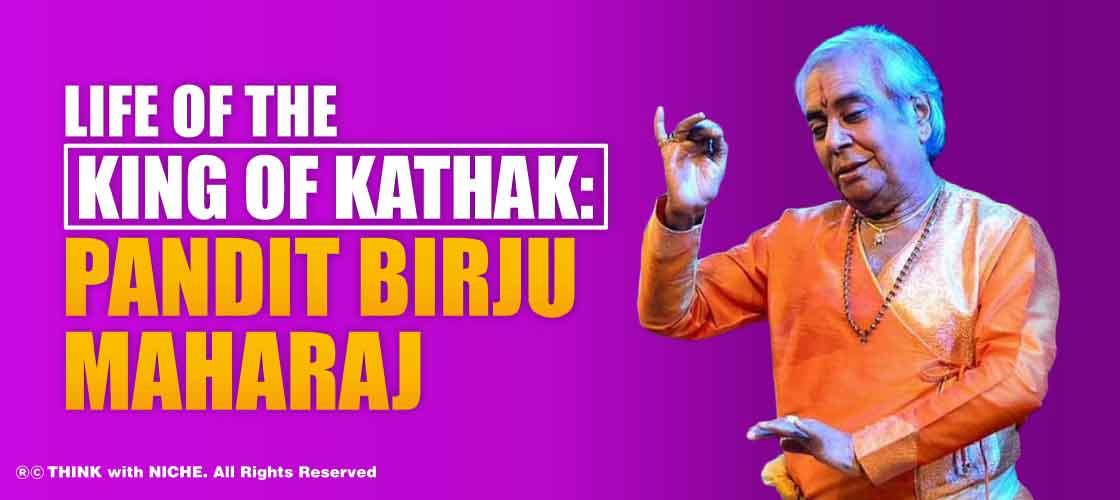 Brijmohan Mishra, a maestro of Kathak, was born into the prestigious Kalka Bindadeen Gharana. His contribution in the form, sharp observation, and broad imagination elevated kathak beyond its environment, bringing it to the forefront not only in India but around the world. Sadly, he died on January 17, 2022. Here is a brief biography of Birju Maharaj to keep his legacy alive. #ThinkWithNiche
Continue Reading..
Birju Maharaj, a Kathak dancer, was a master of the Kalka-Bindadeen Gharana and a leading exponent of the dance genre. He's performed in a variety of countries. Besides being Kathak-expert, he is a fantastic singer of Thumri, Dadra, Bhajan, and Ghazals. At the age of seven, he gave his first performance. Not only is Pandit Birju Maharaj a Kathak dancer, but he is also a delicate poet and a fascinating storyteller. His relentless efforts to elevate Kathak to new heights paid off when he was able to draw attention to the dance form not just in India but also in Western countries. Pandit Birju Maharaj is often regarded as the apex of Kathak, thanks to his expressive facial expressions and deft footwork.
Birju Maharaj & His Eternal Relation With Kathak
Birju Maharaj was born into the family of Jagannath Maharaj of Lucknow Gharana, a renowned Kathak specialist. Birju Maharaj was destined to follow in his father Achhan Maharaj's footsteps and establish himself as one of India's leading dancers in the genre. Recognizing his son's talent from an early age, his father began training him. Birju Maharaj was an eager student who decided early on to devote his life to the advancement of the Kathak dance discipline. His father's untimely death in 1947 was a devastating blow to little Birju. He continued to learn from his equally skilled uncles Shambhu Maharaj and Lachhu Maharaj, and at the age of 13, he began teaching dance at the Sangeet Bharti in New Delhi.
Not Only A Kathak-Maharaj But Also A Kathak-Guru
Birju Maharaj began his career as a teacher at the age of thirteen. He went on to teach at the renowned Bharatiya Kala Kendra after a successful tenure at Sangeet Bharati, where he began his career. Soon after, he was allowed to lead a team of teachers at the Sangeet Natak Akademi's Kathak Kendra. He quickly established himself as a respected dance instructor, eventually rising to the position of Head of Faculty and Director at the Kathak Kendra. He retired in 1998 at the age of 60 after several years as the Head of Faculty there. Following his retirement, he founded Kalashram, a dancing academy. In some Bollywood films, he choreographed Kathak dance routines. He wrote two dance sequences for the movie 'Shatranj Ke Khilari,' directed by the legendary Satyajit Ray, for which he also provided his voice. Birju choreographed the song 'Kaahe Chhed Mohe' in the 2002 film 'Devdas.' He's also worked as a choreographer on films like 'Dedh Ishqiya,' 'Umrao Jaan,' and 'Bajirao Mastani,' among others. In 2013, he choreographed the song 'Unnai Kaanatha Naan' for Kamal Haasan's film 'Vishwaroopam,' making his South Indian film debut.
Kalashram: The Dream Of Birju Maharaj
Birju Maharaj's dream has always been to open his dancing school. He founded Kalashram soon after his retirement. In the middle of the busy and fast-paced urban lifestyle, Kalashram's classrooms, practice halls, and amphitheater exhibit a tint of rural set-up. The natural surroundings, which include several trees and ponds, are highly inspiring, bringing everyone at the institute closer to the country's basic, unassuming, yet rich heritage. Students at Kalashram receive training in Kathak as well as other related disciplines such as vocal and instrumental music, yoga, art, Sanskrit, dramatics, stagecraft, and so on. Pandit Birju Maharaj believed that to be a good dancer, learning music, yoga, art is also very important.
Awards
Pandit Birju Maharaj received the Padma Vibhushan in 1986. The Government of Madhya Pradesh has bestowed the Kalidas Samman upon him. Among other prizes, he has received the Sangeet Natak Akademi Award, the Soviet Land Nehru Award, and the Sangam Kala Award. He was awarded the Lata Mangeshkar Puraskaar in 2002. Honorary Doctorate degrees have also been bestowed upon Pandit Birju Maharaj by Khairagarh University and Banaras Hindu University. For the film 'Vishwaroopam,' he won the National Film Award and the Tamil Nadu State Film Award for Best Choreography in 2012. For the film 'Bajirao Mastani,' he won the Filmfare Award for Best Choreography in 2016.