Hari Menon - A True Inspiration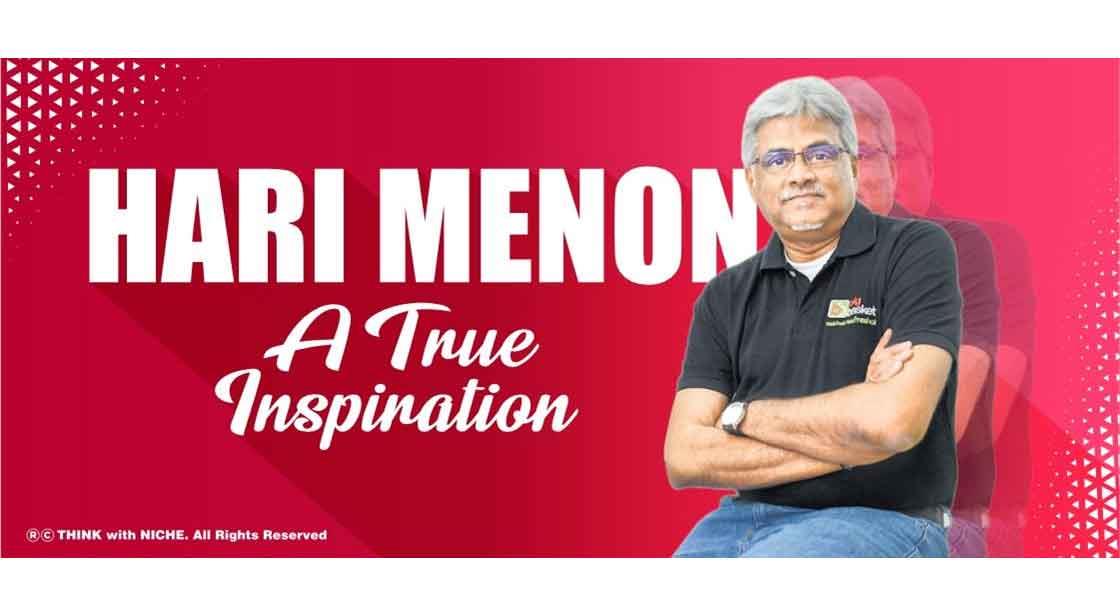 Growing slow and steadily, Big Basket has become India's largest online grocery store. It has gradually covered India's many small cities and towns by signing Shahrukh Khan as its brand ambassador. Mr. Hari Menon, the co-founder, and CEO of Big Basket, started as any other young entrepreneur wishing to capture the market with his ideas. He came out of many failures until he reached the peak, on which he stands right now. Get an insight into what his early life was and how eventually Big Basket came into existence. #ThinkWithNiche
Continue Reading..
Introduction
Currently, Big Basket has many happy customers. Its founders believed in strengthening roots first instead of expanding their business. Having already faced failures in previous start-ups, Hari Menon took every step with utmost care, weeding out every snag. Today, Big Basket has more than 3000 traditional grocery stores in collaboration which delivers food, grocery, vegetables, and other products. Hari Menon's success story is an inspiration as well as a guide for the upcoming star-ups.
Who Is Hari Menon
Hari Menon was born in 1996 in Bandra West, Mumbai. His family was a middle-class family. From his early days of childhood, he is inclined towards Music and Cricket. Likewise other middle-class parents, his parents also guided him to focus on studies more to have a stable career in life. However, he possessed a mind of an experimentalist. His eagerness to trial run grew with time. He completed his engineering degree from one of the top institutions of India, BITS Pilani. He also owns a degree in MBA from Carnegie Mellon University. He was the country head of Planet Asia, among the first Internet services businesses in India. Later, he joined Wipro, an Indian Multinational Corporation, as a Business Head of the Info tech business. Following his passion, he also served 'India skills"- the Vocational Education Joint Venture, as the CEO. He is a member of the Karnataka Cricket Association. He and his colleague launched fabmart, which was India's first online store, in 1999. But it failed due to many reasons like unavailability of a secure digital payment gateway etc. They also set up a chain of physical stores called Fab mall, which was sold to Aditya Birla Group in 2006.
What Is Bigbasket
Big Basket was co-founded by Hari Menon and three others Abhinav Choudhri, Vipul Parekh, and VS Sudhakar. It is the largest online food and grocery store in India. However, the first six months were very hard. Their biggest challenge was to meet the demand of their customers. Not so late after its launch, they received their first funding of $10 Million from Chrys Capital and Ascent Capital. Big Basket has a wide range of household products. Their online store has over 1000 brands and more than 20,000 products. They are capable of processing more than 45,000 orders a day from five million customers. They practiced constant innovation, took the help of technology and extraordinary customer services.
Big Basket encountered all sorts of hurdles in its path of growth which any budding businessman can be scared of. They managed an effective business by surrounding their model around, Customer Service, a large variety of products, and using technology for innovation. Their business is broadly divided into Planned Purchase and Top-up Purchase. They adopted a just-in-time model to deliver various perishable products. Recently, they have launched three new businesses – BB Daily, BB Instant, and BB Beauty Store. BB Daily and BB Instant have separate apps.
According to him, fundraising is crucial for a business. The future of business depends on when you are focusing on collecting money. To have a good supply of resources, even in the early stages of business too, the right amount of capital should be gathered. Entrepreneurship is not only about having great strategies to build up a business. Hari Menon has been awarded for his excellent contribution to society and for being a role model for the young generation. Who would have thought that purchasing grocery and even food items could be done through online stores? Despite his business management skills he still has his passion for Music and Cricket with him. He is a true source of inspiration.
Conclusion
Big Basket has received many awards such as Consumer Internet Company of the Year, Best Online Grocer, etc. Hari Menon is a motivation for all young entrepreneurs, dreaming to be a successful market player in the future. He always followed his urge to come up with unique ideas and test them too. Even though his journey had lots of troughs but he is still standing with confidence, ready to enjoy upcoming adventures.
You May Like