How to Contact Your Favorite Celebrity for Business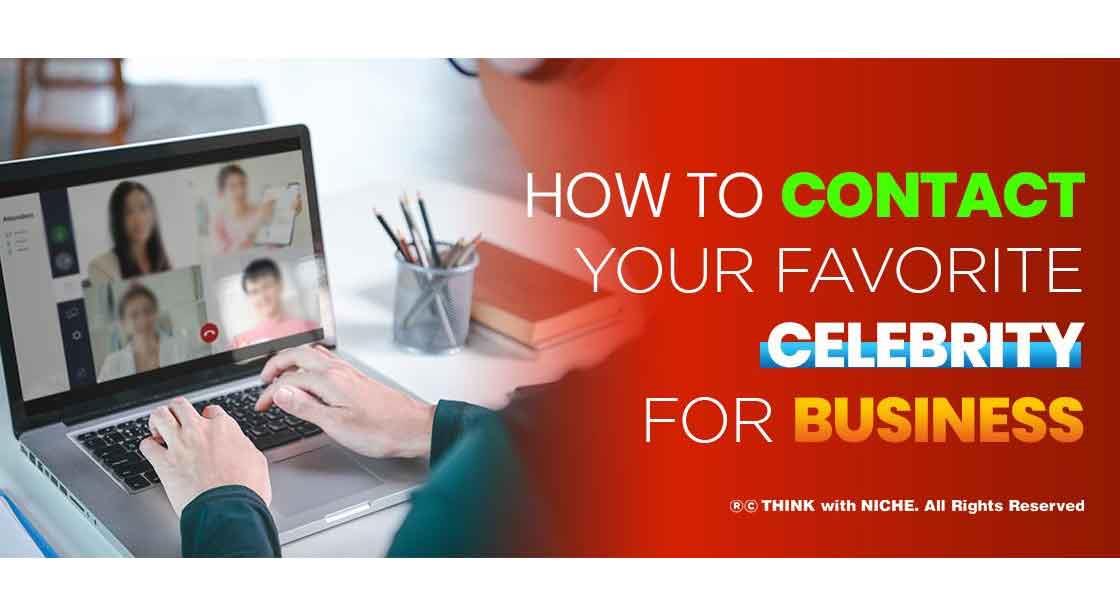 Get in touch with your favorite celebrity for business purposes, here are the best way to contact them for your upcoming brand or business. #ThinkWithNiche
Continue Reading..
Trying to contact the famous person's representative via email is the right approach to get in touch with them. Because celebrities receive a string of feedback and messages on different channels, particularly from admirers, your words might just get lost in the shuffle. Here are several ways you can contact famous celebrities for upcoming projects.
Surprise Them With Gifts
Packed surprises are a wonderful way to generate unofficial business possibilities. Goodie hampers aren't what you think they are (a small shopping bag with some free goods inside); instead, they're generally a basket loaded with goodies. The items are either presented to the celebrity personally or transported to the celebrity's preferred location. This approach is used by the majority of fans all over the world. Goodies are a wonderful approach to building the basis for an unofficial connection with a celebrity. Informal collaborations are any arrangement that isn't supported by an agreement, and they may be extremely beneficial for businesses that may not have the funds to invest in a conventional sponsorship effort. It's possible when a celebrity is seen with your product, the brand appeal might explode.
Contact Through Social Media
Fans and company owners may now get a look into the life of celebrities thanks to social media, which allows them to feel more connected than ever to their favorite stars. It's also a fantastic method to stay abreast of what stars are up to, as well as a means for stars to keep their public profile up to date sans attending numerous gatherings. And, because a celebrity's brand is frequently bolstered by how real their fans consider them to be, they use social media to show their fans what they're like as regular people like you and me. Fans can contact celebrities through social media, but if you're searching for an interview or want to contact a celebrity for commercial purposes, social media isn't the ultimate idea. On social media, celebrities receive a large number of comments and messages, so the chances of your message being noticed are small. Furthermore, if you're contacting a celebrity for a commercial arrangement, you shouldn't contact them personally. Instead, you should contact the individuals in charge of their commercial dealings.
Get Them Hitched For Your Event
Event bookings, like endorsements, are primarily a revenue generator for a celebrity, therefore you'll need to speak with their representative about the possibility. An agent informs you if the celebrity you're looking for is available for your function on the day you've requested, as well as how much you can anticipate further developments. This process will also involve the celebrity's management; if the star has never had an agency, you'll have to approach the management to seek things out. If a famous personality has an agent, consultant, or manager, start with the representative; they'll bring in management when they think it is appropriate.
Endorsements
If the star doesn't have any agency, the management ought to be your next destination. Because a possible endorsement might have an influence on the celebrity's image, you'll want to talk to the management first. It's essential to note, though, that if the celebrity has both agents and management, you won't have to contact them both at the same time. Most of the time, you should contact the agency first to see whether the celebrity you want is within your budget. After you and the agent have negotiated it, your representative will contact the manager to get final approval on the transaction before beginning the contractual procedure.
Celeb Trivia
10 Most Famous Female Celebrities:
Beyoncé

Kim Kardashian

Taylor Swift

Oprah Winfrey

Angelina Jolie

Sofia Vergara

Michelle Obama

Priyanka Chopra

Lupita Nyongo

Ellen DeGeneres
10 Most Famous Male Celebrities:
Tom Cruise

Brad Pitt

Johnny Depp

Chris Evans

Chris Hemsworth

Hugh Jackman

Robert Pattinson

Henry Cavill

Robert Downey Jr.

Ryan Reynolds
You May Like
Innovation and Communication

Innovation and Communication

Innovation and Communication

Innovation and Communication