How Does Social Media Help In Growing Business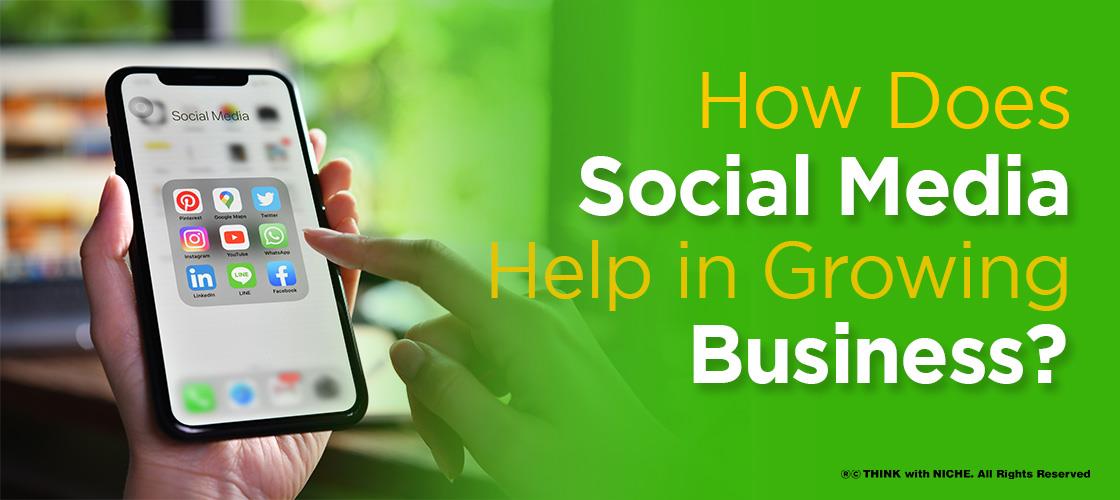 Looking for some ways how you can grow your business with the help of social media? This blog has got you covered with how social media platforms are helping in growing the business from budget friendly alternative to making businesses communication easier- this is a must-read for you #ThinkWithNiche
Continue Reading..
It has been evident through many circumstances that Social media has played an enormous role in the improvement of businesses or services. The most important timing of 2020 has been crossed with the help of Social media and the facilities that it had to offer. Most business owners are facing hardships in running their businesses due to the Pandemic, But Here Social media has been a beneficial platform for such businesses. Companies can use sites like Facebook, Twitter, and even LinkedIn to actively boost and attract more customers, and setting up for these sites only ends up taking a few simple steps. Because social networking is sweeping the corporate world, it's up to your firm to either jump on board and give it a try, or risk being left in the dust.
1. It enables you to quickly share and update information.
With the click of a button, you can share new content on social media rapidly and effortlessly. It could be as simple as typing a couple of sentences about a new product and pressing the publish button. Since it is social media, you don't have to be as concerned with aesthetics as you would with a website, such as maintaining appropriate layout and coding, and it enables you to say stuff expediently.
2. It's a Simple Method of Communication
Social media provides new avenues for communication between you and your customers. Most customers nowadays would rather interact via email, messaging, or social media posts than answer the phone and speak to a human voice in an ever-changing world becoming much more technologically advanced. You must ensure that your company allows customers to contact you in the manner that they prefer.
3. It's a Budget-Friendly Alternative
With social media, your business has the option of completely free marketing and advertising. You can post as much as you want, whenever you want, and for no cost. It's even free to create a profile. Businesses are advised to pay for endorsed ads to uplift their social and business media tweets, which is a great option to go for, but even so, this option will not break the bank. Using social media to promote your product and special promotions is always a budget-friendly option.
4. Customer Service on Social Media is Fantastic
Customer service should be at the top of every company's list of priorities, and social media makes it so much easier. Customers enjoy communicating services and businesses through social media and maintaining a strong query and messaging service will help you generate more satisfaction.
Social Media Is A Must Have For Today's Business
To sum up, it is quite into the limelight that social media plays a huge role in the process of expressing and presenting your personality through the product and service that one has to offer. And with the help of social media, businesses make sure to rise with the help of consistency and an authentic mindset. The audience wants to experience genuine on the social media platform. Thus if you go along with your everyday post and monotonous lifestyle, people won't take much of an interest. Thus staying authentic and presenting the right information becomes a magnetic method to gain a loyal fan base along with merging with the taste of what the audience wants to grab through the promotion.
You May Like