Holi: Not a festival, but an Emotion!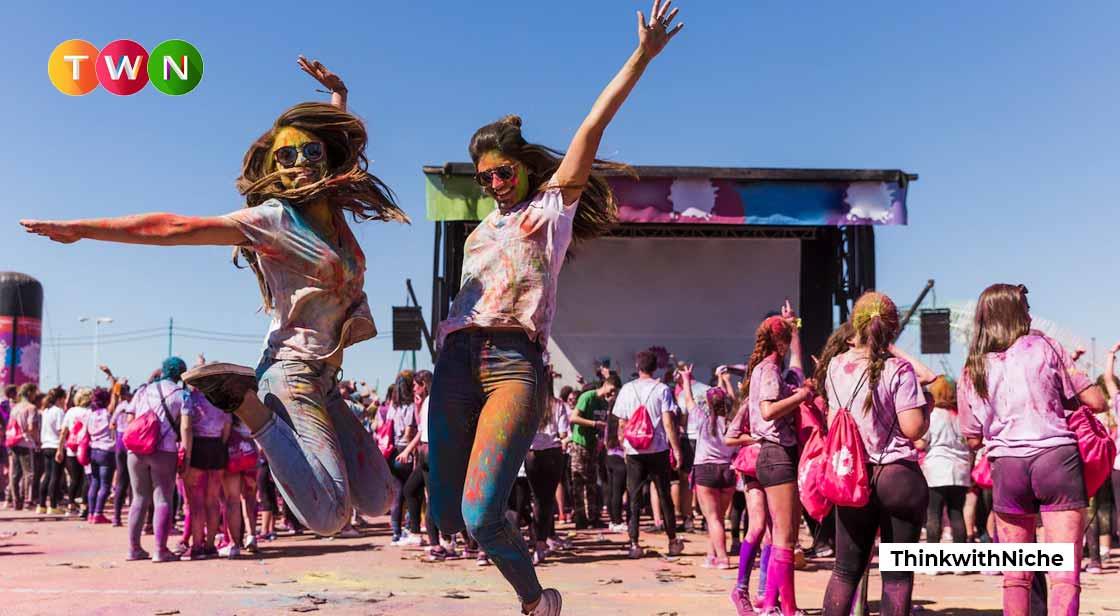 Whenever we talk about Holi, things that come to mind are; grace, joy, and most importantly, colors. But today, one more thought also comes to mind:
Is Holi just a festival of colors?
Is Holi limited to a one-day festival? #TWN
Continue Reading..
Let's Understand Holi a Little More Today
As soon as the month of Falgun arrives, the waves of the Holi festival begin to rise in mind. The arrival of Holi means the arrival of the summer season. People who settled far from home get a chance to revisit their houses. The smell of snacks like; Gujiya, mathri, and khurma is spread everywhere in the environment.
Although we celebrate the new year on January 1, the Indian Hindu New Year begins only with the arrival of Holi in the month of Falgun.
Different Names of Holi
Holi has other names as well, such as Fagua, Dhuledi, Dol. During Shah Jahan's time, Holi was called 'Eid-e-Gulabi' or 'Aab-e-Pashi' (shower of colors).
Holi and Akbar
Since Emperor Akbar had very good Hindu relations in the court and he himself had a Hindu Rajput queen, therefore, in his empire, Hindu festivals were also celebrated with great enthusiasm; one of those festivals was- " Holi. ''
The Mention of Holi is also Found in Ancient Texts
Alberuni has also described Holi in his historical travel memoirs.
Holi has a Deep Connection with Classical Music Too
In classical music, songs have been composed for every season, month, occasion, person, so are the songs of Falgun month, i.e., Holi is not untouched from classical music? Holi songs sung at the dargah of Khwaja Moinuddin Chishti in Ajmer city of Rajasthan have a different vibe. Different colors of Holi are seen in every city, town, place of India.
Holi and Lord Krishna
Krishna is the reason for the celebration of Holi in Vrindavan, Mathura, Barsana, Gokul, wherever Radhakrishna's love is more scattered. Vrindavan Holi is a bit different - Holi of flowers, Holi of mud, Holi of water, Lathmar Holi. The name is one "Holi," but it is celebrated with great fervor here. At this time, images of Radha-Rani, Gopikas in girls, and Krishna and cowherd boys are seen in the areas here.
Rangbhari Ekadashi of Kashi
Holi of Lord Shiva and his ganas (Shiva followers) is celebrated and played as Ekadashi Holi. People disguise themselves as the Ganas of Shiva by applying colors, dancing, and singing in Holi.
Holi Dominates the Films
Even in films, ordinary life is lived, and festivals of ordinary life are celebrated. Rang Barse Bhege Chunar Wali, who does not remembers this song, Holi Khele Raghubira, this song tells that Rama of Ayodhya's kingdom also used to play Holi.
Festival of Bhang, Dish, and Swings
The joy of swinging happily in Holi, its shade is different, the enthusiasm of the cold, the sweetness of the dishes, and the rain of colors swell the body as well as the mind with joy.
Let's answer the question, why is Holi celebrated? i.e., the legend of Holika, due to which Holika Dahan is celebrated a day before Holi.
The Story of Holika and Prahlad i.e. Holika Dahan
Demon king named Hiranyakashyap began to believe himself to be a god and used to torture anyone who opposed him, but when his son Prahlad had peace of mind, non-violence, and only Lord Narayana as his devotion. How would Hiranyakashyap bear that he is opposing all the deities, and his son is worshiping Narayan? Hiranyakashyap explained, intimidated, but Prahlad did not agree. Finally, he asked his sister Holika to take him and sit in the fire because Holika had a boon that fire could not burn her, but on the contrary, she got burnt, and Prahlad survived, by the grace of Narayan. Since then, this day became famous as the victory of good over evil, victory of truth over falsehood, and Holika-Dahan. Human beings were taught that no matter how big the evil is, it cannot harm the good, and since then; on this day, fire is lit for Holika, and it is believed that you can burn all the bad memories and evils inside you in this Holika and you can start your life with new positive energy from the day of Holi.
A Day to Forget the Grievances
There is such an occasion of Holi where it is said - don't feel bad it is Holi, have a big heart. If even the enemy comes to the door today, hug him. All these things show that Holi is a symbol of happiness, moving forward, positivity, so celebrate Holi with an open heart, and I wish you all a very Happy Holi.
You May Like
Lifestyle and Entertainment

Lifestyle and Entertainment

Lifestyle and Entertainment

Lifestyle and Entertainment