Exploring The Growth Potential Of Indian FMCG Industry In 2023: Trends And Forecasts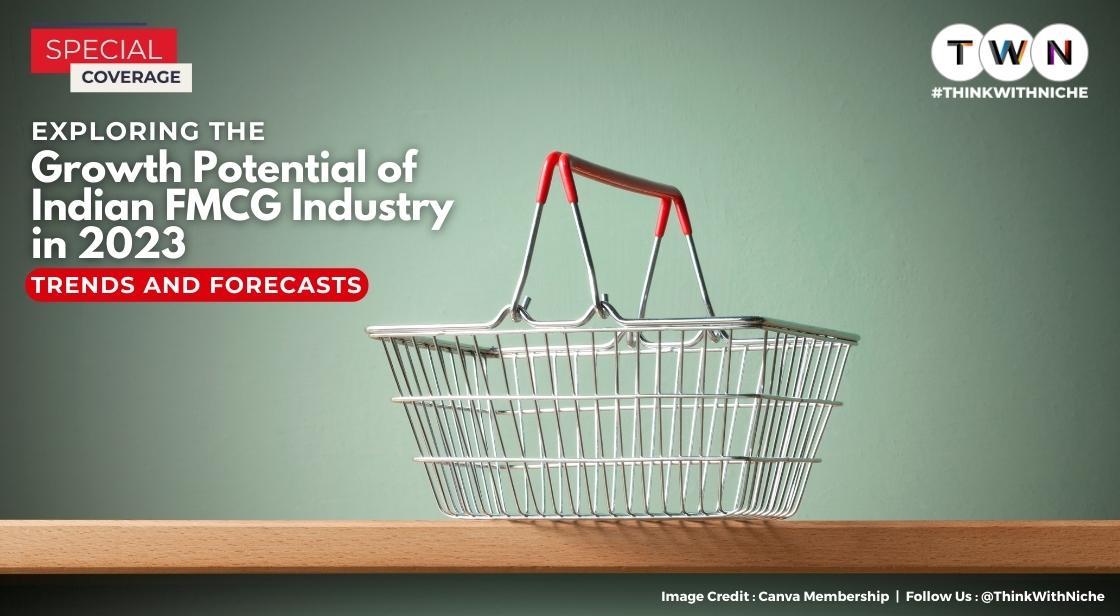 The fast-moving consumer goods (FMCG) sector is India's fourth largest industry. It is distinguished by high turnover consumer packaged goods, that is, commodities that are made, distributed, marketed, and consumed in a relatively short period of time. Detergents, toiletries, tooth cleaning products, cosmetics, and other FMCG products currently dominate the market.
Pharmaceuticals, consumer electronics, soft drinks, packaged food goods, and chocolates are also part of the Indian FMCG Industry. Because the industry includes a wide range of items, different corporations dominate the market in different sub-sectors. Dabur (60%), Colgate (54.7%), and Hindustan Unilever (54%), on the other hand, are among the top FMCG companies in the country.
In this blog post, we will explore the Growth Potential of the Indian FMCG Industry in 2023.
Continue Reading..
The fast-moving consumer goods (FMCG) sector is India's fourth-largest and has been expanding at a strong clip in recent years as a result of rising disposable income, a growing youth population, and rising consumer brand awareness. With household and personal care accounting for 50% of FMCG sales in India, the business contributes significantly to the country's Economy.
Due to its middle-class population, which is larger than the total population of the United States, India is a market that no FMCG player can afford to ignore. The Indian FMCG market is expanding as more individuals begin to climb the economic ladder and the benefits of economic advancement become more widely available to the general public. More importantly, with a median age of just 27, India's population is getting more consumerist as their aspirations rise. Government measures to enhance financial inclusion and provide social safety nets have also supported this.
What exactly is FMCG?
FMCG is a shortened form for Fast Moving Consumer Goods, often known as Consumer Packaged Goods. They are one of the most popular goods on the market and are designed specifically to meet the needs of the general public. Almost everyone on the earth uses consumer products on a daily basis, necessitating frequent purchases. Because of their limited shelf life, they sell rapidly and at low unit pricing. In general, FMCG will have sale offers and big discounts.
Different Types of FMCG Sectors
There is a wide range of FMCG products on the market. Cosmetics, food, pharmaceuticals, and so on. These many products can be classified according to their industry or market segment. The various categories are as follows:
Home Care:
These are primarily cleaning and hygiene items. Because these items are standardised and have a limited shelf life, they are categorised as FMCG. Consumers can select from a wide range of home care goods. Dishwashing products for cleaning utensils and crockery are among the subcategories.
Soap and household cleaning liquid.

Fresheners for the air.

Toilet cleaning products.

Disinfectants for the home.

Laundry detergents and soaps are examples of fabric care products.
Food and beverages:
They are commonly available and have a very short shelf life, making them FMCG products. They are the most important sector of the FMCG industry. This category is further subdivided into:
Foods like boxed pasta and cereals are examples of processed foods. Raw agricultural material is processed to create processed foods.
Dairy products include milk and milk-related foods. Cheese, butter, ice cream, and dry and condensed milk are among them.

Ready-to-eat items have previously been prepared and are ready to eat. There is no need to cook ahead of time.

Cookies, bagels, and cakes are examples of baked products.

Fresh goods, such as fruits and vegetables, have a shelf life of two to three days. These are the most quickly consumed items. Because of their short lifespan, the merchant sells them fast at a very low unit cost.

Frozen foods encompass a wide range of products such as frozen ready-to-eat snacks, frozen veggies, and so on.

Dry food items include dried dates, raisins, almonds, and walnuts, among others.

Tea, coffee, soft drinks, and packaged drinking water are examples of beverages.
Personal Care:
These items are used for daily personal hygiene as well as body and hair care. These are for public use and are suitable for persons of all ages. They are widely used and only last 6 months or a year after being opened. The subcategories are as follows:
Skincare goods include those used to improve skin problems and texture.

Cosmetics include foundation, concealer, lipstick, lip gloss, mascara, and other similar items. These items do not penetrate the skin.

Hair care products are designed to care for the scalp and hair. Shampoo, conditioner, hair cream, gel, wax, and other products fall under this category.

The baby care line was created with fragile newborn skin in mind. They protect and improve the baby's skin and hair condition.

Mouthwashes, toothpaste, and other oral hygiene products are included under oral care.
Medical Care:
Some medications are available without a doctor's prescription. And widely available in medical supply stores. They are also known as OTC medications. Supplements and female care products are also included in this category.
India's FMCG Market
The FMCG sector is one of the most important in the Indian economy. According to an FMCG industry overview, the FMCG sector's revenues hit $ 52.75 billion in FY18 and are expected to reach $ 103.7 billion in 2020. The FMCG industry is a vital area for investors as consumption in India grows at an unparalleled rate. Seeing these developments in the FMCG business profile, the Government of India has launched a number of efforts to promote the industry. For example, 100% FDI is allowed in SBRT and cash-and-carry retail models, while the minimum capitalization for foreign FMCG companies investing in India is $ 100 million. Even the adoption of GST in India has had far-reaching effects on the sector, since the most popular FMCG products, such as soap, toothpaste, and hair oil, are now taxed at 18% (rather than the previous 24%).
Driving Factors of Growth of FMCG Industry in FY23
The FMCG industry has seen a significant transition over the last two decades and is now believed to be India's fourth largest sector. Here are some of the driving variables that will play a significant influence on the sector's growth and development in FY23:
Digitalization
During many waves of the coronavirus pandemic, supply and distribution were severely disrupted. In a country where small Kirana stores still account for 80% of sales, it is vital to ensure that orders from such channels remain consistent. That is what digitalization has ensured in recent years. FMCG firms are using digital capabilities to integrate suppliers, inventory management, and distributor management into a single ecosystem.
A simple ordering app currently allows retailers to safely make contactless orders and provides visibility into the fulfilment of those purchases—from order placement through logistics to supplies. AI, Big Data, and Predictive Analysis are increasingly being utilised by FMCG companies to accurately forecast customer behaviour, allowing them to better understand what their customers are interested in. Increased internet and smartphone penetration will make it easier for people in rural areas to shop online at various e-commerce websites.
Direct Sale to Consumers
The profit margin associated with selling directly to consumers is gradually enticing brands to establish stand-alone online stores and websites, as well as direct digital sales channels on various digital marketplaces. The majority of FMCG firms have already capitalised on the trend by delivering products to consumers' homes. In 2021, brands with separate websites for customer sales reported an 88% increase in year-on-year client demand. Direct-to-Consumer is becoming a favoured business strategy for FMCG companies, and it will become more relevant in the next years.
Increasing Government Initiatives and Investments
The government has taken significant steps to encourage additional investment in the sector and to provide new opportunities for international firms. In 2020, India's FMCG sector received $18.19 billion in foreign direct investment (FDI). The government's incentives and FDI money have assisted the sector in establishing a robust supply chain, strengthening employment, and capturing high awareness for FMCG brands.
In addition, the PLI scheme announced in November 2020 proved to be particularly advantageous for the sector in terms of increasing manufacturing capacity and exports. The government is likely to make additional efforts to boost the sector in the future through compelling investments and programmes.
Future of FMCG In India
The Indian processed food market is expected to grow to $ 470 billion by 2025, from $263 billion in 2019-20.
FMCG behemoths such as Johnson & Johnson, Himalaya, Hindustan Unilever, ITC, Lakmé, and others (who have long controlled the Indian industry) are now competing with D2C-focused start-ups such as Mamaearth, The Mothers Co., Bey Bee, Azah, Nua, and Pee Safe. Market titans like Revlon and Lotus required 20 years to reach the Rs. 100 crore (US$ 13.4 million) revenue threshold, whereas new-age D2C businesses like Mamaearth and Sugar took four and eight years, respectively.
India's Top 5 FMCG Companies
The largest fast-moving consumer goods (FMCG) company in India, Hindustan Unilever Ltd, has been operating in the country for more than 80 years. On the list of the top 5 FMCG companies in India, it is the largest.
The biggest food and beverage corporation in the world is Nestlé. The corporation operates in 191 countries and has more than 2000 brands, ranging from local favourites to worldwide classics. After more than a century of being associated with the nation, NESTLÉ India now has 8 production sites and 4 branch offices spread all across the country.
ITC Limited, a diversified conglomerate founded in 1910, operates in a variety of industries, including hotels, paperboards and packaging, agribusiness, information technology, and fast moving consumer goods, which include foods, personal care products, cigarettes and cigars, branded apparel, education & stationery products, incense sticks, and safety matches. The best FMCG brands in India include ITC.
One of India's top FMCG companies with a 100-year history is Britannia Industries. Britannia is one of the most reputable food companies, producing well-known products in India such as Good Day, Tiger, NutriChoice, Milk Bikis, and Marie Gold. The product line offered by Britannia consists of biscuits, bread, cakes, rusk, and dairy items like cheese, beverages, milk, and yoghurt.
Dabur India is the largest and most prestigious natural health care and ayurvedic firm in the world, with 135 years of illustrious history. T
Three Strategic Business Units, namely the Consumer Care Business, the Foods Business, and the International Business, make up the business. Health care, home care, and personal care are all included in the consumer care business.
Conclusion
The strong growth rate of India's FMCG industry goes beyond growth drivers like income growth and urbanisation. The purchase habits of India's new-age consumers have resulted in a market attitudinal shift. In 2030, India will have 370 million generation Z consumers with different purchasing priorities.
The modern Indian consumer is distinguished by high awareness, a preference for health and nutrition, and a high disposable income. As a result, new FMCG sub-sectors such as air and water purifiers and organic food staples have emerged. These trends will continue to shape the FMCG industry profile. SHARP, a Foxconn-powered company, has introduced a line of unique air purifiers and humidifiers aimed exclusively at the Indian market. With the expansion of the traditional FMCG sector and the creation of previously unknown sub-sectors, the future of this business appears bright for investors.
You May Like