Top 8 Employee Engagement Practices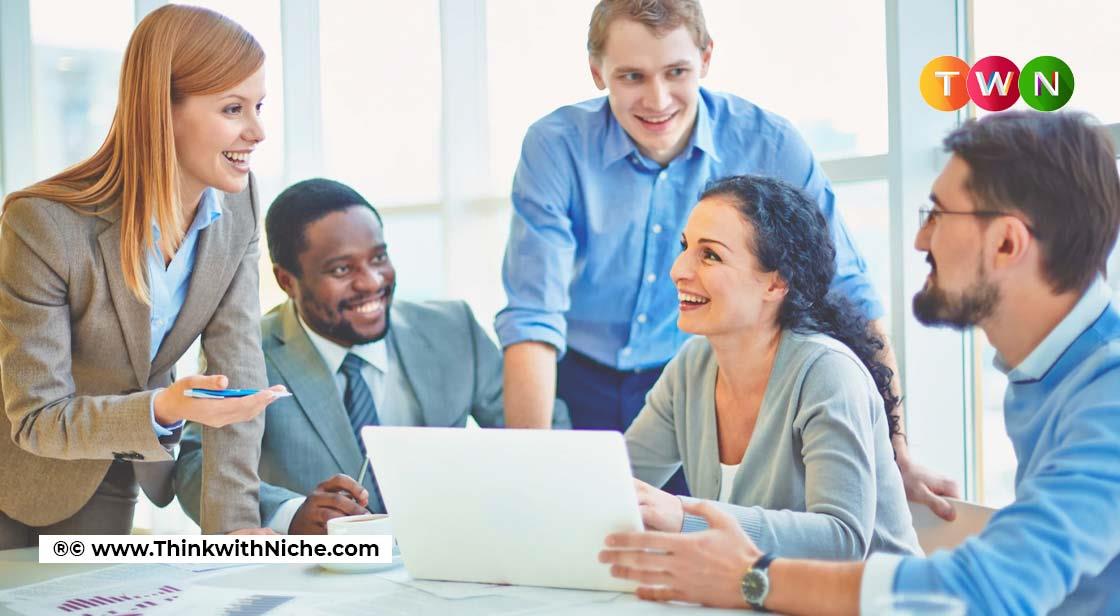 Engaging your employees in activities can help you develop your sustainable business. If the workforce under your leadership can come up with new ideas that not only benefit the organization but also help in protecting the environment, then many problems can be solved, and creativity will be triggered. This article has a few ways in which you can make a sustainable business and teach you how some big companies managed to turn the tide in their favor in terms of sustainability. #TWN
Continue Reading..
Bored of the same mundane work every day in the office without any recreational activities that might benefit nature?
Are your employees not as productive as they were earlier?
Why not create an environment that engages the employees in the office and helps you create a sustainable business?
This article is about how you can use your employee's corporation and create a sustainable business. Read till the very end and apply these tips to your business and grow sustainably.
Six employees approached the factory manager at the Unilever factory in Khamgaon, India, in early 2015, with the intention of starting a beauty and hair care course in their community to help local women get a job or set up a business while also promoting Unilever's personal care products. The training center was launched after management gave the go-ahead in March 2015.
Was this step a Unilever's quest for sustainability?
No. Even if you keep up with sustainability news on a regular basis, you've probably never heard of them. That is precisely the point. This story demonstrates how Unilever, along with other companies like IBM, Marks & Spencer, and BASF, is integrating sustainability into every employee's job and transforming a sustainable business model into business as usual.
However, there are a few companies where we see substantial personal involvement by employees in environmental issues. Take, for example, the clothing retailer Marks & Spencer, which has sustainability champions in each of its 1,380 stores to ensure that each shop meets all sustainability targets to the best of its ability. For example, the financial services firm Old Mutual Group developed a training program for future leaders that includes sustainable development as a core component. The presence of such champions contributes significantly to making sustainable development relevant and perceptible throughout the organization.
It is especially important for corporate executives to set a good example in sustainability efforts because research shows that stockholders, including employees, are frequently skeptical of a company's motivations for participating in sustainability initiatives. Some people are persuaded to put aside their skepticism and support such initiatives only when they are convinced that the company is serious about making a difference. To put it another way, when it comes to sustainability, leaders' actions speak louder and play a significant role in signaling company values to employees.
To create a sustainable company, a company can implement 8 practices to help bridge the gap between an employee's moral beliefs and a company's business practices.
Let's Talk about these ways to engage employees and create a sustainable company.
Without any further ado, let's talk about some best employee engagement activities.
Define Your Company's Long-Term Purpose and Vision
The first way to eliminate the conflict that people may feel between their work responsibilities and their personal values is to emphasize the company's long-term interests, which are unquestionably more connected with the good of society and the planet. Unilever, for instance, defines its purpose as "making sustainable living commonplace" (a modernization of its founder's 19th-century goal of "making cleanliness commonplace).
To put this purpose into action, the company launched the Unilever Sustainable Living Plan (USLP) in 2010, a blueprint for the company's sustainable growth strategy that explains how the company's success is ultimately linked to the success of societies and the planet. The USLP has three primary purposes: improving the health and well-being of more than one billion individuals by 2022, halving the company's environmental impact by 2020, and enhancing the economic livelihoods of millions of women and small-scale farmers in Unilever's supply chain by 2022. Unilever's brands, which are also its growth engine, play an important role in bringing its purpose to life. The company is currently assisting all of its brands, including Dove, Lifebuoy, Domestos, Knorr, and Vaseline, in identifying and activating their long-term sustainable living purpose.
How does a manager persuade employees of the economic case for sustainability? Setting environmental goals has long been an important part of IBM's overall planning process. The process is used by the company to engage its parts of the business and employees in an attempt to address environmental issues. The process begins with corporate staff conducting an in-depth analysis of how IBM's businesses intersect with the ecosystem. Draft goals are then developed, taking into account the company's environmental objectives as well as its commitment to being a leader in environmental sustainability. The specific goal recommendations and supporting analysis are then evaluated with business units to ensure their buy-in. The business units gain an awareness of environmental drivers and expectations behind each goal, as well as the business and societal benefits, through this process. According to IBM, this understanding aids in gaining and maintaining support from business unit leadership, as well as increasing employee engagement.
Competence and Creation of Sustainable Knowledge and Its Management
Sustainability affects every aspect of a company, from energy usage to procurement. To strengthen employees' "can-do" attitudes and beliefs, it is critical to invest in sustainability education as well as the development of structures and procedures that make it easier for employees to incorporate sustainability into business decisions. Many sustainability initiatives necessitate specialized knowledge and expertise, such as speaking with suppliers about sustainable sourcing or evaluating a new product using an eco-efficiency tool. It's no surprise, then, that companies as diversified as BASF, IBM, Marks & Spencer, and Nestlé have heavily invested in training programs, as well as systems and processes that enable large-scale sustainability decisions.
Make every Employee a Champion in Sustainability
One thing all successful businesses have in common is strong leadership. And nowhere is this more important than when establishing a long-term business. In the context of developing a sustainability agenda, John Brock, ex-CEO of Coca-Cola Enterprises, stated, "Frankly, the single most important thing, in my opinion, is leadership." You need someone who believes in it [sustainability]. It's the CEO's call. That is the first. Then you need an executive leadership team that is equally dedicated to it."
As part of their leadership development at Unilever, most senior executives are needed to explore their personal purpose in life in order to shape their future careers at the firm. They are then asked to choose one of Unilever's most pressing sustainability challenges related to business growth—such as water scarcity, sustainable sourcing, or women's empowerment—and work in groups to develop solutions to present to the company's top executives.
Create Sustainable Practices with Your Employees
Engaging employees in the co-creation of sustainable practices is another important way to embed sustainability in a company. Acting on employee initiatives is one way to accomplish this. Company executives can begin by emphasizing that funding for sustainability initiatives is readily available and can be applied when an employee has a good idea.
When ideas bubble up from the bottom of a company, they produce more and better ideas. Marks & Spencer is a great example of this, as it now has clothes-recycling cartons in its stores that generate revenue for the international nonprofit Oxfam. The cartons were an employee's idea that was supported by the board and was a huge success.
When employees see the positive effect and investment benefits of social and environmental investments that they helped build, they begin to believe that they do have a role to play, and ideas begin to flow. A large company must provide a structure for people to play within, and then things do happen almost magically.
Healthy Competition Among Employees. Encourage It!
Creating a culture of friendly competition among employees is an effective way for an organization to embrace a new list of standards and foster an "I should do it" spirit throughout the organization. Competition fosters creativity, and the skills that foster competition—a willingness to push the limits, trust group members, and work together to solve problems—are the same skills required for innovating in the field of sustainability.
Visible sustainability both Inside and Outside the Company
Several sociocognitive models emphasize the importance of visibility and salience in changing people's beliefs and attitudes, as well as influencing behavior. People are always interested in monitoring and communicating progress on key sustainability indicators. People want to prosper in the areas where they are judged. It's no surprise, then, that leading businesses create indicators to track the progress of their sustainability strategy, which they share with outer stakeholders and employees. To maintain high visibility and reinforce the idea that sustainability achievements are important to the company, it is also important to celebrate success when goals are met. Employees must believe they have contributed to the achievement of goals and recognition. It strengthens their resolve and their identification with the firm.
Create Transformational Change to Showcase Higher Purpose
While external engagement is essential for switching to a viable business, it is also essential for building credibility and legitimacy, and thus pride and identification, among employees. Unilever set lofty goals and made them public. Now it is up to the company to interact with progress and encourage employees to meet them.
To combat deforestation, Unilever and Tesco, for example, led the global Consumer Goods Forum—an industry network of approximately 400 retailers, makers, and service providers with a merged turnover of €2.5 trillion—in declaring a moratorium on deforestation. This set the basis for the formation of the Tropical Forest Alliance, a broader global umbrella partnership of governments, the private sector, and civil society organizations, which launched its commitment to end deforestation in palm oil, beef, soy, and pulp and paper industries. These coalitions' efforts culminated in the United Nations' New York Declaration on Forests in 2014, which pledged to end worldwide forest loss by 2030.
These are some of the points and examples that are sure to guide you on the path to sustainable business. If you can encourage your employees to come up with ideas that will benefit the company and environment at the same time, then your firm will be on the right path to sustainable success. Only you can declare a moratorium on the worst things happening to nature.
If you have enjoyed reading this Blog, TWN recommends you to read our Blog on "How to Balance Environmental Sustainability with Sustainable Leadership?" Click on the Image Below!
You May Like
Industrial Development and Environment

Industrial Development and Environment

Industrial Development and Environment

Industrial Development and Environment