Create a Spectacular Website with Stencil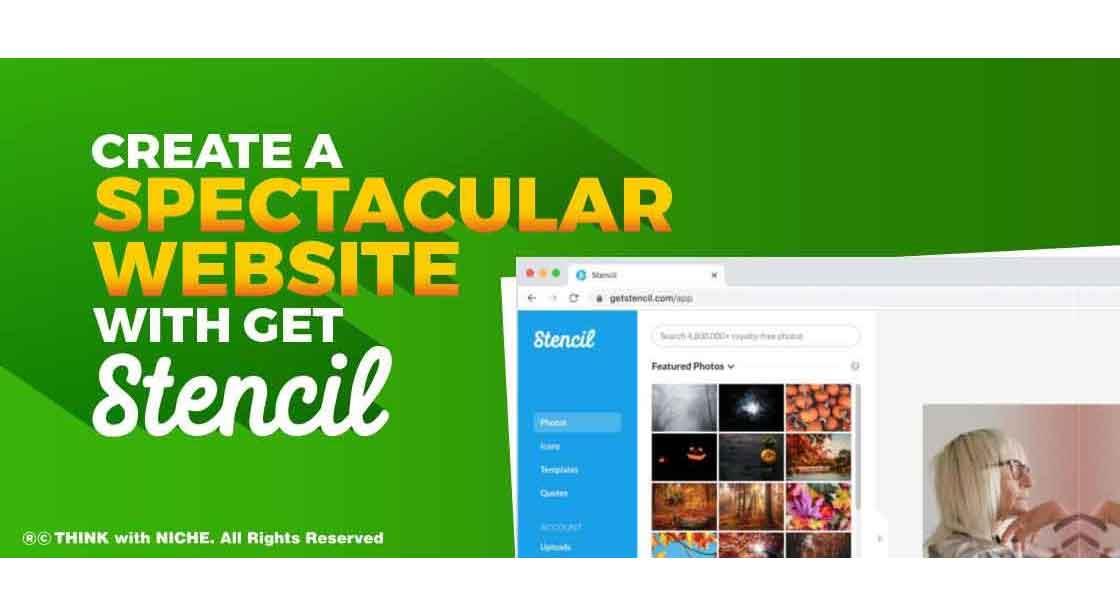 Everyone cannot be an expert on everything and becomes quite difficult for one person to handle everything related to their website. For that kind of people, there are many tools available like Debutify provides you with the themes that you can use for the creation of your Shopify store. Stencil is one of those tools that provide you with the graphic designing tool to help the people who have great content but lack the skills to present it visually. So, put on reading glasses, and let's get started. #TWN
Continue Reading..
When we create a website or social media handle, a few things always pop up in our minds. How to create eye-catching content? How can we make our content more interesting? Well, graphics play a huge role in creating a website that not only catches the attention of the audience but also retains them and makes sure that they return to your website and are not created into just a one-time user. Well, not everyone has the talent to create striking graphics, and we don't even have so much time to learn the required skills for graphic designing. Well, if you are one of those people, Stencil could be of great use to you. Stencil is a simple graphic design and photo creation tool which helps you create social media graphics, compelling ads, blog headers, and much more. You do not need to be an expert graphic designer, it's ok if you don't have any knowledge about graphics because this tool provides you with a user-friendly toolset and guides you through the graphic designing and image creation process. through the graphic designing and image creation process.
Features
Designed for speedy creations of your visual content, you can now create images faster and quite easier than you ever imagined.

This tool is designed for the easiest usage, and your user experience is enhanced because of the ridiculously simple-to-use interface.

Stencil promises to improve constantly, thus providing you with the latest features and a smooth user experience.

They also promise to provide premium support to help the customer reach his goals and create premium content.
Content Creation Features
Creating content on Stencil becomes a child's play because of all the content creation guides and templates provided by this tool. Let's take a look at some of the content creation features provided by Stencil:
Choose from over 5,000,000 stunning royalty-free photos. All the images are of super high resolution and ready to use. You can save all your favorites in one place so that you don't have to go looking for them again and again.

Instant resizing is available for you to help you create an image of the perfect size according to your preferences. You are provided with around 140 presets like social posts, ads, blog posts, etc. You can also customize your image to your preferred size if none of the presets match your criteria.

Instant review and sharing option is also available.

You can plan your posts if you have a buffer account.

Stencil also provides you with 3,100,000+ icons as they have partnered with the best icon provider. They're all royalty-free and completely safe for personal-commercial use.

Post filters can be used for selecting your category so that an exact template can be provided according to your goal.
Your

Graphic Design Partner

in the Digital Age. Click on the banner below to experience

Stencil

!
Plans and Pricing
There are three types of plans provided by Stencil. Let's look at what all features are provided with each of them and what are their prices. Start Designing with Stencil Today!
Free
Everything comes at a price well, not in the case of the free plan of Stencil. This plan is provided to you at no cost at all. Although the features and photos are limited, still they are enough for beginners who do not have much in their hands to spend. The features provide in this plan are:-
Save up to 10 images a month

Photos are limited

Limited icons

Upload up to 50 images

Create up to 10 collections

Keep up to 10 favorites

10 Instagram SMS a month
Pro
Now comes the part where you have to pay the price. Although the free version of Stencil is available, it lacks many features that a person who wants to become an image master needs. Ok, more about the price later, let's look at the features provided in the Pro plan:
Save up to 50 images a month

5,000,000+ images to choose from

3,100,000+ Icons and Graphics

Access to 1,350 templates

4,700 Google fonts

Logo/watermark

Font uploads

Premium support

Upload up to 250 images

Create up to 25 collection

Keep up to 100 favorites

25 Instagram SMS a month
This plan will cost you around $15 monthly.
Unlimited
This is the most popular plan of Stencil as the name suggests you get access to all the features available on the website and some additional features too. This plan will cost you $25 a month, which might seem a bit costly, but this plan is for the people who already have an established website with decent earnings. Let's look at the additional features apart from the features available on the Pro version:-
All pro features

Save unlimited images

Upload unlimited images

Create unlimited collection

Keep unlimited favorites

100 Instagram SMS a month
Each paid plan has a money-back guarantee within seven days of the purchase if you are not satisfied with the services. No, questions asked.
Now that we have discussed everything available on the Stencil, it is now up to you to decide whether this tool is meant for you or not. Everyone's approach can be different according to the plans and goals, but make sure that you utilize the graphics and, they can prove to be a game-changer for your website or social media handle.
You May Like