Books That Every Aspiring Businessperson Should Read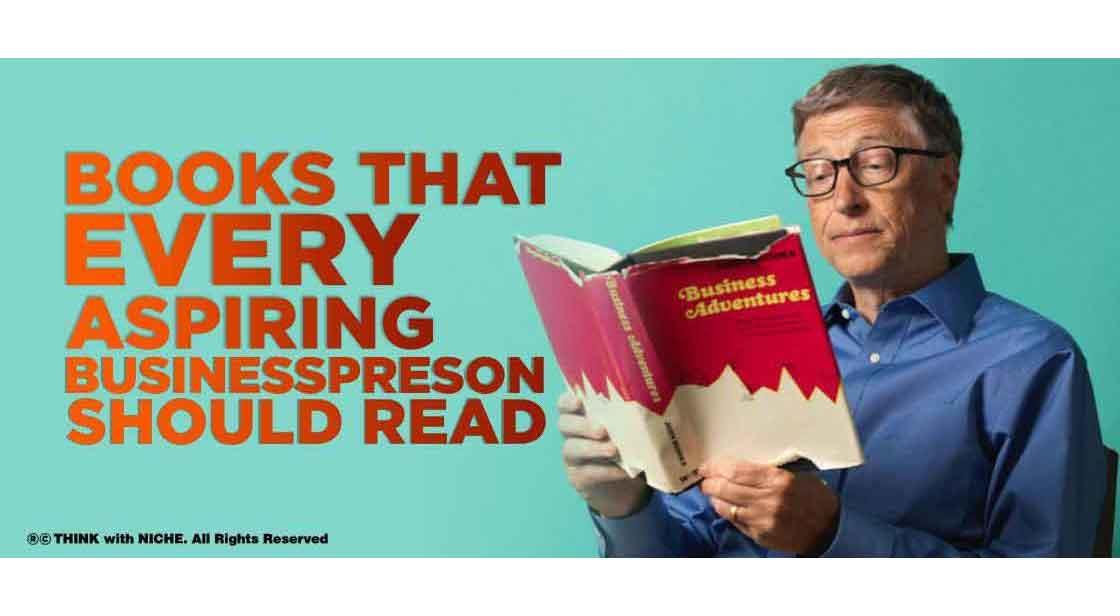 ThinkWithNiche has compiled a list of ten books that every aspiring entrepreneur should read. #ThinkWithNiche
Continue Reading..
Within countries and across borders, books are one of the most common means for exchanging revolutionary ideas, brilliant thinking, and success and failure tales. They are a significant source of information and assist us in finding solutions to all of our difficulties. Reading books can benefit entrepreneurs as well, as it not only pushes them to achieve greater heights but also informs them of potential dangers along the way. It's difficult to know what you don't know, you need to know if you want to establish a business (which you can accomplish in a day), and you're a first-time entrepreneur. Unfortunately, trial and error is a costly way to learn how to start and grow a business, so let's make sure you're as prepared as possible. Because of the importance of books in the life of an entrepreneur, ThinkWithNiche has compiled a list of ten books that every aspiring entrepreneur should read. Each of these books can help you increase your chances of success. They cover typical blunders, best practices, and other useful hints to offer you an unfair advantage. Rather than wasting time attempting to learn everything from start, you can establish a strong business by relying on tried-and-true tactics.
Marketing Made Simple, Donald Miller
Even if it offers a truly excellent product or service, a new firm can fail. That's because creating something that people want isn't enough. We also need to figure out how to attract prospects and turn them into clients. Unfortunately, many business owners believe their product is unique. They feel the concept is so appealing that it will sell itself. However, this strategy almost always fails, and when it does, it can cause a business to fail even before it gets off the ground. Marketing Made Simple may assist you in creating a successful sales funnel. It covers the three stages of customer relationship development. It also discusses how to create the five marketing components that clients need to be attracted to and converted.
The Lean Startup, Eric Ries
Many entrepreneurs make the mistake of overcommitting to a business idea before establishing its viability. They presume they know what people want and go out to create a product or service right away. Unfortunately, this method almost invariably ends in a significant amount of time, energy, and money being squandered. The Lean Startup is a method for recognizing and correcting early assumptions. It can help you reduce risk, save time, and create something that people want to buy, all of which will improve your chances of building a long-term business. It's a classic among company founders and one of the best books for today's prospective entrepreneurs to read. Amazon, Audible, and Apple Books all have copies of The Lean Startup.
4 Hour Work Week, Timothy Ferriss
The new edition of this groundbreaker includes even more tools and up-to-date content to help you establish and automate an income-generator (a.k.a. your "muse"), freeing you time to pursue your other interests, such as other company plans or travel. From the basic (the "bank hours" we all tend to keep are not the most productive) to the more detailed (the "bank hours" we all tend to keep are not the most productive), Ferriss busts old preconceptions about business-wide open (he presents a plan to make an Aston Martin DB9 affordable with his Dreamline tool). Favorite Takeaway: According to Ferriss, "...you are the average of the five people you spend the most time with, so don't discount the influence of your pessimistic, unambitious, or disorganized pals." Someone is weakening you if they aren't making you stronger." Is it difficult to hear? Yes, but think about the truth. You run with a group that challenges you to go further and faster if you want to improve as a runner, right? Surround yourself with wonderful models if you want to become the most buoyant, determined, and ordered version of yourself.
The $100 Startup, Chris Guillebeau
You don't have to be a trust-fund baby, be on the line for a company loan, or just plain lucky to start your firm, as it turns out (there goes that excuse). Guillebeau presents stirring examples of haphazard entrepreneurs earning a fortune out of adversity, opportunity, and circumstance—mostly by turning a passion or hobby into a thriving business, and always for less than most of us spent on lattes in the previous year. He doesn't necessarily advise every knitter to create a yarn shop, but he does encourage innovative thinking about how to turn a natural gift or a long-cherished hobby into a business concept. Favorite Takeaway: Old-fashioned demographics are dead. As Guillebeau says, "Who are your people? You don't necessarily have to think of them in categories such as age, race, and gender. Instead, you can of them in terms of shared beliefs and values." Think of the customers for an organic, vegan bakery that specializes in gluten-free products. Everyone who walks through the door may not be a single white female, but you can bet they will all be interested in health, wellness, and delicious bread and pastries
Enchantment, Guy Kawasaki
What's the difference between investing your money on something that brings you buyer's remorse right away and the joy that comes with finding a true gem? Enchantment! Guy Kawasaki deconstructs this topic in such a way that you'll find yourself nodding in agreement with his solutions. As an entrepreneur, you'll find a lot of useful information here to help you think about how to truly care for your consumers. As a customer, you'll be on the lookout for businesses that use this type of caretaking so that you may show your support. Favorite Takeaway: Kawasaki changed the way people think about competition and market share. "In the world, there are two sorts of people and organizations: eaters and bakers," he says. Eaters desire a larger slice of an already-made pie, while bakers want to prepare a larger pie." This statement helps you rethink the constraints you're putting on yourself and your business in a world where entrepreneurs sometimes say, "But it's all been done before."
You May Like