9 Women Founders and Tech Entrepreneurs to Watch in 2022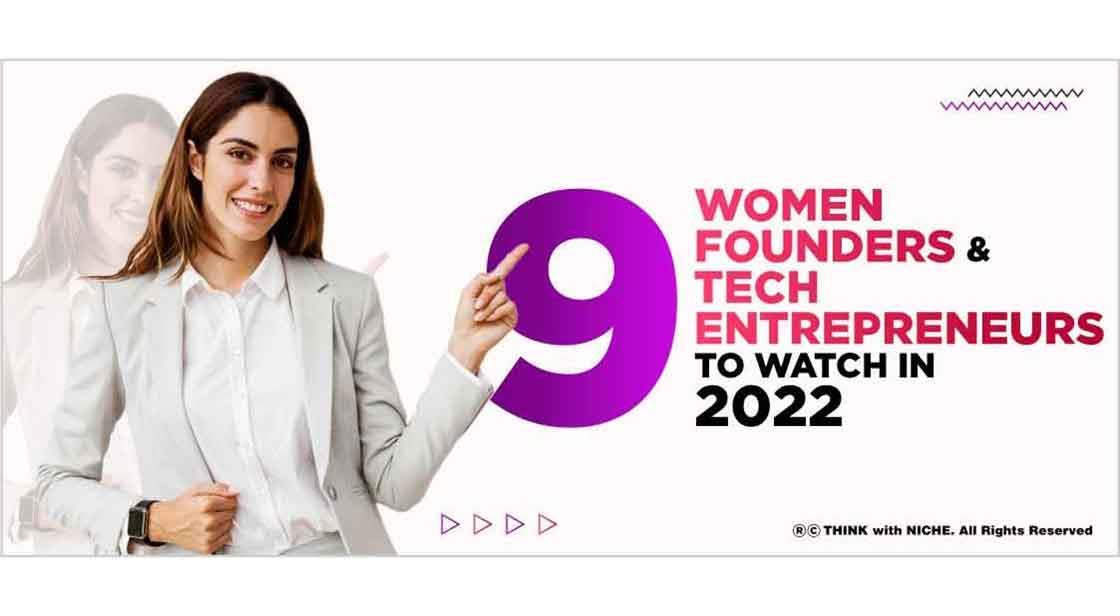 To the leaders, innovators, tech-moms, catalyzers, game-changers, enablers, pioneers, and powerful women who have worked – and continue to work – behind the scenes to make today's Tech world a possibility... This one is for you! #TWN
Continue Reading..
Everything is influenced by technology. It influences how we go about our regular lives, such as shopping and banking. It has an impact on how we learn, engage with others, and consume news and information. It frequently affects who has access to resources and opportunities. Technology has the potential to be a tremendous equalizer, but only if it is led by a broad group of conscious innovators. In this article, we'll highlight nine incredible women who are changing the tech industry—and the world—for the better. Get ready to be wowed.
Odunayo Eweniyi
Odunayo Eweniyi is a great tycoon in the business world. She is not only intelligent and driven, but she is also putting her brain to good use. It is the best kind of IT entrepreneur there is!
Odunayo graduated first in her Computer Engineering class in 2013, and when she co-founded Piggybank (and PiggyVest) in 2016, she was only 24 years old. PiggyVest was the first internet app in West Africa for personal savings and investing, and it is currently one of Nigeria's most successful fintech companies. Their objective is to enable people to better manage and save their money, and with over a million members, it's safe to say they're succeeding.
Odunayo is not only taking the IT world by storm, but she is also inspiring other women to do so. She and Eloho Omame co-founded FirstCheck Africa in January of 2021. FirstCheck Africa is a female-led angel fund and investment community. Women are currently underrepresented in technology, both in Africa and globally. Women-led businesses earned fewer than 5% of worldwide venture financing in 2019, with funding for female founders expected to decline further in 2020. Odunayo and Eloho seek to address this through FirstCheck Africa by investing early in women-led enterprises, developing a robust community of investors, and collaborating with organizations to ensure women have access to the necessary networks.
Odunayo credits her success to her eagerness to study and get buried in, saying in an interview with Akindare Okunola for techcabal.com, "I'll learn anything I need to learn, as long as it moves the needle." That's just the way things are. If I need to be the COO of a company, you can bet I'll learn everything I need to know. I don't have many life philosophies, but one of them is to give it your all in all you do. "Anything goes." We're excited to watch what this remarkable woman does next.
Dr. Sasikala Devi
Almost always, innovation is a good thing. It's sometimes a matter of improving a product's or service's user experience, and other times it's a matter of saving lives. Dr. Sasikala Devi did what many smart innovators did when the Covid-19 pandemic struck in 2020: she identified a problem (a fairly enormous one) and devised a solution.
Sasikala Devi works at SASTRA Deemed-to-be-University in Tamil Nadu, India, as a researcher and academic. The Covid-19 outbreak took India off guard, as it did many other nations, and it required the acquisition of specialized equipment, such as diagnostic tool kits. Fortunately, Sasikala, deep learning and AI expert, had a solution. She developed an initial prototype for LungXpert, a cheap, 90% accurate AI-based prognostic tool that enables early identification of cardiovascular and pulmonary disorders, including the new coronavirus, after reviewing 500,000 X-ray pictures from Stanford University.
Sasikala acted fast and exploited her experience at a critical time, providing healthcare professionals with the resources they needed to help save lives. It's also worth remembering that she did it while the country was under martial law, which meant she didn't have regular access to lab resources and couldn't enlist the support of her colleagues or students. Teaching daily classes, conducting scholarly research, and being in lockdown while developing a game-changing healthcare solution? Incredible!
Whitney Wolfe Herd
Whitney Wolfe Herd, the founder of the online dating app Bumble, will no doubt be familiar if you follow the tech world (or if you're an enthusiastic online dater). When Bumble first began in 2014, it created quite a stir (pardon the pun) because of its unusual approach to online dating. Only women can send the first message between heterosexual matches. Bumble, according to Whitney, is a feminist dating app that empowers women to take charge. "Making the first move, whether a woman is matching with a man or a woman, offers her a confidence boost immediately away," she says. It puts her in the driver's seat right away."
The plan evidently worked since Bumble is still going strong today—and Whitney climbed to a new level of prominence when she decided to take the firm public in January of last year. Whitney Wolfe Herd is not only the first self-made woman billionaire in the world, but she is also the youngest woman to take a company public in the United States. Bumble is currently worth $13 billion on the stock market, making Whitney the first self-made woman billionaire in the world. Whew.
Whitney, as the creator of one of the most popular applications of all time, is well aware of the particular set of challenges—and, at times, dangers—that digital dating presents. According to a 2018 Bumble survey, one out of every three women has gotten unsolicited intimate photos from strangers online, and 96% of these women are unhappy about it. Bumble responded by introducing the Private Detector tool, which employs artificial intelligence to detect and blur sexual photographs received in Bumble chats. The recipient must next choose whether or not to view or block the image. At the same time, Whitney and the Bumble leadership team pushed in Texas to make the unsolicited sending of indecent photographs illegal, which was passed in September 2019.
So, where does Whitney Wolfe Herd go from here? Maybe a new kind of dating app or something else different? Who knows, but we'll surely keep an eye on it.
Angelica Ross
Angelica Ross may be best known for her appearances in Pose and American Horror Story, but that's not why she's on our list. We're here to honor Angelica's entrepreneurial energy and involvement in the IT business, in addition to her acting abilities.
Angelica is a self-taught coder and a trained actor who attended Florida Atlantic University to study theatre. TransTech Social Enterprises is an "incubator for LGBTQ talent...a co-working, co-learning community, dedicated to empowering trans, lesbian, gay, bisexual, queer persons and allies with practical, career-ready skills," which she started in 2014.
Angelica's personal journey inspired TransTech Social. She began by teaching herself to code via video tutorials and then moved on to design (fun fact: she designed backstage flyers for artists like Ludacris and Cedric the Entertainer). Members of the TransTech community now have access to training, workshops, professional equipment, office space, mentorship, and job possibilities, giving them a multitude of resources to help them create a career in technology. Angelica also founded the yearly TransTech Summit in 2017. Attendees will learn about specific career tracks such as design, online and app technology, and general career development, as well as subjects such as human rights and racial and social justice, from a variety of experienced speakers.
Angelica Ross embodies the words "talent," "drive," and "empowerment." She taught herself the technological skills she needed to succeed, and now she's assisting others in doing the same. "Through technology, I discovered my road to independence, as well as the potential for a global lifeline for trans individuals around the world yearning for the same," she says.
Stephanie Lampkin
Technology has the ability to make the world a fairer, more egalitarian place when used correctly, and that's exactly what Stephanie Lampkin set out to do when she started Blendoor. Blendoor is a data-driven recruiting tool that aims to eliminate unconscious prejudice in the hiring process, an issue Stephanie has faced throughout her career.
Stephanie graduated from Stanford University with a B.S. in Management Science and Engineering and an MBA in Entrepreneurship and Innovation from MIT. She's had a long and successful career in technology, working for organizations like Microsoft, TripAdvisor, and Deloitte, designing and managing enterprise software solutions. She has, however, suffered "immense bias in securing entry-level roles at IT and VC organizations" as a woman of color.
Stephanie told Women Who Code DC that she was inspired to create Blendoor after being rejected by Google for not being "technical enough for a data analyst post," despite majoring in data analytics at Stanford. She hopes to broaden the diversity of tech businesses by demonstrating that "disruptive technologies" can be created by people who don't fit the usual coder archetype.
The Blendoor platform has expanded since its inception in 2015 into an all-encompassing inclusive employment solution. Companies may uncover diversity gaps and non-compliance issues quickly and easily and access a diverse, anonymized talent pool.
Sarah Hawley
For many people, especially in the tech business, remote work has become the new normal since early 2020. Sarah Hawley, on the other hand, was way ahead of the game. She was the CEO of Grow My Team, a recruiting firm focused on acquiring and integrating the best remote talent on a worldwide scale from the ground up. Sarah is now launching a new company called Growmotely.
Growmotely, the world's first all-in-one global platform for sourcing, expanding, and managing remote teams, will be launched in August 2020 by Hawley. Given how much the workplace has changed in the last few years, that's a fairly exciting place to be right now.
So, other than the fact that she's started eight (eight!) firms since 2009, what makes Sarah so special? Sarah stands out yet again because of her desire to "do well." Sarah's work is centered on diversity and equality, and she believes in operating business in a way that is "good for people and good for the world." Sarah is also motivated to help others by providing chances and empowering them. "I came from a shattered household, barely passed high school, and was not accepted into any university or college programs as a school leaver due to bad grades," she says. Sarah founded the League of Extraordinary Women, a network dedicated to connecting and motivating women through meet-ups, events, and conferences while creating her own road to success.
Lilly Mittenthal
Lilly Mittenthal sees herself as a user-centered designer who aims to innovate for the greater good, and she's doing just that with maro, one of the most intriguing apps we've seen in a long time.
Maro aims to assist parents in having "difficult growing-up talks" with their children. With a strong focus on mental health, the app includes a library of expert-vetted content as well as a journaling function that allows parents to record critical information about their children's mental health and export it to a clinician if necessary. Parents, for example, can use the app to learn about anxiety science, how to explain anxiety to children, and how to incorporate anxiety alleviation into family life.
Lilly and her co-founder Kenzie Butera Davis discuss how the idea for maro came from their own experiences with mental health and sexual assault in an interview with Afdhel Aziz for Forbes. According to Lilly, the two collaborated on maro because "we wish our parents had what we're making now." We could have known what resources to turn to before things got too terrible if we had a stronger system in place to educate families about mental health, sex, personal safety, and so on. We are convinced that it would have made a significant difference in our experiences."
Arlan Hamilton
Women, people of color, and LGBTQ founders receive less than 10% of all venture capital agreements. Some will try to dismiss this as a "pipeline issue," but research—as well as people's real-life experiences—indicates that bias, homogeneous hiring and investing, and a lack of access are all contributors (to name just a few). Backstage Capital's Arlan Hamilton and her team don't see it as a pipeline issue; they see it as "the biggest opportunity in investment."
Backstage is a venture capital firm dedicated to closing the funding gap in innovation by investing in startups run by women, people of color, or LGBTQ founders! Arlan started the firm from the ground up while she was homeless in 2015, and it's grown tremendously since then. Backstage has funded over $15 million and invested in more than 160 startups to date.
Arlan re-disrupted the market in 2021. Backstage teamed up with Republic to launch a new fund in which anyone (yes, anyone!) can contribute. Even those who aren't accredited under SEC standards can invest as little as $100 in Backstage Capital and own a piece of the company. It is a major step forward. Traditionally, investment options were only available to a select group of rich individuals. It changes the game, and people are clearly excited about it; on February 1, 2021, Backstage made history when they surpassed $1 million in contributions in less than nine hours.
Kristina Ashley Williams
"Innovation without diversity is either a failure or plagiarism," says the author. When you visit Kristina Ashley Williams' website, those are the first words you'll see, so you know she's up to something big.
Kristina wears a lot of different hats. She's a tech creator, an artist, a futurist design strategist, a critical race educator, and a social justice crusader. Kristina launched Unpacking, a data-driven platform that uses gamification to give diversity training, in July of 2020. Isn't it brilliant? Traditional diversity training, according to several studies, does relatively little to truly influence people's behavior. It leaves a large and potentially dangerous gap, which Kristina aims to fill with her novel, inventive, and extremely immersive method. Gamification has been shown to enhance user engagement, and Unpacking promises to accomplish just that. Users are engaged with diversity and unconscious bias, not just learning about it. Unpacking creates a hands-on learning environment in which the user participates in collaborative, interactive gameplay.
Unpacking has already graduated over 200 graduates and has been supported by Beyoncé, even though the company is still in its early stages. That's a fantastic beginning! And, with the new platform launching in 2021, we have little doubt that this is only the start. Keep an eye out!
A Word from Think With Niche
All of the women on this list come from varied backgrounds and have experienced challenges along the way. If there's anything we can learn from them, it's that everyone can make a difference in the world. Do you want to pursue a career in technology and help shape the world we live in as well? Try out a free short course in UX, UI design, web development, or data analytics, or watch this tape of a live panel discussion with even more inspiring women in tech.
You May Like