5 Great Dalit Writers Who Shook The Whole Nation With Their Pen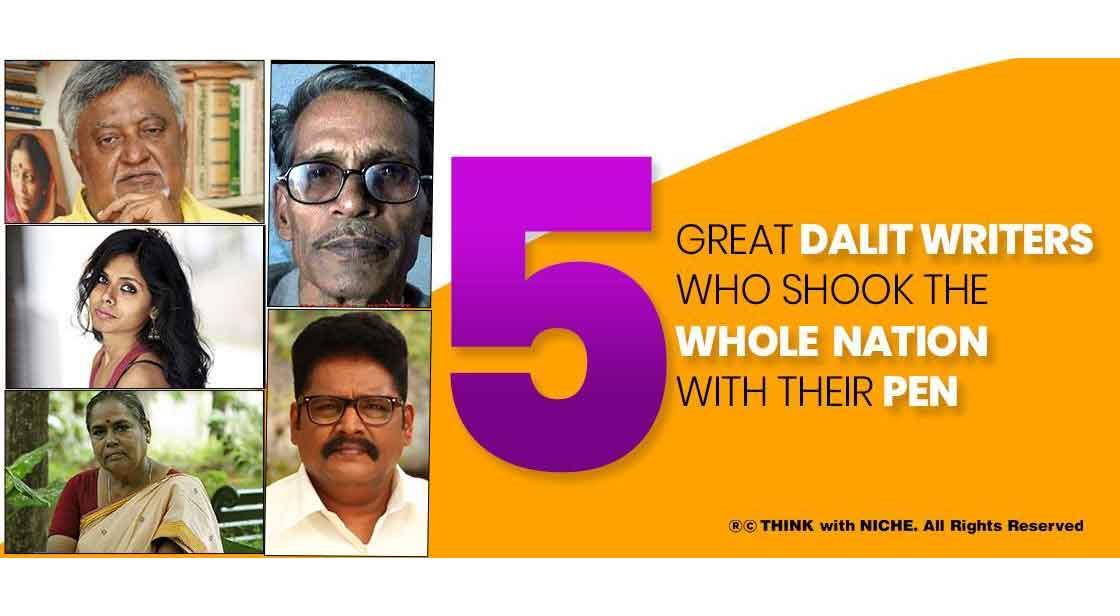 Dalit oppression and marginalization have been going on for over a century. The Brahmanical forces that control our Indian society never allowed the Dalit voice to be heard, therefore they roared. Read about some of the most iconic Dalit/Bahujan poets and writers. #ThinkWithNiche
Continue Reading..
Indian society has always been highly oppressive and Brahmanical in its nature. The oppression of Dalits has been going on for more than a century. It ages back to the ancient era when Hindu scriptures were written and a social hierarchy was laid down. Centuries of oppression never allowed people from the Dalit community to become voices of the mainstream. It was always dominated by Savarna Hindus and elites. But slowly a brigade of Dalit writers and artists roared. Their voices and their art were now impossible to contain.
There have been countless Dalit writers who have never tasted the same level of success as their Savarna colleagues despite being more talented than them. But art can never be contained by any force; be it the state or the society. So today let's learn about 5 great Dalit writers who challenged the social structure of Indian society with nothing but their pen.
1. Namdeo Dhasal
Namdeo Dhasal is one of the most iconic Marathi poets we have. But Dhasal wasn't always known for his genius poems. His rise to fame was the formation of Dalit Panthers, an Ambedkarite organization that seeks to fight caste discrimination. The organization was inspired by the Black Panthers in the USA. Soon Dhasal's poems became a force to reckon with as he began to gain popularity in the art circles. He was awarded the Padma Shri award in 1999.
2. Meena Kandasamy
Meena Kandasamy is a hugely popular Indian feminist writer whose writing has been centered around gender and caste. Her identity has always been a strong element of her art and that's what makes it so strong. She has written two books namely, 'The Gypsy Goddess' and 'Portrait of the Writer as a Young Wife'. Her other books are a major collection of all her poems. Her writings have been translated into 18 different languages.
3. Bama
Bama Faustina Soosairaj, or popularly known as Bama, was born into a family of agricultural laborers and has had a life of many hardships but she faced each with her charming smile. In college, Bama developed a passion for writing and went on to become a schoolteacher before becoming a nun to educate young Dalit girls. Finally, she finds comfort in her writings, which perfectly capture her spirit.In 1992, she published her first novel, 'Karukku,' a semi-autobiographical work that put her on the map. She has now written a number of books and has established herself as a notable Dalit voice.
4. Anant Rao Akela
Anant Rao Akela has been a prominent Dalit author and politician. He was born in a small village called Pahadipur near the district Aligarh. He could only study till class eight but started writing early on. His first piece of work was an eight-page pamphlet titled 'Ram Rajya Ki Nangi Tasveer'. He then joined BSP and started writing poems. His work is powerful and never shies away from peeling the various layers of society.
5. Ravikumar
Ravikumar is a writer and publisher of various little magazines. He has always worked to battle caste discrimination. Among magazines that he worked on are Navayana, The Oxford India Anthology of Tamil Dalit Writing. He also edited and wrote 'Waking is Another Dream', a collection of writings on the Eelam Genocide.
You May Like