5 Business Lessons From Naval Ravikant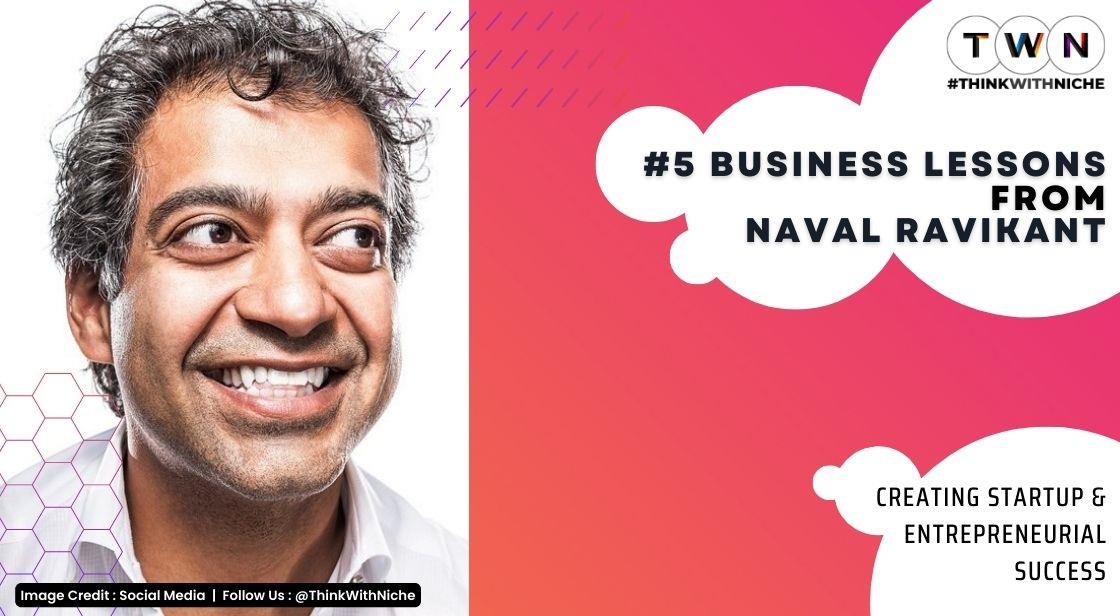 Entrepreneurship is a challenging endeavor. It is a path that is equally full of successes, setbacks, and uncertainties. You would probably agree that if you operate a firm, you are constantly searching for the most effective approaches to accomplishment. With their extensive experience on the same route, who could be a better guide for you? So, here I am with some pearls of business knowledge from Naval Ravikant, one of the most well-known businessmen in recent memory.
Running a business is tough and no business course will tell you how to become a successful business person. However, there are a few key lessons that any entrepreneur must know. And who better to learn from than Naval Ravikant? So we present you with 5 important business lessons from Naval Ravikant.
Continue Reading..
Becoming an entrepreneur and setting up a business is very tricky. Entrepreneurship is filled with uncertainties, failure, rewards, and the like. Ask any entrepreneur and they'll tell you how they are always on the lookout to either save their business or expand their business. If you also want to become an entrepreneur, no one can give you better advice than someone who has also traveled the same road.
Naval Ravikant doesn't need an introduction. He is one of the most celebrated and wise entrepreneurs ever. His perspective on wealth generation, growth, and happiness has always fascinated people. Naval started small in Silicon Valley and created multiple successful business ventures. He is best known for Angel List, a website for startups, angel investors, job seekers, etc. Naval is a living legend of Silicon Valley. His books and podcasts have always been in the limelight for giving people great advice on wealth and happiness.
Who Is Naval Ravikant?
Silicon Valley-based Naval Ravikant is an active angel investor and business owner. He is revered as a legend in Silicon Valley. He is most recognized for developing the website AngelList for companies, angel investors, and job seekers in the startup industry.
Epinions (now Shopping.com), Vast.com, Venture Hacks, The Hit Factory, MetaStable, and Spearhead, to mention a few, are just a handful of the many successful firms he founded.
Along with developing numerous profitable businesses himself, he also made early investments in over 200 startups, many of which are now unicorns.
Twitter, Facebook, Uber, Stack Overflow, Neuralink, Notion, Gumroad, and Udemy are just a few of the major companies in which he has invested.
Via his podcasts and Twitter account, he proactively offers thought-provoking advice based on his professional and personal experiences.
His 140-character tweetstorm, "How to Get Wealthy (without getting fortunate)," offers insightful guidance on accumulating riches.
Get ready for some inspiring advice from Naval Ravikant that can help you succeed more in business and other areas.
From the book, Naval's original comment is: "Overcoming jealousy was a really difficult emotion for me. I was very jealous when I was young. I eventually figured out how to get rid of it. That still comes up occasionally. Jealousy is such a terrible emotion because, in the end, it doesn't make you any better off. The person you're envious of is still prosperous, attractive, or whatever else they are, and you're unhappier.
The Beginning of Naval Ravikant
In 1974, Naval was born in New Delhi, India, and at the age of nine, he and his family relocated to New York.
While his father was a pharmacist in India, he was unable to practice in the US and was forced to work at a hardware shop instead.
His parents ultimately divorced as a result of this trying shift for his family. Throughout the duration of their childhood, Naval and his brother Kamal Ravikant were reared by their mother.
Mother of Navy worked many jobs and went to night school as "immigrants trying to survive"
This is when Naval discovered his passion of reading. At a young age, he started included reading in his regular activities. He claims that building AngelList in an interview with Farnam Street's The Knowledge Project.
Naval discusses "productizing yourself" in relation to accumulating wealth and investing.
Finding your special talent and using as much leverage as you can to do what you excel at while taking responsibility for the outcomes are necessary to achieve this. The VentureHacks blog was turned into a product, which became AngelList.
AngelList was launched in 2010. As part of the VentureHacks blog, Naval and Nivi initially compiled an email list of angel and seed-stage investors.
The huge email flow forced them to turn AngelList into a fully established platform with services geared at assisting businesses and investors.
Naval Ravikant's Net Worth?
With a net worth estimated at $60 million, Naval Ravikant appears to have a natural talent for building wealth, but his path to success has been unexpected.
Currently, Naval is not a billionaire. But he provides his readers and listeners with a tremendous lot of value. For many years, his wisdom has been helping people all around the world.
And you should pay attention to Naval's subsequent soundbite. It may help you make a difficult choice that results in gains or, more crucially, it may help you avoid impending disaster.
AngelList
Currently, AngelList is recognized as a platform that aids in connecting entrepreneurs with investors to grow the number of globally successful firms.
Around $3 billion in assets are managed by AngelList. Additionally, it has 5,500 funds and syndicates, 77 unicorns (companies valued at $1 billion or more), and takes part in 51% of all top-tier US VC deals.
AngelList Ventures
A platform called AngelList Ventures assists investors by easing small fund operations and fundraising.
The Rolling Funds, one of its most recent initiatives, allows investors to contribute a fixed amount quarterly and invest alongside VCs.
This provides a complete platform for managing a fund and frees the fund managers from the difficult task of fundraising.
AngelList Talent is a network that matches up-and-coming talent with startup opportunities. When applying for jobs, you build a typical profile that lets employers learn more about you and how you might benefit their company.
Naval Ravikant's Investment Portfolio
Naval has invested in more than 200 businesses and has made over 85 exits, including at least 10 unicorns. He is currently the chairman of AngelList.
He began his angel investing career and became well-known for his investments in Twitter, Uber, Postmates, Stack Overflow, Product Hunt, and Yammer, among others. Here is a bigger chunk of his investment portfolio.
This is not to claim that Naval has always hit home runs when he has taken the plate. He has acknowledged in the media that he turned down businesses including Twilio, Pinterest, and YouTube.
He continues to make investments in startups that have a great chance of becoming unicorns despite being a top performer in his industry.
So I present you nuggets of wisdom from the man himself. Read and adapt.
1.Create Value For Society and They'll Pay You
Society, by and large, knows what it wants or needs but doesn't exactly know how to get them. Therefore it makes sense to figure out how to give society what it wants and once you have figured that out, produce it on a mass scale. Society will pay you for it.
2. Mass Production is the Key to Generate Wealth
If you have a great product, do not hesitate to go bigger. That's what the Naval believes in. Wealth generation comes from assets that make you money while you sleep. And to do that you'll have to think at a mass level.
3. Compounding Is Important
Naval believes that almost all the wealth in life comes from compound interest. To grow big, you cannot afford to look at short-term goals and objectives; rather you should aim for long-term objectives and investment. Wealth generation takes time and one should never look for easy, shorter paths to make money. It won't work in the long run and you'll soon exhaust yourself. So play a long-term game.
4. Internet is the Best Enabler
According to Naval, the Internet is the best thing to have happened to people. There's nothing in this world that connects so many people on such a large scale. And what it has successfully done is create so many jobs and has also expanded the horizons of careers. By this Naval means that now the Internet is where a huge chunk of business is happening. So if you are running a business, make sure to be open to doing deals online. There's a lot of money one can make on the Internet.
5. Use Authenticity To Escape Competition
Know that whatever business or profession you opt for, there's going to be hundreds of thousands of people already in line. Competition is everywhere. Therefore Naval believes that the only way to stand out is through authenticity. Society can easily replace you if hundreds of people can do the same thing as you. So work on something authentic rather than following the crowd. As long as you remain authentic, you can easily beat out your competition.
You May Like