5 Breakthroughs That Will Impact Climate Change In 2023 and Beyond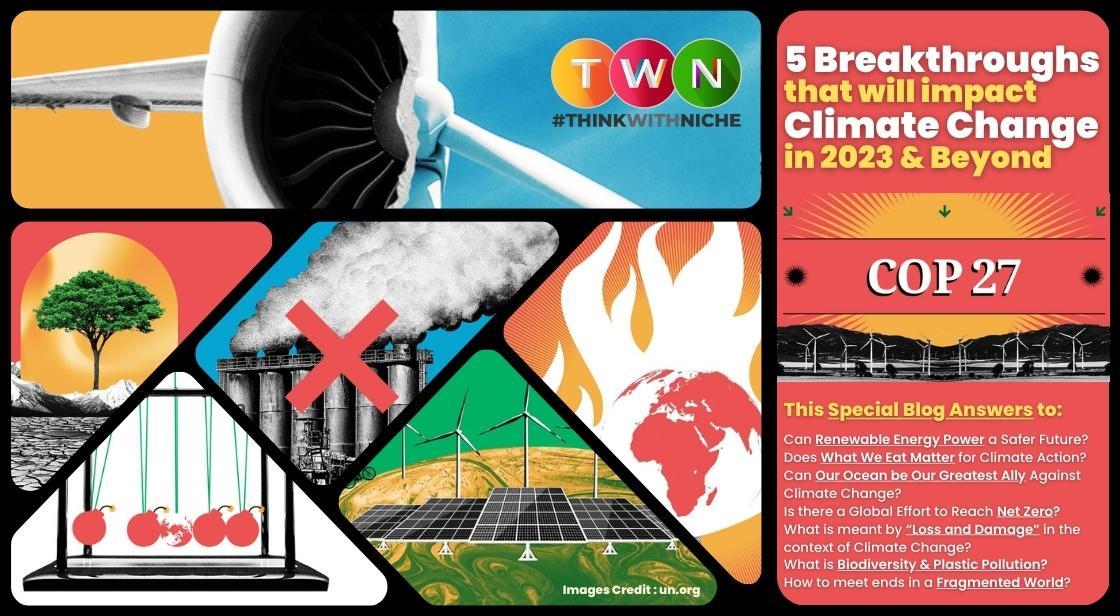 Thousands of people have died as a result of extreme heat waves, hurricanes, and flooding, and billions of dollars have been lost globally. The disasters served as a reminder of what could happen if immediate action is not taken to cut greenhouse-gas emissions, which are still rising as a result of the burning of coal, oil, and gas.
However, there were also a few significant events that could mark 2022 as a watershed year for the planet. These events included new climate laws in the US and Australia, booming markets for renewable energy and electric vehicles, as well as international agreements to fight plastic pollution and biodiversity loss.
Stronger collaboration is required on important problems like corporate net-zero commitments and climate finance, which was confirmed by COP27. The annual gathering of the World Economic Forum in Davos will focus on "Cooperation in a Fragmented World" in 2023, continuing this significant theme. The five major sustainability and climate themes I predict we'll see in 2023 all highlight the need for more effective collaboration.
We should be encouraged by these 5 Breakthroughs That Will Impact Climate Change in 2023 and Beyond.
Continue Reading..
Major climate change progress was made in 2022. The first ever climate law was enacted in the United States. The Inflation Reduction Act will pump $369 billion in public expenditure and tax credits into the American economy over the next ten years to support clean energy, clean infrastructure, and climate resilience.
Australia's pro-climate change government immediately increased the nation's climate targets and passed laws to reflect these changes. Luiz Inácio Lula da Silva, the current president of Brazil, ran on an agenda that included stopping and reversing Amazonian deforestation. Additionally, at COP 27 in Egypt, nations decided to create new finance arrangements that can mobilize funds to assist emerging economies that are disproportionately and directly affected by the impacts of climate change.
However, as emissions are still increasing at an alarming rate, the climate problem has worsened. This year, there were constant reminders of the increasingly dire and irreversible consequences that will occur if we permit the world to warm by 1.5°C above preindustrial levels. Examples include catastrophic flooding in Pakistan and China, record-breaking heat waves in the U.S. and Europe, severe drought in Africa, and record ice melt at the poles.
More than ever, it is obvious how closely linked climate change is to the other major problems the world is experiencing, both in terms of how it fuels them and how crucial it is to our efforts to address them. Consider how Russia's invasion of Ukraine is pushing Europe to deal with the economic and security costs of its own reliance on fossil fuels and requiring immediate decisions that will have long-term impacts. These decisions, made in an effort to find rapid relief from skyrocketing energy prices, will determine whether the continent's shift away from fossil fuels accelerates or slows. A crisis in global food security has resulted from this. Increased energy costs, droughts caused by climate change, and restrictions on Ukrainian agricultural exports brought the world food system to the verge of collapse. Here is a closer examination of the situation as 2022 comes to a close and what it means for climate change adaptation in 2023.
When it came to the fight against the climate problem, 2022 saw its fair share of highs and lows.
5 Breakthroughs That Will Impact Climate Change in 2023 and Beyond
1-Countries signed agreements on biodiversity and plastic pollution
In order to prevent the mass extinction of plant and animal species, world leaders agreed to safeguard at least 30% of the planet's land and oceans at the beginning of 2022 and at its conclusion.
Both issues are related to the climate. Since the 1950s, the production of plastic, which is made from natural gas and crude oil, has increased dramatically, with the vast majority of it ending up in landfills. In addition to destroying habitat for wildlife, clearing forests and polluting waterways endanger Earth's ability to store carbon in its lands and oceans, which slows global warming. These practices also release emissions into the atmosphere.
At the UN climate summit in November, over 200 nations reached an agreement to create a loss-and-damage fund to compensate developing nations for the climatic disasters they are already experiencing. This was another triumph for international diplomacy.
Global agreements like these don't always provide the best results, but at least they offer a direction.
2. Climate legislation is enacted in the US and Australia.
The Inflation Reduction Act, the largest climate investment in US history, was signed into law by President Joe Biden on August 16. Analysts predict that the bill will accelerate the adoption of solar and wind power, cleaner fuels, electric vehicles, and electric appliances to lower US carbon emissions by 40% this decade, compared to 2005 levels, in the US, which is currently the second-largest polluter in the world after China. Over the course of a decade, approximately $370 billion in tax credits, rebates, and loan and grant programmes are permitted.
Australia, the third-largest exporter of fossil fuels, entrenched a commitment to reduce carbon emissions by 43% this decade and achieve net-zero emissions by 2050 into law in September. After the country's Labor Party defeated a conservative government that had stalled stronger climate action for a decade, the law represented a swift shift of direction this year.
In December, the European Union also decided to forbid the import of goods that fuel deforestation, a major factor in the climate catastrophe, including palm oil, soy, cattle, and coffee.
3. Net Zero & Energy: Scope 3 focus, carbon credits, and carbon removal to accelerate the process
The goal of "net zero" is to reduce greenhouse gas emissions as much as possible until they reach zero and to counterbalance any emissions that remain with carbon-negative solutions, whether they come from the natural world (such as planting trees or recovering mangroves) or from technology (such as direct air capture). In 2023, the effort to reduce scope 3 emissions (i.e., indirect emissions from suppliers or consumers in a company's value chain) will pick up speed as businesses pay more attention to their supply-chain partners and how their clients utilise their goods and services. The majority of emissions usually fall under scope 3, therefore reducing those that businesses directly control (scope 1 and 2) can only go so far toward achieving net zero.
4. Resilience & Adaptation: Progress on loss and damage and global adaptation goal
A loss and damage fund was established at COP27, but that was just the beginning. To maximize the potential of the fund, an unprecedented level of cooperation and unity is now necessary. The fund was established under the leadership of the EU, but it now needs to be operationalized and made profitable.
At COP27, nations, at last, made progress toward creating a structure for a Global Goal On Adaptation (GGA). The GGA, which was established in compliance with the Paris Agreement, intends to develop an adaptation equal to the global mitigation target of limiting the rise in global temperature to 1.5°C. The goal of the Glasgow Sharm El-Sheikh Work Programme (GlaSS) in 2023 is to set up the adoption of the framework at COP28 in Dubai in the latter part of the year.
5. Social Sustainability: Intensifying cost-of-living problem, but with opportunities
This was billed as the first "Africa COP," and the agreement on loss and damage, together with the focus on developing-country issues, demonstrated the urgent need for inclusive communities and taking the impact of the climate on the most vulnerable populations. The "social" aspect of the issues surrounding climate change, climate action, and sustainability has sometimes been neglected, but in 2023 it will move up even more on the sustainability priority list.
One of the main causes of that is the cost-of-living crisis that is affecting many countries and is being made worse by the war in Ukraine and the increase in the price of food and energy. Senior executives and policymakers must navigate the growing complexity of the concurrent cost-of-living and climate problems. It appears that both situations demand a sharper focus on energy efficiency and a quickening of investment in renewable energy sources. Nevertheless, it will continue to be difficult to get workers and citizens to support the climate-action agenda. Even while they may be crucial for achieving climate goals, carbon taxes, for instance, may nonetheless encounter opposition from voters who are stressed about cash. This is especially true if these actions are seen as part of a covert government plan to raise taxes.
You May Like
Climate Actions and Goals
Climate Actions and Goals

Climate Actions and Goals
Climate Actions and Goals