10 Young Winners Of IMPACT 30 Under 30 2022 Ninth Edition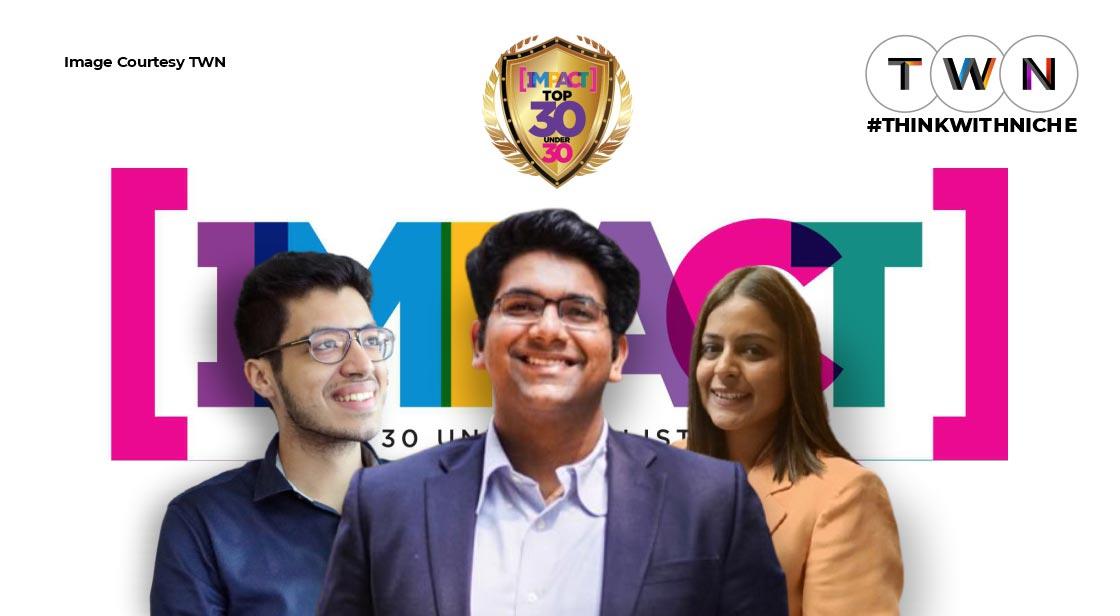 The IMPACT 30 Under 30 list of professionals in the agency ecosystem - Creative, design media, digital, and ad-tech, has been revealed. IMPACT acknowledges the young professional who has surpassed their peers in reaching great levels at an early age Some of them are younger than 23 years of age. The list of winners this year is the most diverse of people comprising a number of 16 women and 14 men striking the gender balance like never before. The winners of this year have been a part of winning campaigns across various platforms.
The final selection of IMPACT 30 Under 30 winners for the 9th edition this year was determined by a distinguished panel of jurors after consideration of the final list of 130 names. The winners were chosen after thorough consideration of their work, leadership skills, client references, and overall IMPACT in their respective areas of its operations.
Continue Reading..
India is a developing country However it is essential to recognize and encourage young people to carry on its tradition. The IMPACT 30 Under 30 has just completed the same celebration in Mumbai which honored and celebrated 30 young professionals in the marketing and advertising ecosystem. The young professionals have had a profound impact on the field with their portfolios of work and some are just 23 years old. The gathering included industry titans like Prasoon Joshi who is Chairman of McCann Worldgroup Asia Pacific,was the Chief Guest. Josy Paul, the Chairman and CCO at BBDO India, Amer Jaleel Group CCO and chairman, MullenLowe Lintas Group; and Santosh Padhi, Chief Creative Officer, Wieden+ Kennedy they all delivered inspirational speeches to the youngsters.
We've picked 10 of the top achievers from the list below for you.
1- ANIRUDH SINGLA Founder and CEO, Pepper Content
Anirudh 23 years is the head of Pepper Content, a company that went from a $700,000 run-rate to $5 million revenue in a single year. A staggering feat at an early age hasn't kept him from being curious, as Anirudh claims he would like to master everything and not become an expert. The journey began in his dorm in BITS Pilani in 2018. By the end of 2019, he had gathered twelve people at the time, and by the year 2020 the company had served over 400 clients. In 2021, he had an entire team of 40, and today, he's seeking to recruit 60 more employees. Anirudh is a renowned name for his work and was a top winner in Forbes 30 Under 30 and LinkedIn Top 50 Voices. Today, Pepper Content is a major marketplace for content where users can avail of services like graphics, texts and translations. He's ready to make an impact in the vast world of content.
2- SHIVANI MEHTA - Lead - Creative Producer, Supari Studios
With just 4.5 decades of expertise, Shivani Mehta has already established herself in the field of advertising. Shivani began her career as an intern for an Google project and soon moved up the ranks to become a Creative Producer Lead at Supari Studios. Shivani eventually was able to manage a campaign for Dolby India, which won the SAMMIE Award. Numerous successes followed as she was a key element of some of the Supari Studios' most important projects. For instance, there was an initiative on Twitter that was dubbed #PowerOf18 and Estee Lauder's very first digital campaign in India and the launch of their brand ambassador Diana Penty. Her role was as the creative producer of the latter. In her early years in the media, it was television design, architecture, and design that caught her interest. Shivani was completely attracted by everything visual. This was certainly evident in her professional career, in which she was able to create content for various companies. Nowadays, she is associated with brands such as Red Bull, Bumble, Twitter, Novotel, and Swiggy in her portfolio. For Bumble India she worked on a project named Bumble Better, where she directed a team of experts to bring Bumble's story to life in an appropriate way for the culture. She says she is a lover of travel and immerses herself in the different cultures that can help her with her work.
3- MANIL DODANI- Business & Marketing Director, APAC, Landor & Fitch
For the young 25-year-old Manil Dodani, being average isn't acceptable, and that's why Manil has gone on to be a star in his area of expertise and was appointed the Director of Marketing and Business, APAC, for Landor & Fitch. Exuberant, bold, and engaging, Manil began his career as an intern less than four years ago. At present, Manil is doing some remarkable work, leading extremely important initiatives at Landor & Fitch. With his business acumen, he is a natural, Manil has managed to get accounts by presenting strategic and innovative pitch. He has managed to win National Stock Exchange, Delhi Art Gallery, Mahindra LifeSpaces, ICICI Cards, Hafele, Kangaroo Kids, Viacom18, Britannia and Orient Electric.
4. KRITIKA SINGH- Group Head - Content, Wavemaker Global
Kritika Singh always believes in doing good and aiding others. Her motivation has given her the needed determination to become one of the tops in her field. The Group Head of Content at Wavemaker Global, has been an integral component of several significant campaigns. Particularly, she was an integral part of the COVID War Room for the Government of India, wherein she was in charge of COVID Digital Communications. She is 28 years old. Kritika Singh is currently in charge of the creation of branded content, influencer marketing sponsorships, television partnership, OTT and web content integrations. She is the leader of projects in the digital realm for the Ministry of Urban Development India - Research, Strategy & Insight as part of initiatives like Swachh Bharat India, Malaria No More and many more.
5-AARUSHI PERIWAL- Creative talented (ex-Associate Creative Director Dentsu Webchutney Pvt. Ltd.)
At the age of six, Aarushi first showed signs of being a gifted writer as she began scribbling on her cards for her mother as her first client. She was awarded the Cannes Lions for the Better Half Cookbook in 2021 and became the youngest person to ever be awarded the award by Dentsu Webchutney to receive this award. Aarushi Periwal is among the most rapidly-growing young professionals in the world in the world today, with clients like Spotify, Google, The Natural Diamonds Council and IKEA , as well as clients that include Spotify, Google, The Natural Diamonds Council. Prior to making the move to Webchutney, Aarushi was with The Glitch, handling HUL's personal care requirements, up to the year 2019. After that, she moved on to manage an all-female design team for Dentsu Webchutney, where she demonstrated exceptional professionalism by completing an 8-hour workday as well as not working on nights or on weekends. Aarushi's achievements are in a time where she works remotely and works with her colleagues who are situated in eight cities across the United States.
6. GAYATRI SETHI - Vice President - Growth and Operations, Media.Monks India
Gayatri Sethi was part of this business for eight years. Her first position was working for Memoreels which allowed her to get 12 wedding clients in the first six months of work. Since then, there has been no turning back since since then, as Gayatri has gone from one success one after another, creating more than 1000 hours of video content. Today, Gayatri is Vice Presidentof Growth and Operations, Media. Monks India in which she concentrates on creating new business opportunities and expanding existing clients for the company. She has been involved in a number of important projects, including The Xiaomi Laptop Launch which was the First 360 campaign of Media. Monks India which comprised the development of a strategy, creative and implementation of a website as well as a product film and social media content the launch of the product using AR and numerous other products.
7. JIMSON TELLIS - Account Manager, Madison World
In the year that Jimson Tellis first started his career as a Digital Media Management Trainee at Performics He did not realize that in the next three months, he would be the primary contact point for the company's biggest accounts, like McDonald's, Club Mahindra, HDFC Bank, among others. Jimson was already quickly ascending the ladder of success. As the Account Controller at Madison World, Jimson says that he would like to be an elite corporate athlete that can provide excellent performance even under ever-growing pressure. Jimson is known for bringing large brands to rural India and that too through the use of Digital which is a key factor in the amazing story of a brand new India as well as Digitalisation. With an impressive total of more than 25 Digital and TV ads that have the highest reach for the majority of the ones, Jimson can be considered a key 30 Under 30 story of success. His work has earned him many awards and recognitions in the field, including those of the Abbys from Goafest 2019.
8- CHIRAG CHANDIRAMANI- Director - Digital Media, Starcom, Publicis
Chirag Chandiramani started his Digital professional career back in 2014. He joined a startup and started working on its website, its creative department, and media. This first experience with Digital media was a crucial push to explore further in the realm of Digital media. Then, in 2015, he joined Madhouse. Within three years, Chirag went on to manage important accounts at Madhouse and has clients from diverse categories like FMCG, Telco, Auto and BFSI. A person who is a social butterfly, Chirag believes in making his job enjoyable and believes in working in teams to achieve results. His approach to work and his unending enthusiasm have enabled Chirag to work with some of the biggest names in the world of advertising. Chirag was a part of Dentsu Webchutney in 2018 and is currently working at Starcom, Publicis. Chirag's tenacity is evident through his work with giant brands like P&G, TataSky, Canon, Discovery+, TataMotors, Vodafone, Castrol, GCPL, Asus, Razorpay to mention a few.
In the year 2018 Rakesh created what's now a million-dollar business that has no investment. However, before all of this was happening Rakesh, who is the Co-Founder of Deepsense Digital Solutions, started his career as an intern, specializing in selling SIM cards. Later, he moved on to work for Titan in charge of their corporate operations. Today, Rakesh R is a part of the thriving advertising industry and is responsible for more than 10 original campaigns, which include AR-equipped notebooks, custom user-generated videos, exclusive algorithm-based applications, and other things. Rakesh R.'s achievement story has earned him seven awards at the Digies Digital Awards, Inkspell, Foxglove Awards, and Maddies Awards. His drive, enthusiasm and curiosity has led to the growth that is Deepsense Digital Solutions, and the company was able to be included in Silicon India's "Top 10 Companies to work in Chennai in 2021". Rakesh is known as one who is always at the cutting edge and making a difference and setting an example.
Kushal Lalvani, who is 28 years old, is already setting his sights on his next project, the Lion of St. Mark which is the sought-after Lifetime Excellence recognition at Cannes Lion is a professional with a never-ending curiosity who is determined to perfect his skills to the next level. This passion to learn that has helped him become an incredibly successful person in the world of advertising today. Kushal began his career with FCB Ulka as a trainee after which the next year he directed for Leo Burnett a film for Bajaj Allianz General. This turned out to be the biggest success for the company in the year. Presently, Kushal is among Dentsu Webchutney's top copy supervisors. He is responsible for several of the biggest customers for the company like GoTheogle India, and Flipkart. He also is the speechwriter for the most senior executives at Google such as Sundar Pichai.
You May Like