10 Toughest Exams In The World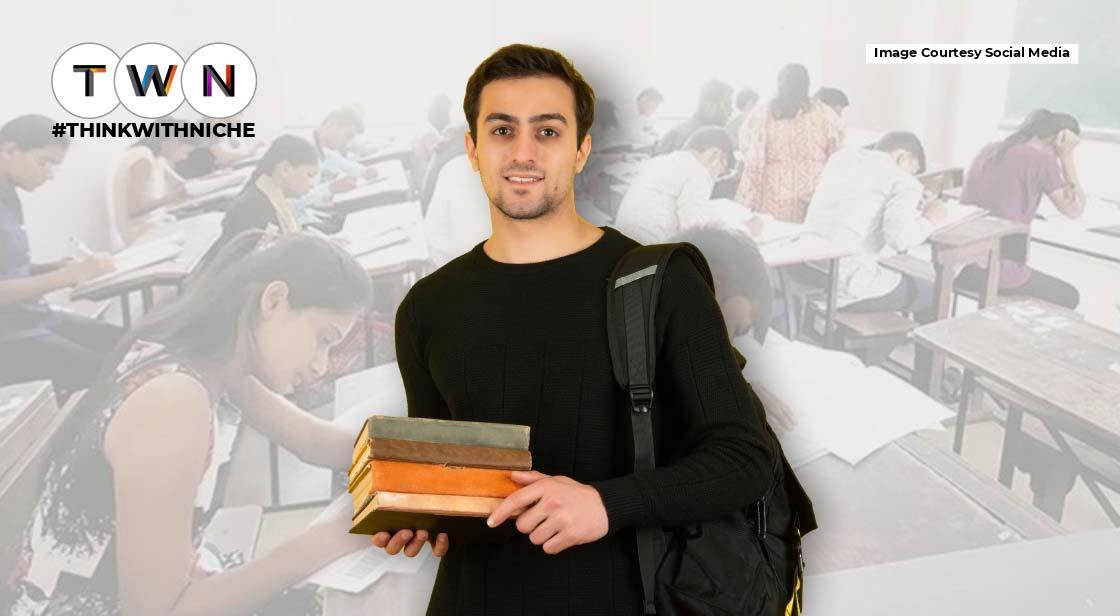 An examination is a process that is always difficult and not everyone is able to crack the exam. By the way, when we start going to school, the period of examinations starts from then onwards. But going ahead, some exams are such that everyone dreams of passing them, but not everyone's dream is fulfilled. It takes a lot of hard work along with confidence and determination. Students have to face many such exams which take years to clear. Indian students consider their exams to be the toughest but if we talk about the toughest exams in the world, then only a few exams in India meet this criterion. There are many such exams around the world, which is not an easy game to clear. Today we are going to tell you about the Toughest Exams in the World, which are not easy for everyone to clear. So let's know about the Top 10 Toughest Exam in the world in this article.
Continue Reading..
Some exams in the world are extremely difficult. It is not so easy to pass these exams. But the one who has passed the toughest exam in the world understands that the fame of his achievement will be all around. By the way, the examination of life that starts just after the birth of a human continues till the last phase of life. But the word exam is mostly associated with the field of education. Every student has to take many exams while studying in school, but this is just the beginning. That is, as you progress, the graph of these exams will also become difficult. Most of the students think that the exam they sit for is the most difficult. We and you also consider the competitive exam to be held in India as the toughest. The number of candidates who crack them is also very less. But if we talk about the world, then there are many such exams in the world, which take a whole life of people to pass. Here in this article, we will learn about the 10 toughest exams in the world, which are considered to be the Toughest Exams in the World.
The Gaokao exam, conducted in China, is regarded as the most difficult in the entire globe. Each year, more than one crore candidates take this exam in order to get admitted to the institution. This examination is known as Gauka or National Higher Education Entrance Examination. Gaoka is a compulsory exam in China, which every student seeking higher education has to appear. This exam is held annually in China, in which about one crore students take part. Only 0.2 percent of those who take the exam are able to score enough marks to get admission in top colleges of the country. This exam is conducted every year to give admission to the university. The results of this exam determine the students' futures in this nation. This exam lasts for about 10 hours, which takes two days. The exam in China is equivalent to the SAT exam in the United States and the level exam in England. This exam is usually held every year from 7 to 9 June.
This exam is considered to be one of the toughest exams in the world. In the United Kingdom (UK) the Master of Sommelier Diploma exam is conducted by individuals known as the Court of Master Sommeliers. Since 1969 when it was first held in the UK, only 269 men and women around the world have managed to make it. This exam seeks to encourage better standards of service delivery in beverages, colleges, hotels, restaurants, and the entire hospitality industry. You can understand how tough this exam is from the fact that in the last 50 years only 277 people have been able to crack it. To become an expert winemaker, you must pass this exam. The average passing rate in this exam is only 10%. This exam is divided into four stages- Introductory, Theory, Service, and Blind Testing. In this, the third stage is considered the toughest, because, during the tasting, the students have to tell in which year and where the respective wine was made. In this, 6 wines have to be tested in 25 minutes and most people fail in this step.
UPSC is a government organization responsible for conducting the Civil Services Examination of India. The full name of UPSC is Union Public Service Commission i.e. Union Public Service Commission. It recruits top government officials of India. The first objective of this 100-year-old exam is considered to be talented for employment in civil service agencies like the Indian Foreign Service (IFS), Indian Administrative Service (IAS), and Indian Police Service (IPS). The Civil Services Examination conducted by UPSC every year in India is considered to be the third toughest exam in the world. For this, candidates have to work hard for many years. Every year lakhs of people take part in this exam, but the passing percentage of candidates is very less. Around 3 lakh students appear in it and hardly just a few hundred of them get selected. Only 0.1 to 0.4 percent of the candidates who appear in this exam are able to pass. This exam is conducted in three phases. The first stage Preliminary exam is called Prelim, the second stage Main exam is called Mains, while the third stage is called Interview.
Another tough exam held in India is the Joint Entrance Examination (JEE). JEE Advanced exam in India is conducted for admission in engineering college. This exam is conducted for admission in all the colleges of India's top institute Indian Institute of Technology. This exam consists of two objective type papers of three hours each, in which lakhs of students appear, but hardly a few thousand are able to pass in this exam. There are 2 rounds in this exam, Preliminary and JEE Main. You can appear in JEE Main only if you clear the preliminary round. In this, about 14 lakh students appear in the preliminary exam every year, in which only a few thousand are selected for JEE Main exam. According to one figure, the selection in this is 0.71%, which is very less. Due to the negative marking system in the IIT exam, the exam becomes even more difficult, so IT colleges are famous not only in India but all over the world. Every student who aspires to become an engineer wants admission in IIT and sits for this exam. But due to less seats, only a few people are able to pass in it. On the basis of performance in JEE (Main), there is a chance to appear for JEE Advanced exam. One can get admission in engineering courses of reputed institutes, and IITs of the country only through JEE Advanced exam. This exam is one of the toughest exams in the world. It is believed that one out of 45 children passes this test.
Networking champion Cisco conducts this exam to recruit network engineers. The CCIE exam conducted by Cisco is considered one of the toughest exams in the world. This certificate given by Cisco is valid all over the world, the person passing this exam is considered to be a top-level network engineer, there are both written and lab exams for this certification, and only those who pass the written exam should give the lab exam. Finds, that lab exam last for a duration of 8 hours in a day. Various abilities of the candidate are assessed in this test. The exam is divided into six parts under two phases. Cisco claims that less than 1 percent of network engineers worldwide earn this certification.
The All Souls Prize Fellowship exam is conducted by All Souls College, Oxford University. This fellowship exam is conducted annually. It aims to help the college by identifying students with exceptional abilities in reasoning and analysis. This exam consists of four papers of three hours each. During this examination, out of thousands of candidates every year only two members are selected for the fellowship. It is one of the toughest exams in the world. The award is a seven-year fellowship at the University of Oxford with economic remuneration, allowances, and entitlements. The questions asked in this are very tricky as they are subjective.
Mensa is the largest and oldest high IQ society in the world. Mensa organization conducts IQ test of humans through this test. This test is considered one of the toughest exams in the world. It is the oldest IQ society in the world. Mensa society includes only those whose IQ in this test is 98 percentile or more. Anyone of any age can give this test. This not-for-profit organization conducts the Mensa IQ Test, a very tough test for members wishing to measure their abilities in areas such as reasoning and problem-solving. There is no age bar as Mensa membership is known to be open to people who are at least 2 years old to over 100 years old. The Mensa Society is a global society consisting of people with the highest IQ.
This exam is conducted annually by the CFI Institute for the selection of Finance Professionals. It is a three-tier exam. It is considered as one of the toughest exams in finance. According to 2016 data, there are only 1 lakh 32 thousand charter holders in the whole world. It has been seen that the number of candidates who are successful in this examination (Chartered Financial Analyst) is very less. According to the Wall Street Journal, it is one of the toughest exams in the world. Only less than 20 percent of the candidates are able to pass it, that too after repeated attempts. An average student can crack the exam at least four times. In this test, 240 questions have to be answered within six hours for each of the three levels. It takes an average of 4 years to become a charter holder, according to the CFA, with less than 20 percent of all those who join the program succeeding in the world's most prestigious companies.
Graduate Aptitude Test in Engineering (GATE) is a computer-based annual exam for engineering graduates in India. The Graduate Aptitude Test in Engineering is called GATE. It is an all-India exam that tests the comprehensive understanding of the graduate candidates in Engineering and Science. In this, engineering graduates pursuing a master's degree or working in public sector undertakings can participate. A candidate's GATE score reflects his or her level of performance. It is mandatory for students to have GATE score to take admission in courses like IIT and M.Tech. Apart from India, GATE is recognized in Bangladesh, Ethiopia, Sri Lanka, Singapore, UAE, Germany and Nepal. IISc and seven other IITs conduct this exam on behalf of the Government of India. The huge syllabus of GATE exam makes this exam difficult. On an average, over 700,000 candidates sit every February. If we talk about GATE Exam (Graduate Aptitude Test in Engineering), then this exam is for engineering students but students of BCA, MCA, MSC can also give this exam. The world's top universities also do admission on the basis of GATE. If you clear GATE exam then you can get admission to the top 100 universities of the world. The job of top officer and senior research in Central Government can be through direct selection GATE. If the candidate is doing MTech, then the government gives you a stipend of Rs 12000 every month along with studies. The candidates who clear this exam are likely to get direct selection in the biggest company.
If your dream of studying abroad is about the Graduate Record Examination, then you must take this test. The GRE test is an international test conducted by an organization called Educational Testing Services (ETS). This test is considered to be the biggest entrance test in the world. Based on this, admission to graduate schools or business graduate schools is available in many countries, especially the United States. This test is conducted at around 700 centers across the world. The marks obtained in this entrance exam are considered by many big universities abroad and mainly those students of India who take part in this entrance test who wish to study abroad. This exam is very helpful for those students. The paper is of 3 hours 40 minutes. There are a total of six sections in the paper and a break of 10 minutes is given after the examination of the third section. Usually, there is a computer-based test for GRE but you can also take the test in paper and pen mode at some exam centers.
You May Like