World'S Largest Bicycle Garage- An Inspiration Towards Healthy Living And Eco-Friendly Future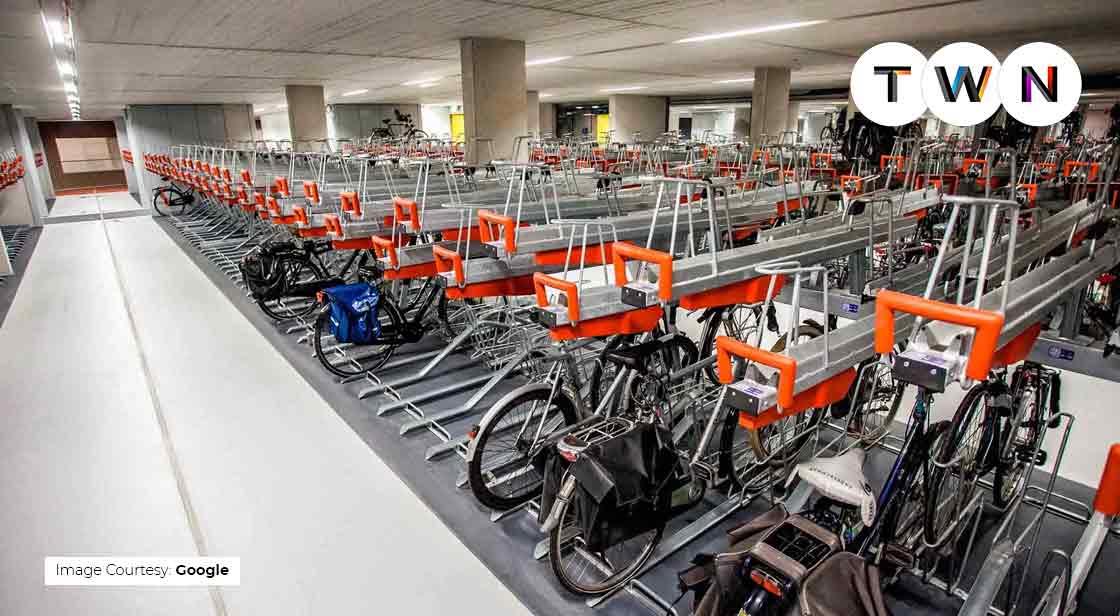 Being a bicycle-oriented city, in the year, 2017, Utrecht inaugurated the largest bicycle garage in the world. Wondering how much large would it be? It acquired the space of 17100 square meters that held 6000 cycles in early August 2017. Around the 19th of August, 2019, it hit the world record of holding 12,500 bicycles at a go! Lets learn about it more#ThinkWithNiche
Continue Reading..
We have all been aware of the different grand openings of different products or industries but ever wondered why the hype was about the world's largest bicycle parking garage? Let us bring you to the limelight of the scenario that happened grandly in the Netherlands.
If you have ever traveled to the Netherlands, you must be aware of the fact that bicycles play a huge role in their daily choirs from waking up till going to bed. Utrecht is a developing city with almost 100,00 and more cyclists traveling to get to their respective destination, be it school, college, work, home or even to get public transport. It is a daily ritual followed there from morning till night.
Being a bicycle-oriented city, in 2017, Utrecht inaugurated the largest bicycle garage in the world. Wondering how much large would it be
It acquired the space of 17100 square meters that held 6000 cycles in early August 2017. Around the 19th of August, 2019, it hit the world record of holding 12,500 bicycles at a go!
To execute this beautiful project into fruition, the Dutch made sure to transform the city highways into fluent streets. They also looked after the ancient historic canals with dedication.
Aim For This Initiative- On Point View
This initiative was formed keeping in mind the value that it served the cyclists. The aims were mainly focused on Speed, Safety, and Convenience for the public.
With the daily bustle of different transport, roadblocks are quite common all around the world. The bigger your vehicle, the more traffic it is going to form during traveling. Keeping in mind time management and speed, this initiative excels in being right on time with apt speed and proximity.
Safety is always the first vital point that needs to be taken care of while establishing a new product or service in the market. If you ever get hit by a rushing bicycle, you might get a scratch or sprain. It will never be life-taking. And to ensure safety, safe and moderate traveling is the best way and it is best served by the bicycles.
If we talk about the convenience, bicycles get anywhere and everywhere where big cars or motorcycles cannot invade. It holds lesser space with more room for others to park.
Environmental Friendly
The ozone layer depletion rapidly started after the emission of harmful gases started taking place from different vehicles all around the world. It has taken a toll on the ecosystem causing imbalance to both flora and fauna. With the encouragement of bicycles as means of transport, these two-wheelers are environmentally friendly and user-friendly. It does not release harmful gases and can easily be taken care of if there are any drawbacks. Not only that but they can also be recycled into different crafts for an aesthetic outlook.
Bicycling And Health
Cycling are also known to be a form of aerobics. It offers a healthy lifestyle with a much healthier mindset. Not only do they keep you active but enhance the mode of fitness at a go!
1. Cycling helps in weight loss management as it increases metabolism in our bodybuilding muscles and discarding fats. It helps in burning calories that forms due to unhealthy food habits or lifestyle.
2. It helps in promoting mental health by boosting confidence and concentration.
3. It helps in recovering from different types of diseases or illnesses such as cancer, stroke, depression, diabetes, and obesity. It also prevents heart diseases and arthritis.
Inspiration To Be Taken
We can further create a world of healthy minds and souls by promoting cycling in our lives. A new app can be launched for bicycle handling. The app would survey the bicycle parking and the bicycles available in the nearest parking lot. An individual can easily travel to his respective destination, parking the bicycle there for someone else to use to reach their respective destination. This chain would follow. A little amount of money will be needed to pay for the maintenance but it will help a lot in the long run, not only in building a green world but also in building trust amongst humanity. It will eliminate us from traffic, pollution, and social status. Proper management and efficient planning can build a strong foundation for almost anything.
Let's choose the healthy way of living that motivates lifestyle at its best.
You May Like
Technology Advancement and Wellness

Technology Advancement and Wellness

Technology Advancement and Wellness

Technology Advancement and Wellness