Who's Who: The Top 15 Most Promising Indian Startups For 2022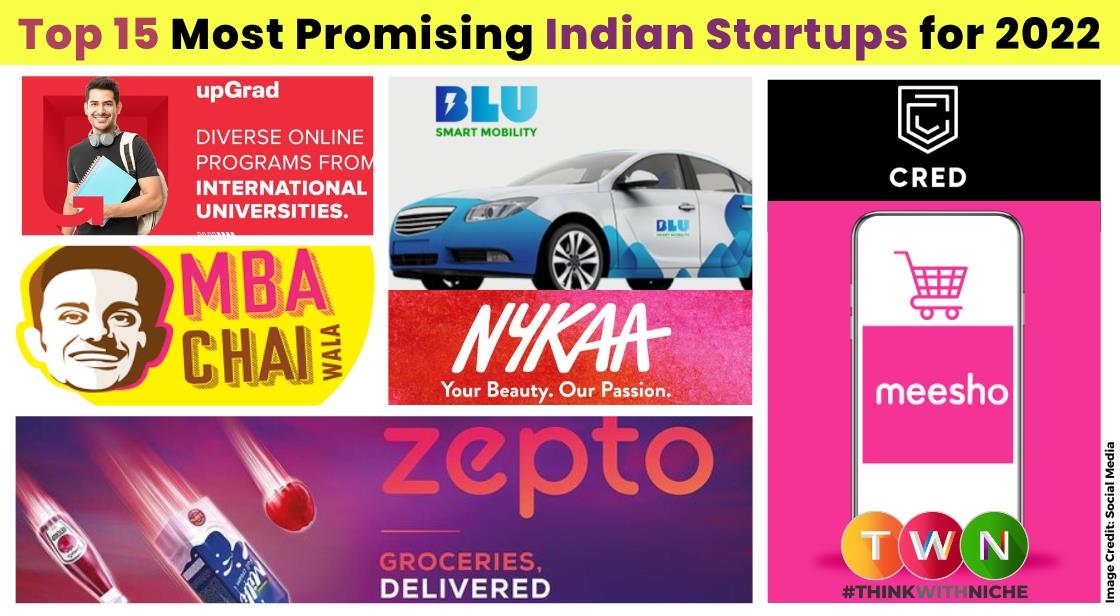 Since the beginning of January 2022, there have been more than 61,000 startups in India, placing it third among countries after the United States and China. The Indian government-run organization Startup India seeks to promote an innovative and entrepreneurial culture.
A major development engine for India in recent years, the Indian startup scene aspires to make India a global technological giant.
Younger people are encouraged to work and gain skills in their fields of interest, and many Indian businesses are thriving as a result. In India, some of the most well-known companies include Flipkart, Ola, and Zomato.
Startups offer a fantastic opportunity to develop one's skills and advance in one's area right away. Although entry-level training courses could be helpful, more specialized courses, such as data science programs or cloud computing courses, might improve your career prospects because professional-level experience is crucial in any industry.
This article will delve deeply into the world of India's Top Startups and how they are transforming the startup scene.
In this blog, we'll discuss the top 15 Most Promising Indian Startups For 2022 that are seeing significant growth. According to statistics, India has the third-largest startup ecosystem in the world.
Here is a look back at the top 15 startup stories that appeared in 2022 as we get ready to welcome 2023. These businesses, which have endured this year's ups and downs, will encourage you to start your own entrepreneurial endeavors.
Blog Flow:
CRED
Zepto
Skyroot Aerospace
MBA Chai Wala
BluSmart
Meesho
Nykaa
Udaan
upGrad
Delhivery
Rupifi
TradeX
Refyne
AarogyaAI
Rapido
Continue Reading..
Because of the COVID-19 epidemic, which spread throughout the world, last year was a year of ups and downs. Strong entrepreneurs in India have tested their ideas and jumped into opportunities. Some of them have failed, but others have succeeded like nothing else. India fosters the growth of startups due to its access to a trained workforce at low costs, funding from domestic and international investors, and expansion potential.
According to statistics, investments in Indian startups have risen dramatically in recent years, from $6.6 billion in 2018 to $10 billion in 2020 and up to $36 billion in 2021. This demonstrates that India has a large number of successful startups due to the presence of Venture capital firms, the strength of the local entrepreneurial ecosystem, and India's fast-expanding economy, all of which provide a solid basis for Indian startups to succeed.
Through exciting innovation, cutting-edge technology, and market-changing business models, new, promising startup companies rise to the top of their respective industries every year. We've compiled a list of the Top 15 Most Promising Indian Startups For 2022, along with information on their location and venture-backed funding, for startup enthusiasts, investors, and prospective entrepreneurs.
Without a doubt, the startup ecosystem in India is one of the hottest in the world. In the recent years, India has produced several amazing startups that have had a major impact on the world.
CRED is a platform that was established in 2018 where you may pay your credit card bills and earn rewards. Users now receive "CRED coins" when they pay their bills via the CRED app, according to a novel business model developed by the platform. These coins can then be used to make purchases, participate in contests, or join in workshops. The Bangalore-based firm provides its customers with a variety of services, including financing and an exclusive selection of products. The business thinks that through providing incentives, people's financial behavior will improve.
CRED is the youngest Indian startup, according to TechCrunch, with a valuation of over $2.2 billion. More than 6 million customers and around 22% of credit card holders use this 2-year-old startup. The company is one of the most talked-about startups and is targeting affluent customers, according to founder and CEO Kunal Shah.
Very few businesses maintain steady growth throughout the years while concentrating on the high-end market. Additionally, CRED intends to launch a feature that will enable the usage of CRED coins at more than a thousand merchants. The business also intends to run its own eCommerce marketplace. It is obvious that the firm has plans for much more than merely giving its clients incentive coins.
Founded in 2021, Zepto delivers orders within 10 minutes. The company is co-founded by Kaivalya Vohra and Aadit Palicha, two 19-year-olds. Its latest funding round in May has helped it inch closer to unicorn status, with a current valuation of $900 million. It has a wide selection of groceries, dairy products, and more.
Zepto is not another grocery delivery app but a platform that promises 10-minute deliveries of groceries, built in order to revolutionize the selling and deliveries of groceries. With Zepto by their side, customers can conveniently purchase 2500+ products and get them delivered to their doorstep with the help of Zepto's 10-minute e-grocery delivery app.
A spacetech start-up called Skyroot Aerospace aims to address the rising issues in the global space business by offering inexpensive launch solutions that can get people into space faster. Vikram I, II, and III, the company's three launchers, are capable of launching payloads weighing between 200 and 700 kilogrammes into low Earth orbit. The team is now testing a totally composite (carbon fibre) and high-performance solid rocket motor as well as a liquid propellant engine that was 3D printed. Additionally, it is negotiating with satellite firms to secure consumers for its initial launches. The start-up, according to Pawan, has exciting plans for brand-new space products that will be revealed in the first few months.With only a few minor upgrades, its highly mass-producible and flexible rocket architecture can practically increase the payload capacity. The CureFit founders Mukesh Bansal and Ankit Nagori, who contributed $1.5 million in June 2018, have invested an unknown sum in the startup.
Prafull Billore is known as the MBA Chaiwala. He is the enthusiastic owner of the MBA Chaiwala franchise, which he built on his ambitions and chai to become a three-crore empire. Praful, a Madhya Pradesh native, and recent B.Com graduate, comes from a middle-class background.
Many of us mistakenly believed that MBA stood for Master of Business Administration, but Chaiwala uses the term "Mr. Billore Ahmedabad Chaiwala" instead.
Praful began working his way up the McDonald's corporate ladder by beginning as a housekeeper and eventually becoming a cashier. Despite his remarkable accomplishments, he disliked the idea of working for someone else and desired to forge his own identity.
He frequently questioned why he should sell burgers for another person when he could create and sell them himself. As a result, the 3-crore MBA Chaiwala empire was created.
Praful followed the wise advice to "Dream big, start small, act now." As tea was his go-to beverage during the CAT preparation and India loves chai, he decided to quit his job at McDonald's and open a tea shop. He first borrowed 8,000 rupees from his father under the pretext of enrolling in a short-term course. He was unable to tell his family the truth since they would be shocked and angry at what was ahead for him.
In order to provide a sustainable ride-sharing experience in urban India, BluSmart Mobility was established in 2019. As the first electric shared smart mobility platform in the nation, the business provides effective, inexpensive, intelligent, and sustainable mobility.
As of 2022, the BluSmart fleet will include the Mahindra e-Verito, Tata e-Tigor, Tata Xpres-T EV, Hyundai Kona Electric, and MG ZS Electric.
Hourly rentals have now been added, allowing customers to keep the cab while running errands.
It is admirable to think that BluSmart has established itself as the most notable platform and ride-hailing service in Delhi NCR due to a number of noteworthy achievements, such as leading the all-electric ride-hailing market and developing the largest all-electric fleet and fast charging station network in Delhi NCR.
For the time being, BluSmart only provides shared rides, hourly rentals, and airport services in Gurugram and South Delhi.
Meesho is a reseller platform that was founded in 2015 by IIT-Delhi graduate Vidit Aatrey and is poised to expand into a major e-commerce distribution channel where home business owners may sell products via Facebook, Instagram, and WhatsApp. After raising $300 million in funding, the company is now valued at $2.1 billion.
Meesho is the online platform ecosystem that enables small businesses to operate. To date, this platform has raised $490 million from investors, including Facebook. Meesho links sellers and customers in an online marketplace and provides vendors with the administration of logistics, orders, and payments. It has connections with over 13 million business owners in Indian cities who deal in groceries, home and kitchen equipment, clothing, and other things. Meesho has a huge potential to elevate retailing to new heights in the future as Indian social commerce is predicted to expand at a rate of 55%–60%. It faces competition from businesses like GlowRoad, Dealshare, and CityMall, which are attracting investors' attention. In December 2020, Dealshare, which was established in 2018, had raised $21 million.
According to Meesho, it has made deliveries from more than 100,000 registered suppliers, bringing in more than 500 Cr ($68 million) for home-based business owners.
Nykaa, an e-commerce platform for fashion and beauty products, was established in 2012. Customers can purchase wellness and cosmetics from the company at affordable prices. It's interesting to see that its current market worth is $1.2 billion after it received $25 million in March 2020. Actresses from the Hindi film industry including Alia Bhatt and Katrina Kaif are among the company's investors.
Former investment banker and platform founder Falguni Nayar had the idea to build a platform with thousands of product offerings. The company now fulfils about 1.5 million orders every month and has more than 55 store outlets. Through its online and retail stores, Nykaa deals with more than 500 brands and has more than 5 million monthly active consumers. The business has also launched Nykaa Fashion, a new division that sells clothing and accessories. It has unveiled Nykd, a new private label for intimate apparel. The analysis from RedSeer Consulting projects that the online beauty market in India will expand at a CAGR of 9%. Nykaa has the chance to develop its market share in India and broaden its market.
In 2016, a tech-based startup providing B2B e-commerce solutions was established. Sujeet Kumar, Vaibhav Gupta, and Amod Malviya, three former executives of Flipkart, founded the company, which now has a network of more than 3 million consumers across 900 locations. It helps in connecting India's more than 25000 merchants. Thousands of brands, including Boat Lifestyle, PepsiCo, LG, ITC, and many other well-known names, have inked contracts with the company. The company achieved unicorn status in 2018, which took place in the least amount of time. Udaan recently secured $280 million from both old and new investors. The company currently has a value of approximately $3.1 billion and has raised a total of $1.15 billion.
The COVID-19 pandemic, according to the co-founder of Udaan, has accelerated the growth of the digitally guided evolution of the unorganized Indian trade retail sector. This is an opportunity for Udaan to maintain its status as the nation's top e-commerce platform.
According to Entracker, Udaan is attempting to break into B2C markets with the help of a brand-new app called Pickily. The FMCG products are available through the app, which is active on the Google Play Store, in various areas in Bangalore. The company will be able to compete with companies in the same market as Big Basket, Swiggy Stores, Flipkart, and others due to this venture.
Ronnie Screwvala, Mayank Kumar, and Phalgun Kompalli founded upGrad in 2015 with the goal of "improving the lives of working professionals by helping them to upskill while they work."
UpGrad crossed the 10,000 learner mark in 2018 and one million learners registered on the platform by 2020. UpGrad is now valued at $2.25 billion and has over 2 million registered users.
Data science, software and technology, management, law, and other fields where upskilling is important and lucrative are among the education programs offered by upGrad.
One of the greatest universities in the world, such as IIT Madras, Duke CE, Deakin University, Liverpool John Moores University, etc., collaborates with upGrad on each of these programmes.
For instance, you can register with upGrad for a Master of Business Administration (MBA) from Liverpool John Moores University, Deakin Business School, or Golden Gate University.
The findings demonstrate the high standards that upGrad and their affiliate universities have set. 5 out of 6 students who had their upGrad results reviewed by Deloitte had positive professional progress. Graduate students who successfully complete their MBA programmes have an average salary increase of 52%.
2011 saw the founding of Delhivery, an Indian delivery startup with its head office in Gurugram, Haryana. It is a startup with a logistics base that primarily targets the e-commerce industry.
Although it started off as a food delivery service, it gradually expanded to offer a full range of logistics services in more than 17,500 zip codes and about 2,300 Indian cities. It achieved unicorn status in 2019 after raising $413 million and reaching a valuation of $1.5 billion.
A number of well-known Indian firms become unicorns thanks to their distinctive, unconventional, and practical offerings. Delhivery was one of them and was able to successfully change the perception of delivery services around the nation.
Delhivery, which has raised $277 million and is currently the largest independent e-commerce logistics firm in India, is headquartered in Boston.
11. Rupifi
Rupifi is an Indian startup that was established in 2020 and is presently situated in Bengaluru. Through the provision of working capital, payment services, and loans, the company's B2B fintech services make it simpler for smaller businesses to raise the financing they require.
With eight investment rounds finished in less than two years, the company has been extremely active in raising capital to grow and develop. Seventeen investors that are interested in the business' potential have taken notice of these investment rounds. As a result, the company has raised a total of $30.8 Million.
12.TradeX
TradeX is an Indian startup with its current headquarters in New Delhi. It was started in 2021. The business engages in the fintech industry and offers its users a trading platform that makes use of predictions to assist users in making trades based on opinions that are important to them. Users can also receive prizes for making accurate forecasts.
The company has undergone a Seed Funding round since its founding, totaling 70 Million Indian Rupees. A group of nine investors who are expecting that TradeX will be a force to be reckoned with for years to come sponsored this funding round and the entire investment.
13. Refyne
Bengaluru, India is the present headquarters of Refyne, an Indian firm that was founded in 2020. The business itself generates revenue by offering a platform that enables employers to allow employees access to their earned wages, reducing stress and enhancing financial awareness among those who work for Indian businesses.
With funding rounds in 2020, 2021, and 2022, the company has done exceptionally well in terms of securing investor support. A group of eight investors who have committed a staggering $102.1 million to aiding the company's growth and expansion have shown interest in these investment rounds.
14. AarogyaAI
AarogyaAI is an Indian startup that was established in 2019 and is presently situated in New Delhi. To assist in the early detection and diagnosis of drug-resistant TB, the company offers medical technology that is powered by artificial intelligence. Patients benefit from better care outcomes and quick access to therapy as a result.
The company has received a lot of investor support, as seen by the four successful investment rounds it has through. The company obtained $855,500 in funding from a group of four investors as a result of these funding rounds.
The Indian online bike taxi aggregator Rapido was founded in Bangalore in 2015. It travels to other locations nearby and operates in more than 100 cities across the nation. Each day, it receives more than 15000 registered riders.
Rapido was founded by Pavan Guntupalli, Rishikesh SR, and Aravind Sanka.
The roots of Rapido go back to the Karrier period, when the company was built on a supply-chain and logistics-driven concept that allowed customers to transport their belongings without any hassle. Although things were not bad for the company, one of the co-founders of Rapido, Aravind Sanka, claims that they "soon realised that shifting gears from B2B to B2C provides greater room for growth."
B2C required the company to quit trucks in favour of bikes in order to better serve the customers' transportation needs because continuing to use trucks would have resulted in increased costs for the company, a lot of competitors, having to deal with traffic, and delays. Therefore, they first worked with 15 to 20 people with the simple goal of making the customers' journeys easier. These individuals planted the seeds for Rapido and, through persistence, hard work, and devotion, made the success of the company possible.
You May Like