Which One is Better IOS or Android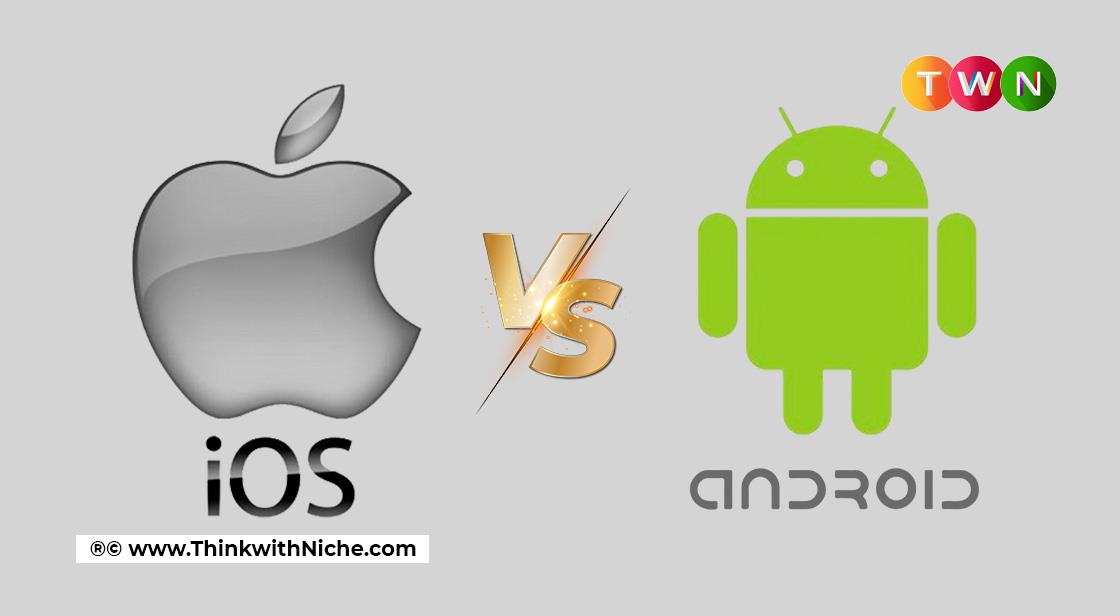 With a wide range of smart devices available in the market, it is not easy to decide which device is better. Read the blog to see which device is better iOS or Android.#ThinkWithNiche
Continue Reading..
iOS and Android have been competing for more than 15 years now. As of now, they have curated their own unique and quirky design systems. And each individually carries user experience research at their guard. However, both iOS and Android have concluded over the years with similar kinds of systems.
Analyzing the Features of iOS And Android
One of the toughest elements is to summarize Android as a whole. Since Android supports an array of different devices, there are so many ways to unlock your current device. When we talk about Samsung devices, they work in the favor of iris scanners. Though it yields, not good-to-do results.
Several unlock systems in Android include: Fingerprint scanner and pattern unlock system. But the latter doesn't work well because of the pixel line and Android's overall nature. It doesn't even employ a stable control when it comes to hardware as it is more complex.
What is iOS? iOS is simpler than Android in every way. Apple devices can be unlocked with the use of either a fingerprint scanner or recognizing your face (Face ID). It has made our lives easier since our lives are dependent on Artificial Intelligence. Moreover, iOS updates are very useful in maintaining the same device for a longer time.
Talking about the iOS fingerprint scanner, they are very easy to use and at rocket speed. Face ID is the ultimate classic and modern feature. It creates user experiences with sheer perfection. The best thing about iOS is that users don't have to do so much work worrying about their device's unlock system. It is done and employed automatically by iOS systems. This is the reason why iOS is preferable by mobile and any device users.
Winner: iOS
Operating System User Interface
The Operating system user interface is a blend of a string of elements like app drawer, icons, controls, and notifications. For Android, even the basic things are more simple to use due to their consistency. On some devices, a lot of things are just available to add with so much ease.
Now talking about iOS, they both match similarities and they acknowledge similar methods of displaying notifications, apps, etc. Android has more potential and works far better than iOS in this case.
Winner: Android
Apps and Navigation
While Android uses a hamburger, for apps and navigation, it keeps all the unwanted items at bay. Android compiles with all the items in one specific area. Talking about its primary and the most important navigation, they are placed at the uppermost which is the top of the user's screens. It is easy and convenient to use as it is displayed with large texts in labels for every individual tab.
When it comes to iOS, it works in a way that adds 'More' tabs individually for secondary items. It works tougher than Android as its primary items are placed at the bottom (tab bar). iOS is a little complex, because of the icons' inconsistency.
Winner: Android
Floating Action Button (FAB)
The floating Action Button known as FAB is a primary circular button that can be seen in Android apps. It is very easy to identify since it is vivid in color and placed at the bottom of the screen. It is considered the most valuable feature of Android devices and employs simple tasks more simply.
Talking about iOS, it lacks consistency when it comes to FAB and doesn't employ an easy-to-use approach. It wholly and solely depends upon the icon which is placed in the line of the title bar.
Winner: Android
Visuals
Visuals are known to have a significant impact on user experiences. Android wins again since its visuals on different devices have been proven to be alluring and appealing to users. They feature a larger side of visuals which emphasizes various quirky elements such as depth, contrast, and color.
iOS can bore users since its creativity levels are often lesser than Android's system. Their keys lack a background color to appeal to the user experience.
Winner: Android
Design system A design system appeals to consumers to purchase electronic products. Android's overall system is a blend of a variety, that creates alluring and attractive designs.
iOS lacks producing some larger-than-life and extremely visual results, its lack of consistency in designs of apps disappoints the user experiences.
Winner: Android
Back, Home and Multi-Tasking
Apple works on a swipe up for the users to return home. But in case you want to do some multitasking, then pressing it midpoint can do all your work. iOS is simpler to use when it comes to back, home, and multitasking, its back navigation is placed inside the apps. While iOS wins in this, Android's complicated use of trio features makes it more complex to use.
Winner: iOS
Final Verdict
When looking at the overall working of the system, Android achieves more than what iOS can do in complex and simpler terms. Android's easy-to-use and handy features make it at the top to use and dependent. They yield fruitful results and consist of all useful elements and features teamed in one pack. They have the most natural elements to use and depend on. Android makes it very convenient and super to use!
Winner: Android
You May Like