Unforgettable Experiences: 12 Must-See Attractions in Cairo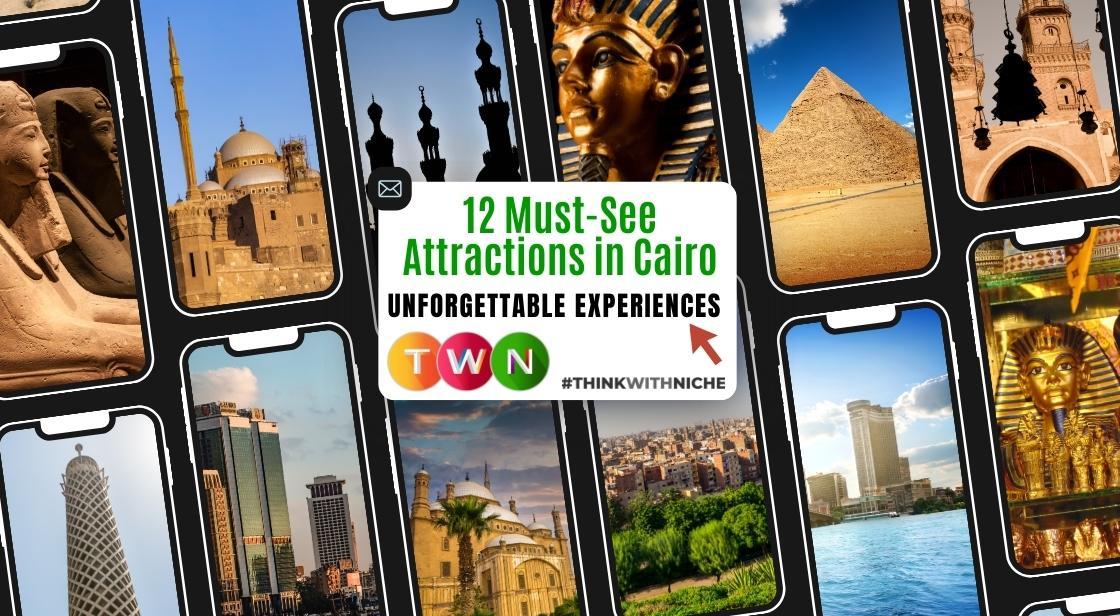 Cairo, a city steeped in history and culture, stands as a testament to the enduring legacy of ancient Egypt. Nestled alongside the majestic River Nile, this sprawling metropolis boasts a rich tapestry of Islamic architecture, contrasting landscapes, and a vibrant blend of traditions.
As you embark on your journey to Cairo, you'll be transported back in time, where millennia-old ruins whisper stories of pharaohs and gods.
To help you navigate this enchanting city, we've curated a list of 12 unmissable attractions that will immerse you in Cairo's captivating past and vibrant present.
Continue Reading..
Cairo is known for its beautiful and majestic River Nile, which dominates its landscape. It is a huge, sprawling city with millions of inhabitants, and showcasing Islamic architecture are its many minarets. It is also a city of contrasts as it is located close to the Mediterranean Sea and displays its influence in its climate. It also has a desert climate, which gives it extreme temperatures in the summer.
The influence of the Nile is all pervasive throughout the city, as this world's longest river flows right through it and has since time immemorial been influencing its many settlements and the everyday lives of its people. Make an Egyptair booking on a suitable flight to arrive in this bustling city, where you can enjoy a fabulous vacation exploring ruins that are thousands of years old. Here is a look at 12 key locations that are a must-visit:
12 Must-See Attractions in Cairo:
1. You simply cannot miss visiting the famous Giza pyramids, which are on the list of ancient wonders of the world. They were built about 4500 years ago during a time period that is now termed the era of the old kingdom and stand as a symbol of the belief that Pharaohs would become gods in their afterlife.
2. Step into the Egyptian Museum of Antiquities to be stunned by an amazing collection of ancient Egyptian artefacts, especially jewellery. The items on display are extensive, and they date as far back as the Greco-Roman Era.
3. If you want to study ancient Islamic architecture, check out Islamic Cairo, a World Heritage Site. It has a large number of madrassas, mosques, and tombs. Since it was created in the 10th century, exploring it takes you into the early Islamic period when the Islamic religion's foundation was laid here.
4. Yet another such site is Salah El Din, which in ancient times used to run the Egyptian government from the 9th up to the 12th century. It showcases the mediaeval-era Islamic architectural style, and its purpose was to protect the people from the Crusaders' attacks.
5. You can further understand Cairo's historical past by getting into Al-Muizz, a street where you can see some very striking monuments of the ancient world as well as textile shops and many small retail stores.
6. If you climb up the steps of the Bab Zuweila, you can get a panoramic view of the old part of this city. The twin towers of this southern gate are massive, and the structure was built during mediaeval times.
7. You can enjoy shopping in the Khan-el-Khalil market, a place that takes you back in time and where you can find many souvenirs, hand-made gifts, and trinket sellers. Enjoy tasty coffee in its many coffee shops, and also explore its mini bazaars to find interesting items.
8. A stroll in a park takes you away from the heat of the city and can make you feel so relaxed. So, make a visit to Al-Azhar Park, which is full of beautiful trees, ponds, and gardens. This massive and beautiful 74-acre park was actually donated by Aga Khan to Cairo in 1984.
9. The Monastery of Saint Simon is a stunning natural location that houses a church. As it has the capacity to house 20,000 people, it is the largest church in the Middle East.
10. The majestic Cairo Tower is a majestic place from which you can get an expansive view of the surrounding areas and also the Giza pyramids.
11. Spent time in the Cairo Opera and enjoyed some musical delights and delightful dancing. Sit down to performances that range from ballet to the latest in dance in a large hall and relish in such stunning events.
Also Read: A Look into the World's Most Expensive Business Travel Destinations
12. Make a stopover at the Mosque of Ibn Tulun, the oldest and largest mosque in this city. There is a museum close by where you can see some very interesting ancient artefacts.
Many archaeological excavations carried out over the past decades have resulted in Cairo being called the Gates of Civilization. Visit this exciting city by making a Cleartrip Ticket booking quickly online on dates that are convenient for you to travel.
The flights are direct, so you will reach the city fast, after which you can get into a weeklong tour package that enables you to explore exciting ancient locations where the guide will inform you about their history in detail.
You May Like
Lifestyle and Entertainment

Lifestyle and Entertainment

Lifestyle and Entertainment

Lifestyle and Entertainment