Top 7 fashion trends predicted for upcoming summer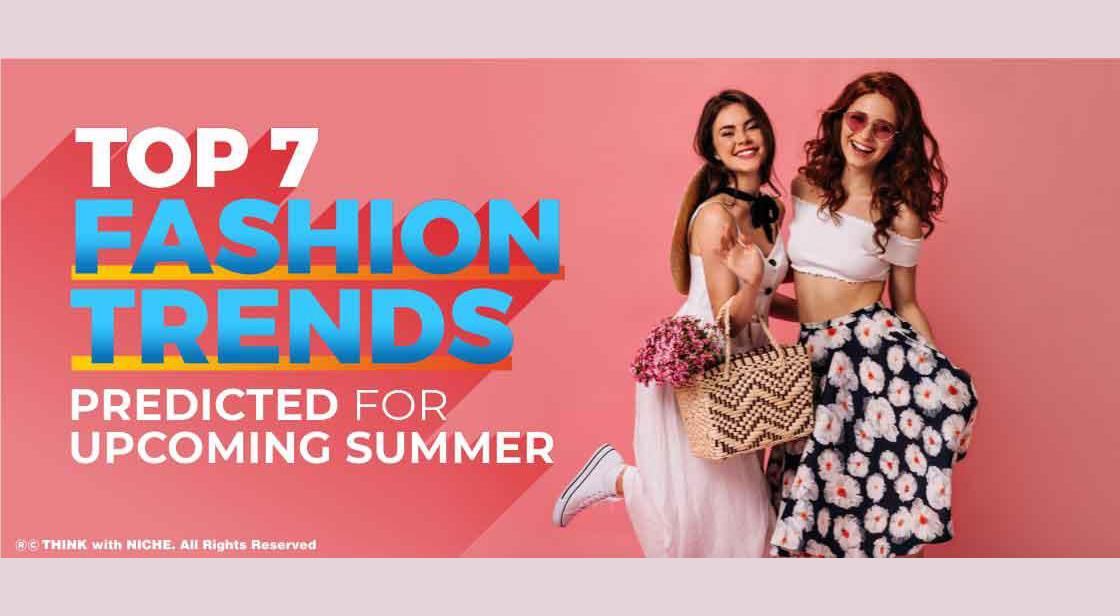 Seems like the internet's wish has been granted. The S/S 2022 trends are a blend of 'high-end' and 'avant-garde' haute couture. #ThinkWithNiche
Continue Reading..
Spring/Summer trends are the rage of catwalks, runways and are soon going to hit our summer essential rack. This spring, the trends are sorted with the most sprinkled flavors – 'crisp red,' 'tangy oranges,' and a splurge of vintage, blending perfectly with contemporary times. We are yet to revamp our summer curated wardrobe. Soft colors are trending this spring, and Pantone declared "living coral" as the color of the year in 2021, seems like the internet's wish has been granted. The S/S 2022 trends are a blend of 'high-end' and 'avant-garde' haute couture.
Cycling/biker shorts
Biker shorts trend emerged from fashion goddesses 'Kim Kardashian' and the late 'princess Diana.' 2019 to 2021 runways rocked the most unusual fashion trends, and people around the world seem to be in awe of the apparent fresh breeze. Top designers lead the runways without any fear of disapproval. Late legendary designer Karl Lagerfeld dazed the Paris' Grand Palais seashore with athleisure vibes – the highlight setting apart seashore included showcasing models in biker shorts clubbed with sophisticated skinny jackets and woolen buttoned cardigans, the collection reminisced the late legend's juvenile days.
Ruffles
Brands like Yves Saint Laurent and Marc Jacobs grazed the runways with a twist of carefully detailed ruffled pieces. This trend dates to the late '90s, just like 2018 fluttered with this fashion trend, once again making the rage in 2021. Brands gave a new life to ruffles on the runway and made it look like the most beautiful thing to embrace our wardrobes this spring.
Hats
Street style expressions swept the Paris fashion week in spring 2021! All strings were pulled when hats came as a cue to shield from harsh sun rays. It could become peoples' favorite fashion trend meant to fetch a fashion revolution.
Tie-dye
Making your summer satisfactory rings a bell with the most common beach theme 'tie-dye.' While Stella McCartney met the most casual outfit, Prada pulled the most feminine 'floral-waved' slip dress, 'tie-dye' version with unparallel accessories. Dior carried avant-garde print consisting of the most sublime kaleidoscope version grazing the runways.
Mini-suede bags
Mini-suede bags rocked the catwalks from the bottom to the top. This spring is going to be fun for the commuters – usage of "easy-chic" mini bags is most likely to hit the racks. Tangy yellow and crispy reds are the "colors-in" for contemporary times.
Living corals
Internet is thirsty for fresh and sweet colors! Coral orange tones were on the rise in 2021. Top brands like Marc Jacobs, Erika Cavallini, and Zero + Maria Cornejo opted for peachy colors this spring, followed by the enormous liking developed by the fashion experts.
Highlighter neons
Spring 2021 runway sparked some elegant neon's top-notch designers covered a slew of womenswear – including 'sporty' to 'evening wear.' The runway color scheme maintained by the creators was high on urbanizes and seemed to be non-obsolete.
You May Like
Lifestyle and Entertainment

Lifestyle and Entertainment

Lifestyle and Entertainment

Lifestyle and Entertainment