Top Four Bollywood Movies Based on Business all Time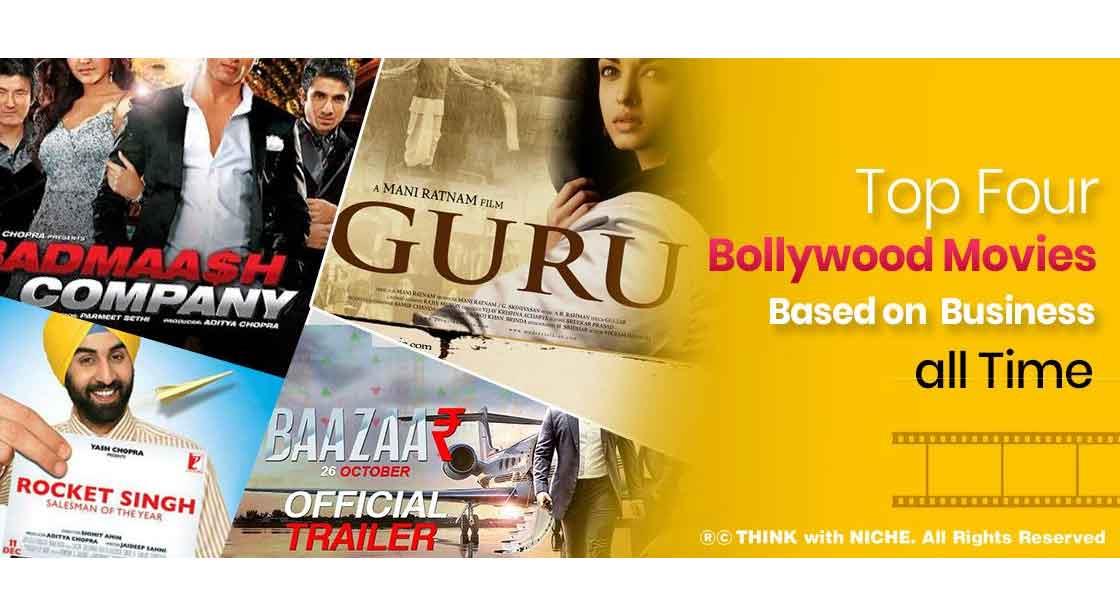 Presently, it has enhanced the new generation of cinema for a few years. Where Bollywood directors and issuance startup and business-based movies. These movies teach several There is no dearth of invigorating movies if one considers cinematic contribution over the globe each year. Hindi Cinema is the world's second-largest movie composing by each year. Hindi Cinema has been inspiring and motivating us since it originated. There are few Bollywood movies like Three Idiots, Guru, Rocket Singh, and corporate lessons on how to start and run a business like Baazaar and other Bollywood films that are changing India's youth's mindsets towards the world of business. #ThinkWithNiche.
Continue Reading..
Introduction
Here we have arranged some of the best masterpiece Bollywood movies, which are motivated to business and innovative new notions of business. Hopefully, these movies will give you great insights and learning experiences with interest. Have fun watching these best Hindi or Bollywood business movies!
Bazaar
Saif Ali Khan, Rohan Vinod Mehra, Radhika Apte, Chitrangada Singh starrer and directed by Gaurav K. Chawla Bazar movie did release in 2018. Bazaar did not get too much attention but it was warmly welcomed by the audience and the critic alike. This movie was related to the black side of the business world and How Dalal Street works. This movie will help aspiring entrepreneurs and learn the new culture of the business.
Guru
Abhishek Bachan's, Aishwarya Rao Bachan's starrer most popular movie Guru did release in 2007. Guru was directed by Mani Ratana. He is a versatile director of Hindi and Telegu Cinema. This is a biopic theory movie based on the life of the man who started the Reliance empire, Dhirubhai Ambani. Although the makers of the never openly claimed that cinematic venture was Dhirubhai's story. It is a complete passion for business knowledge and real-life struggles. Those were faced by Ambani where he was struggling for success in his business. If you want to do a start-up, you have to take ideas and motivation through this excellent movie.
Rocket Singh - Salesman of the Year
Rocket Singh is a story about a man (having the same name as the movie title) who is employed as a salesperson. Rocket Singh has a great example of average mindset students. Who wants to start their own business but don't have the proper resources to do it? Here, I am sharing this movie with you, which will give you creatives ideas to turn your dreams into reality. The movie's main character had to his venture without letting his boss know about it. The movie has excellent storylines and characterization which did not utilize to the fullest. People starting their ventures ought to watch this movie for some cues and tricks.
Badmaash Company
Shahid Kapoor, Anushka Sharma- starrer Badmaash Company based on a start-up venture. A combination of young friends does the wrong things because they had economic difficulties. But also, they wanted to survive their entrepreneurship. Some parts of this movie can disappoint you with illogical ideas and tricks. In some parts of it, you can connect yourself to this movie.
You May Like
Lifestyle and Entertainment

Lifestyle and Entertainment

Lifestyle and Entertainment

Lifestyle and Entertainment