Top 10 Business Ideas for Turkey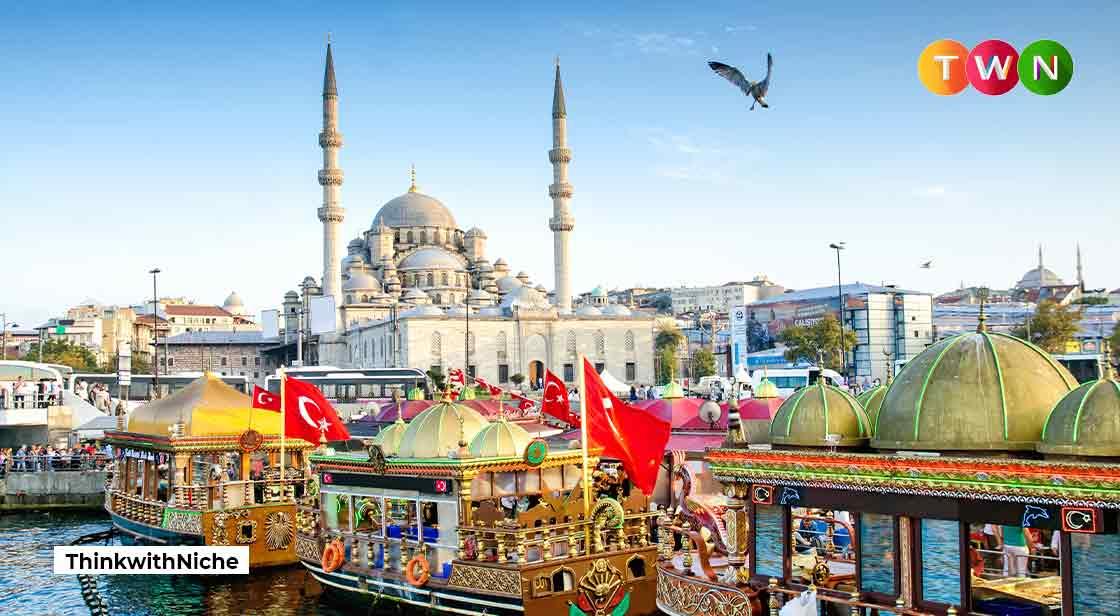 Turkey has always played a significant role in the region of Europe, and for good reason. Turkey has a distinct edge due to its strategic location, and as a result, numerous enterprises have thrived and made enormous profits there for many decades.
Turkey's economy is currently the sixth largest in Europe and the sixteenth largest in the world as of 2020. This demonstrates that Turkey still has room to grow in a number of international businesses, including oil and gas, construction, information technology, the automotive industry, the energy sector, the mining of natural stone, and many other fields.
The Top 10 Business Ideas for Turkey that are now favorable for any business startup are listed below if you're searching for profitable business prospects in Turkey.
Continue Reading..
In Turkey, establishing a small business is a wise move. The nation's expanding economy will enable you to expand your company and make money.
Turkey's strong purchasing power will help you succeed with your company ideas there. There won't be a shortage of customers for your firm as a result here in this nation.
Geographically, Turkey is in a prime position that makes it a significant hub for trade and commerce with both Europe and the Middle East. You, therefore, have an excellent chance to build and grow your business concept in Turkey.
In Turkey, you can count on a young, motivated workforce to carry out your business plans. This is a fantastic benefit for fledgling businesses establishing any kind of business.
Which Turkish cities are the greatest for company startups?
Here are Turkey's top 6 business-friendly cities:
Istanbul

Ankara

Izmir

Antalya

Konya

Gaziantep
Is it expensive to start a business in Turkey?
No, is the response. In actuality, starting a business in Turkey is less expensive than in other countries. The cost of labour and raw materials will be reduced.
Can someone from outside Turkey open a business?
Yes, in Turkey, foreigners are permitted to establish a business. Here, foreigners may establish a private limited corporation with at least two non-Turkish citizens.
You can expand your business idea in Turkey if there is a rising economy, a cooperating government, and skilled labour. Success will therefore only require patience and perseverance.
Business in Turkey's Economy
Turkey's economy is an up-and-coming market economy (based on the IMF definition). Turkey's economy ranks 11th in terms of purchasing power parity and 20th overall in terms of GDP.
Leading Industries in Turkey
Agriculture and industrial manufacturing, which include the production of textiles, cars, ships, other vehicles, building supplies, and white goods, are Turkey's two main economic sectors.
Population and Language of Turkey
The Address-Based Population Registration System estimates that 83.6 million people lived in Turkey in 2020. Turkey's population is predominately young. Although there are a lot of Turks there, there are also a lot of Kurds, Arabs, Zazas, Megrels, Georgians, and Circassians. Kurdish and Arabic are also spoken, however Turkish is the primary language.
Business Culture in Turkey
In the past 30 years, the implementation of the free-market system has accelerated. During the 1990s and 2000s, independent regulatory and oversight bodies were set up, including the Capital Markets Board, Turkish Competition Authority, Banking Regulation and Supervision Agency, Energy Market Regulatory Authority, and Information and Communication Technologies Authority, to limit the influence of politics and to oversee some privatised industries. Turkey draws international investors from all over the world due to its flourishing economy, important geopolitical location, attractive growth potential, the hardworking business community, and young population.
Turkish state institutions typically have working hours between 8:00 a.m. and 12:00 p.m. and 1:00 p.m. and 5:00 p.m., while private institutions may have different schedules.
Starting a business of your own is no joke! It is a lot of hard work, patience, and lots of investment, but the most crucial part is how to choose the right business according to the location we are based in. Turkey is an ideal place for starting a business because of its continuously growing economy and tax benefits by the government, and also because of the ease of transportation. If you are someone, who is looking forward to setting up a business in Turkey, this article will provide you with the ideal business Ideas for Turkey.
1. Hazelnut Farming
Agriculture has always been a major part of the Turkish economy as the soil is considered to be one of the most fertile in the world. Turkey is the largest producer of hazelnuts in the world because of its mineral-rich soil and weather conditions, perfect for growing Hazelnuts. The Black Sea Region has the perfect conditions for the growth of hazelnut, and therefore, hazelnut farming, packaging, and export prove to be one of the most profitable businesses in Turkey.
2. Natural Stone Mining
Being surrounded by seas from three sides, Turkey is bound to have mountain ranges that have a deposit of natural precious and semi-precious stones. These stones have provided millions and millions of dollars to the mining industry over the past. Stones like Çubuk agate, agate, dendritic agate, blue chalcedony, obsidian, crystal quartz, and garnet are found naturally in the mountains of turkey. Turkey is also known for its marble production and is ranked 4th in the world of marble production. With a little bit of smart investment and proper usage of resources, you can get well-established in this mining industry.
3. Automobile Repair
Almost 25% of the Turkish population has a car, and this number has been continuously growing since the year 2000. We all know that owning a car is not just a one-time investment but requires maintenance, and hence having a shop that fulfills all these requirements in your neighborhood will be a lot more convenient for everyone, and hence this business idea can be great to earn with ease. Along with servicing, you can also provide spare parts and repair automobiles. It is a booming industry as the standard of living is improving in Turkey, and hence lots and lots of people are switching to cars as a mode of travel.
4. Pet Sitting
Yes, you heard it right pet sitting is another business that is getting a lot of popularity in Turkey. Turkey, being a pet-loving country, has a lot of pet owners, and many a time, when the owners need to leave for work or when they leave their house for any occasion, they require someone to look after their pets. It is where the role of a pet sitter comes in. You could be hired for different roles such as walking the pet, training the pet, or just looking after the pet when the owners are not nearby. So, if you are a pet lover, this is the kind of business you can start. It is a fun as well as a very rewarding profession.
5. Travel agency
Tourism has always been a prime business in Turkey, and it contributes a great amount to Turkey's Economy. Hence this could be a great opportunity for starting a business. Following the tour and travel policies of the country, you can set up a great earning business in this industry. You can provide flight bookings, hotel bookings, travel packages, country tours, and other services. Just make sure to promote your business as this industry has a lot of competition.
6. Car Rentals
Due to the heavy traffic of tourists visiting this country, car rentals can also be a great business idea as the tourist who visits the country requires a resource for moving around the country. You don't need to require a heavy investment in the starting, just start with one car and eventually, when your business becomes stable gradually, increase the number of cars and make sure to build a great network with the hotels so that they can provide you with customers more often.
7. Food Truck
Another great idea for a business is to start your very own food truck. This business has gained a lot of popularity in the last few years. A food truck requires comparatively less investment than a restaurant and is also portable. Therefore, instead of waiting for the customer, you can carry your food joint to the customer. You can serve local Turkish delicacies or fast foods like pizza, tacos, fries, wraps, etc. You just need to keep the quality of your food great and also affordable, and you will establish a great business in no time.
8. Salt Production
Being surrounded by seas from three sides, Turkey naturally receives a lot of salt deposits. Turkey is one the leading salt producers of the world because of being surrounded by the seas, from three sides and hence you can step into this industry. You can start a small production for the local market, and once you get established in this industry properly, start producing on a large scale for the export purpose.
9. Translator
So, are you fluent in the local language as well as foreign languages too? Well, I have a business opportunity for you. Apart from being flooded with international tourists, Turkey also has companies who have international clients and sometimes face a lot of difficulties because of communication hence at that moment translation becomes a crucial need and hence this industry holds a great opportunity and could be a great way to earn a decent amount.
10. Candy Store
Who doesn't love the flavor of Turkish delight, sometimes people from other countries visit Turkey just to have a mouthful of that authentic Turkish delight and other traditional candies of turkey. Hence this could be another great opportunity for starting a business in Turkey as people adore the flavor of Turkish candies.
Conclusion
All the above business ideas are bound to work, only if you are ready to work for them, no matter how good a business idea is, and no matter how good your business location is, your success depends upon the person who is executing it. All businesses require a lot of time and a lot of sacrifices. Hence, these business ideas will only establish a great source of income for you if you are ready to work with them.
You May Like