The First Space To Bring Life Can Be The Best Way To Earn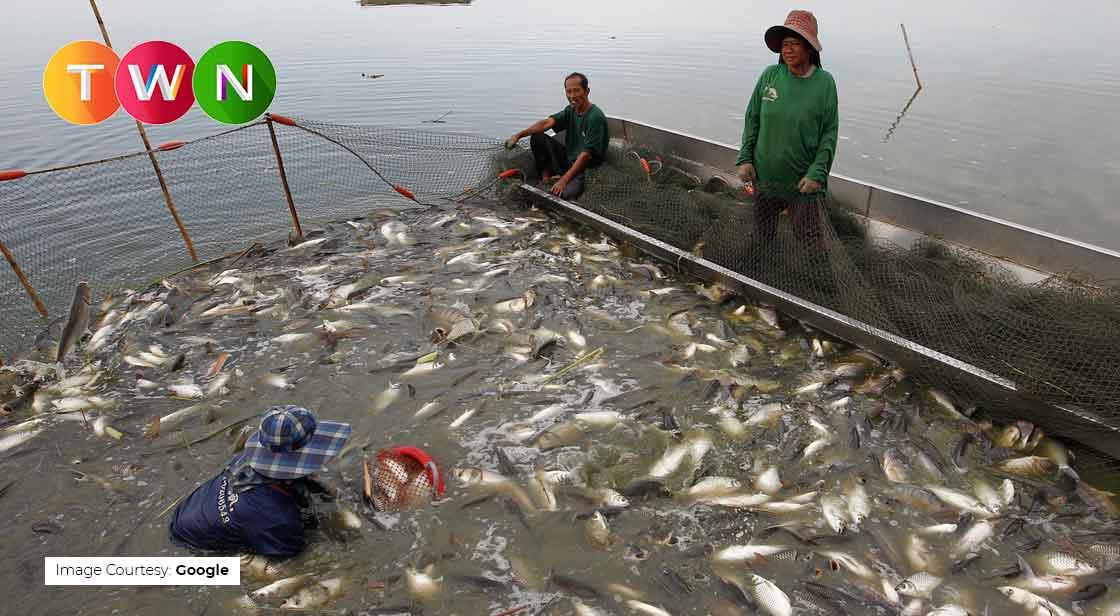 Science has said that our first life on earth had started in water. Aquatic animals and plants are the oldest lives on earth. But have you ever thought that Aqua or water can also be our live stocks, our earning point? But how? Read the article and you will know#ThinkWithNiche
Continue Reading..
India is called a river country. There are so many rivers, that no other countries have. A fishery business can be a great business idea for a country like India. In India, people also are very much attracted to fish. It is the main food course for most Indians especially, in Bengal. So, why don't you give it a try in the Fishery business?
Here Are Some Attractive Business Ideas
1. Start Farming Different Types of Fish
For starting a Fishery business, the first and best option is farming different types of fish. Some of the best fish farming ideas are Tilapia, Salmon, Rohu, Shrimp, Abalone, Prawn, and some other pond fishes. If you don't have enough space to install bigger ponds, open-net cages in the ocean can be another best idea. There can be a chance to farm different sea fishes, like Hilsa, which has a lot of demand in India, Pomfret, etc. Open-net cages can hold over 500,000 fish in an enclosure that is four times the size of a football field.
2. Start a Clam Farming Business
Another fishery business idea that is wide-open to the various field is clam farming. Clams are types of shellfish. It has been demanded not only in India but also in every part of the world. So, if you are interested in starting a fishery business, then one of your options is to go into clam farming. Just ensure that you have to be very careful about following the market demand and other rules so that you won't have to struggle much with the business.
3. Farming Aquaculture
If you are interested in starting a fishery business, then another very good idea is farming aquaculture such as seaweeds, alligators, frogs, turtles, etc. There is indeed a global demand for such aquaculture marketing, especially for seaweeds and alligators, just follow the strategies to grab the right target market globally.
4. Open a Fishing Tools And Accessories Store And Service Centre
Another flourishing and profitable fishery business idea that an entrepreneur start is to open a store where everything about fishing will be sold. Fishing tools and accessories like, hooks, nets, floaters, baits, containers, fish foods, and nutrients. Fishing rods, hooks, and other accessories need service and repair, so, while starting an accessories shop, you can start a service Centre as well.
5. Fishing Vessels And Boat Production And Rent
Another amazing, concentrated business idea that you can start is to open fishing vessels and boat production plants. For fishing, the fisherman obviously needs vessels, trawlers, and boats, start production plants and you can also start vessels and boat rental business. This will be a really profitable idea.
6. Open a Fish Shop
No doubt, selling fresh fish is a prosperous and profitable fishery business idea. You can create your fish farm or you also can contract fisherman for fish supply. India and the global market have a huge demand for fish, especially fresh fish, so, you can be a fish seller.
7. Start a Pond Construction Business
If you are good at construction, then you can start a pond construction business as well. Many businessmen who want to start a fish business, want to farm the fish in their own pond. For that, they need to construct a fish-friendly pond. Be the constructor.
8. Construct and Start Selling Aquariums
Another lucrative and unique fish-related business idea is the aquarium. Aquarium has a lot of demand for home decoration and for decoration of Zoo, museum and other amusement places. You can sell aquariums along with cute and colourful fishes.
9. Start a Fishing Competition
If you can be a good manager and organizer, you can arrange a fish competition. It is a great way to earn. Entry fees and other incentives can be the earning way. You have to invest a little but you can earn as good as others also.
10. Start a Fish Photography Business
Like nature and wild photography, there is a chance to start fish photography. If you are a good photographer, it can be a great chance for you. The underwater study is now a trendy education course for that underwater photography has a demand.
11. Start a Fishing Blog
Now, if you are a social media person or can write well, you can start fish-related blogging. Add information regarding varieties of fishes, their production ways, foods, and medicines. Create an account and start writing. It will surely be a great business idea as well.
You May Like