Shark Tank India – The Right Concept of Entrepreneurship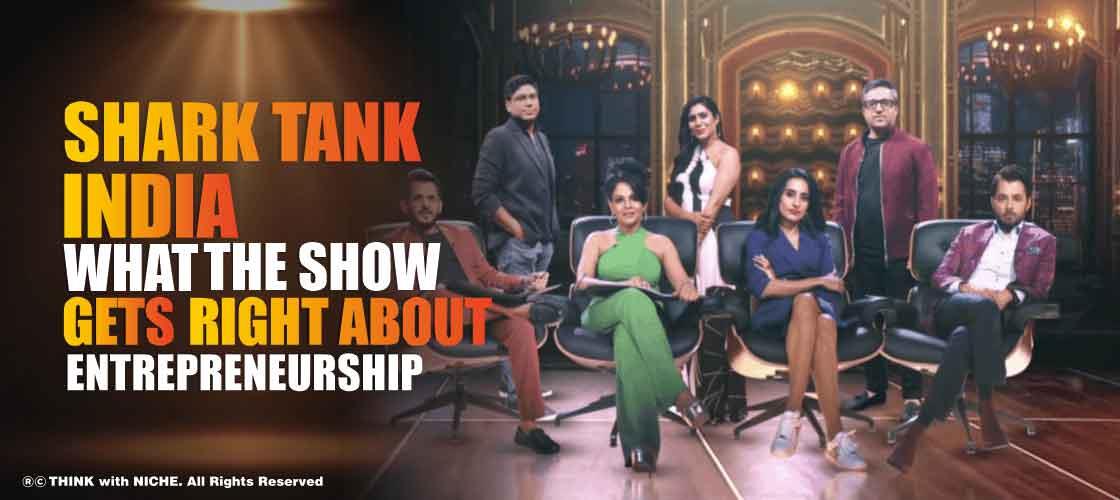 With the very first season of the World's No. 1 business reality show format - Shark Tank India - Sony Entertainment Television aims to provide a refreshing experience for business aficionados celebrating India's booming entrepreneurial ecosystem. This groundbreaking show will give aspiring entrepreneurs the chance to make it big by pitching their business ideas to a group of successful self-made businesspeople known as The Sharks and seeking financing. All it takes to wow the Sharks is a flawless business pitch. Dive into the world of Shark Tank India to see your dreams come true. #TWN
Continue Reading..
With a dynamic business environment, India has seen new innovative business ideas that are causing a revolutionizing change. Shark Tank India boosts the start-up ecosystem by providing a spectacular platform for India's aspiring entrepreneurs to turn their entrepreneurship dreams into reality. The ultimate test of perseverance begins when the pitchers face the 'Sharks,' who will evaluate and make an offer based on the applicant's final 'pitch.' The Sharks have no idea about the 'pitches' ahead of time. If the 'pitchers' can impress the 'Sharks,' they could land a life-changing deal right there and then. This Indian edition of Shark Tank is a fascinating watch for viewers since they will see what happens behind closed doors where significant business transactions are made through these presentations.
Learn the Concept of Entrepreneurship
The episodes will be an amusing and educational crash course into the concept of entrepreneurship, as you will learn about the inner workings of investing, pitching, and even product creation through the pitches and Sharks' feedback. When someone mentions Shark Tank, some things that come to mind include grilling someone on industry size, market opportunity, size of niche market they want to target (if they are targeting a niche market), competitors, financial data on their competitors, how they got that data/how they arrive at their assumptions about their competitors, and so on.
Famous Succesful Enterprenuers
Ashneer Grover, MD and Co-founder, Bharat Pe, Anupam Mittal, Founder & CEO, Shaadi.com, Aman Gupta, Co-founder & CMO, boAt, Vineeta Singh, CEO & Co-founder, SUGAR Cosmetics, and Namita Thapar, Executive Director, Emcure Pharmaceuticals were among the five sharks on the judging panel. The show not only changed the lives of its mentors and businesses but also became a cultural phenomenon in India. At home, there were dinner table discussions, demonstrating that the show did its job well. We often dismiss an idea because we believe it isn't big enough, but the show's success stories demonstrated that an image has the power to alter lives. It may require capital, time, and funding, but it does not imply that it will fail. Jugaadu Kamlesh's narrative not only moved viewers but also motivated countless others who had been hesitant to share their ideas with the public. It doesn't matter if you're an IIM graduate or just a farmer with enormous ideas; all you have to do is leap if you want to change the world. The show was about sharks,' or previously established entrepreneurs, training and mentoring young minds, rather than successful entrepreneurs offering money. Everyone on the judging panel had one goal in mind: to motivate, correct, and provide a reality check to the fledgling and aspiring entrepreneurs.
Shark Tank India Stressing the Advantages of Entrepreneurship
While Ashneer Grover didn't mince words, Sharks like Namita Thapar and Aman Gupta kept things light-hearted while teaching important lessons concerning the advantages of entrepreneurship. Although not every pitch earned cash from the Sharks, they all returned with useful lessons, suggestions, and alternate company models. Furthermore, the level of exposure that each idea and business received on Shark Tank India had to have boosted sales, social media fan following, and popularity. India is a country rich in talent! Whether in small villages or large cities, there is no shortage of innovative ideas. The event demonstrated that India is a talent hotbed. Many items and ideas have the potential to alter people's lives. The show debunked several prejudices and fallacies, such as the notion that women can only succeed in domestic roles and can lead multibillion-dollar corporations and juggle work and home life.
There is no jargon, so everyone in your family, from your retired father to your children, may watch the show, talk about it, and have legitimate business conversations. To comprehend the show, you don't need a degree in business studies or economics. Every business word on the show has been clarified by the mentors/sharks, making it easier for everyone watching to understand how a business works. In reality, students should watch the show. The wide range of items on display - innovations in food, clothes, technology, lifestyle, health, education, and the social sector – demonstrates that every simple idea has the potential to alter the world. Women entrepreneurs are encouraged: For the first time in India, a reality show encourages and inspires women to pursue their dreams.
Shark Tank India is a fun and entertaining show to watch. It's not easy to create a performance that is both educational and entertaining. The drama would be present to entice core viewers away from saas-bahu serials. The startups featured and the feedback given is both excellent and will only improve with time. You may watch Shark Tank India episodes on SonyLiv if you haven't already. This show is an innovation masterclass with a big feel-good component. Anti-suicide fans and comics about menstruation were the two pitches that I liked the most. Each company's founding story was intriguing to hear, especially when the founders fell into it while attempting something new rather than going out to start a business. Some entrepreneurs made their pitches on their own. Others gave presentations in pairs or groups. It was fascinating to watch their interactions.
If you liked reading this article, we have two more for you. Click on the link below to explore!
You May Like