Renewable Energy: A Step Ahead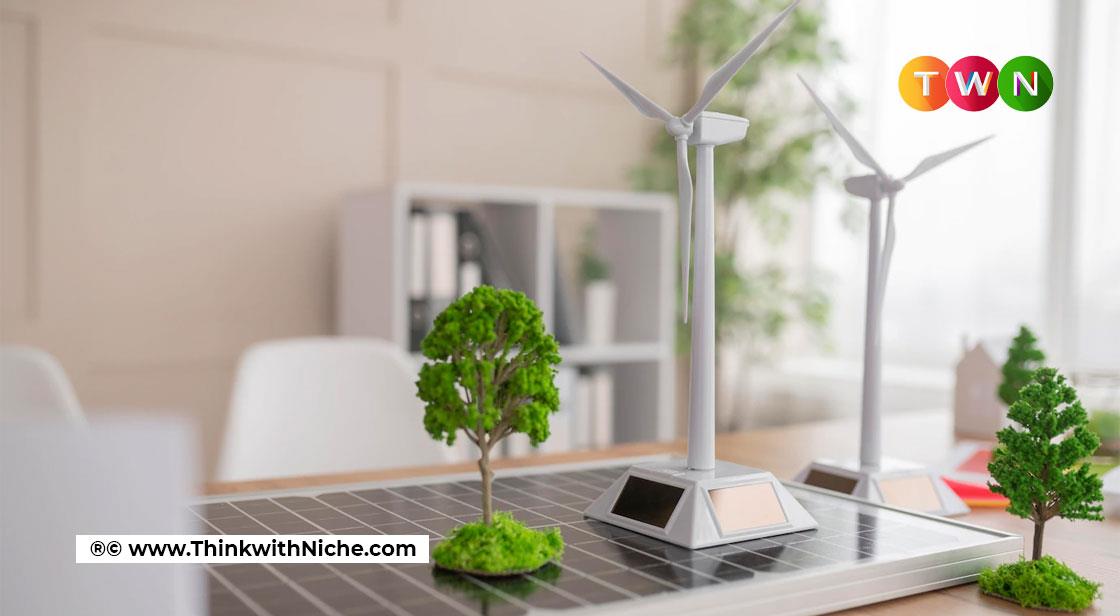 Renewable energy sector has great potential for the future. This sector has access to new technologies and policies from the government to encourage more investments and attract business to establish in this sector. We have shared some steps and tips one should take care of while establishing oneself as an entrepreneur in the sector. Explore more in the blog at Niche. #ThinkWithNiche
Continue Reading..
Renewable energy is the future of the world. India's installed renewable power generation has gained pace over the past few years, posting a CAGR of 17.33% between FY 2016-20. India has ranked 5th in Wind Power, 5th in Solar Power, and 4th in Renewable Power installed as of 2019. With resources depleting at a drastic rate, current climate crisis, increasing population and hazardous effects of burning fossil fuels, it would be ideal for the whole world to come together and make a shift towards renewable energy. Due to public readiness, increasing consciousness about the environmental crisis, and momentous initiatives from governments, this sector stores great potential for the future.
This sector has access to new technology and significant steps from the government are encouraging investments in clean energy and are attracting individuals and businesses to establish themselves in this sector. To encourage domestic production, customs duty on solar inverters has been increased from 5% to 20% and on solar lanterns from 5% to 15%. In march 2021, Haryana announced a scheme with a 40% subsidy of a 3KW plant in homes, in accordance with ministry of new and renewable energy's guidelines to encourage solar energy in the state. Solar energy is the most abundant and inexhaustible source of energy.
This is a great sector to establish oneself as an entrepreneur, just be aware of your goals, objectives and expenses. There are just few tips and steps to be taken care of-
Explore The Industry And Determine Market
There can be a lot of business opportunities in this sector, like biofuel production, power storage systems, photovoltaic systems, bio-fertilizer, etc. learn about the industry and its trends. Know your niche, pick one and then start operating. Make sure to go for expert advice that would help you to determine the basic outlines for your business. Those business prospects which have little competition and more demand are preferred.
Recognize The Target Customer
People try to find more value in the least amount of money. Look for those who would benefit the most like businesses, homeowners, schools, districts, corporations, etc. so that after setting up logistics and securing funds you could target them.
Make A Business Strategy
Know how many businesses are providing the same services as you aim to provide. Do in depth research of their policies, make a budget and include expense estimates. Make sales predictions, determine fixed and variable costs and set key milestones.
Look for potential suppliers with great services with a confident background check of the company you are going to associate with after setting up your investments. Take steps to know about your competitors in the market, organise social media campaigns, press conferences, etc and spread the word. Define the proper concept for your company.
Acquire Licensing And Certification
The Ministry of New and Renewable Energy is in charge of renewable energy in India. You must have certain certification and licenses to set up a business.
Funding
A great business idea needs a sound business plan and funding to expand. Try to obtain government funding or take advantage of local initiatives. There are many startups in renewable energy who bring together those who are interested in the technology but do not have enough capital and support them.
Register
Register your company after all the paperwork and formalities are done.
Recruit Professionals
It's very important to run a recruitment drive and recruit professionals. Try to hire knowledgeable and experienced workers who would run and expand the company.
Promote
Build your online presence, which is very important in this digital world through social media and proper informative websites. Follow the momentum and be aware of private initiatives. Be ready for challenges from the competitors and audiences which still relies on non renewable resources of energy. It's not necessary to have real infrastructure, you may also help consumers develop solar set up at home or wind farm.
The young who are open to market and adopting sustainable goals and services are even willing to pay the premium. Make a plan and show how your business will result in low emissions with significant cost savings. Figure out a affordables solutions and take a step towards changing the future.
Right now is a great time for entrepreneurs to invest and establish themselves in this sector. Just know your niche very well, it has got great potential benefits. Look at a 360 degree angle and take a step to make it a profitable endeavor.
You May Like