10 Productivity Apps for You on Android Playstore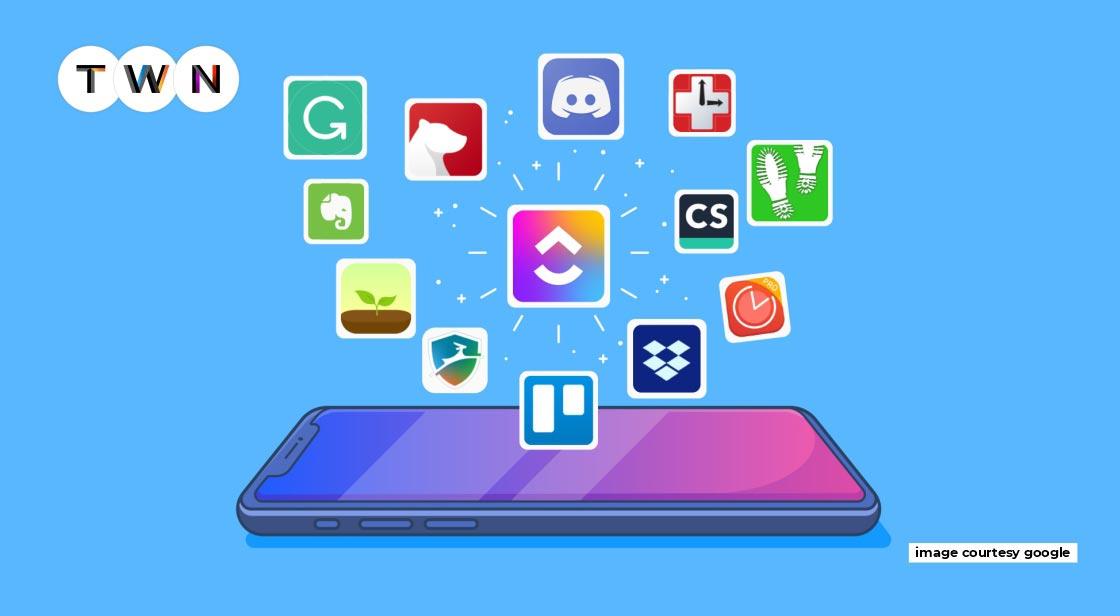 When you're dealing with multiple deadlines, you can't rely on memory or manual labor to keep things organized. Managing everything without technological assistance would be taxing on your (and your team's) schedule and mental sanity.
The good news is that it doesn't have to be that way. There are numerous productivity apps available to assist you with your daily work-related issues.
A quick Google search yields a plethora of tools and apps – and, not surprisingly, half of the list appears to be an exact match for your business. It is where all the ambiguity begins. And, with all due respect, this is where the majority of us go wrong.
However, with this article, you should be able to easily identify and select the platform that is the best fit for your needs. #TWN
Continue Reading..
Smartphones exist so that we can be more productive. They're like tiny supercomputers that we carry around with us. They connect to the internet, allow us to work, and are always with us. That makes them ideal candidates for assisting us all in becoming a little more productive. There are numerous apps available to help you be more productive in your daily life. Let's take a look at the best Android productivity apps.
The Best Productivity Apps for Android
Let's explore the best productivity apps on Playstore:
Evernote
Google Drive
IFTTT
LastPass
Microsoft apps
Pushbullet
Slack
Solid Explorer
TickTick
Trello
Bonus: Forest
Evernote
Price: Free/$7.99-$14.99 per month
Evernote is an excellent note-taking app. It's been one of the most popular apps in its category for years, and it deserves to be. It includes audio, text, image, and other types of notes. There are also excellent organization, cross-device syncing, collaboration, and other features. There's not much wrong with it. However, you do pay for all of those features. Google Keep is a less expensive, albeit less powerful, alternative. Also, be warned that Version 10 of Evernote was a bit glitchy on release so we hope the company will fix those problems soon.
Google Drive
Price: Free/$1.99-$99.99 per month
The Google Drive suite is a fantastic collection of productivity apps. You get standard office tools like Google Docs, Sheets, and Slides, as well as cloud storage in Google Drive. Google also provides a standalone PDF reader as well as Google Keep Notes, a simple but effective note-taking app. You get 15GB of storage for free and can upgrade to more storage for a fee. On mobile, there are a few suites of productivity apps that work just as well as Google Drive.
IFTTT
Price: Free
IFTTT is one of the more intriguing Android productivity apps. The app allows you to create recipes that instruct various apps to do different things at different times. It essentially takes almost any task and automates it on your phone. This is a must-have for anyone who uses smart lights or other IoT devices. You can also do things like auto-save your Instagram photos to Dropbox. It's effective, but there's a learning curve. A few simple Google searches will yield a plethora of ready-made recipes. Tasker is another great app for this, but IFTTT is a little easier to use.
LastPass and LastPass Authenticator
Price: Free/$24 per year
LastPass isn't just one of the best productivity apps, but also one of the best security apps. It stores your login credentials for various sites. You then use it to log in. With it, you can come up with more complex passwords, log in faster, and you don't have to remember your password to every site you use. That takes out a lot of the pain when it comes to doing stuff like that. There is also a LastPass Authenticator app that adds a level of security. The free version of the app covers most bases, but you'll need the $24 per year subscription to get all of the features.
Microsoft Apps
Price: Free/Varies
Microsoft Apps displays all of Microsoft's apps available on the Google Play Store. OneDrive, Microsoft Word, Excel, PowerPoint, OneNote, Outlook, Microsoft To-Do (a to-do list app), and many other apps are included to help you be more productive. This is a suite of apps, similar to Google Drive, that all work together to provide you with a unified experience. There are also apps available, such as Microsoft Remote Desktop, which allow you to connect to your Windows PCs from your Android phone. There are numerous apps available, and they are all compatible with Windows. It's a good way for Windows users to combine mobile and desktop experiences.
Pushbullet
Price: Free/$4.99 per month/$39.99 per year
Pushbullet is one of the iconic productivity apps. It acts as a link between your phone and your computer. You can respond to text messages, send files, and even set up channels to receive notifications about specific things. It should be compatible with Mac, Windows, and even Linux. As a result, it is suitable for almost everyone. The free version provides an overview of the features. That way, you can put them to the test. To get unlimited amounts of everything, you'll have to go pro. Pushbullet alternatives include AirDroid and AirMirror.
Slack
Price: Free/$6.67-$12.50 per user per month
Slack is without a doubt the best business chat app available today. It allows for text and voice chats. Google Drive, Asana, and other productivity apps are also integrated. You also get Giphy support in case you want to mess around. You can create an almost infinite number of channels. Teams can then split up and discuss their projects separately. It truly is that potent. Smaller teams can also use the app for free for as long as they need it. Pricing plans vary and can be found on Slack's official website.
Solid Explorer
Price: Free trial/$2.99
Solid Explorer is a must-have app for file management on your mobile. It has a simple user interface and a plethora of features, including many niche features. It is compatible with RAR, ZIP, TAR, and 7zip archives. The app also has direct connections to Google Drive, Box.com, Dropbox, and other services. Finally, it supports FTP servers, WebDav, and other protocols. If you have a rooted device, you can even get root access stuff. The free trial demonstrates how the app works, and a single $2.99 in-app purchase unlocks all features. Yes, it really is that good.
TickTick
Price: Free/$27.99 per year
TickTick is an excellent to-do list app. It allows you to quickly and easily organize tasks, chores, lists, work items, and other items. The app has a simple interface, easy controls, and cross-device syncing. It also includes a calendar, a widget, reminder notifications, and repeatable tasks. It also includes tasks that can be shared, such as household chores or tasks between coworkers. The free version includes the majority of the features listed above. The paid version is merely an option. It's unquestionably one of the best productivity apps.
Trello
Price: Free
Trello positions itself as a virtual assistant. The goal is to keep you organized at work and home. It accomplishes this by being a very capable task manager. You can create Boards to help organize your various projects, and each board allows you to work on one task at a time. It promotes cooperation with coworkers and friends, making it ideal for a work or family environment. It also supports Google Drive, Dropbox, and Wear OS. It is completely free to use in perpetuity. As a result, it is one of the best productivity apps on a budget. If you don't mind paying for it, Asana is another excellent option, and ProofHub is a decent up-and-comer in this space.
Bonus: Forest and Similar Apps
Price: Free/Up to $1.99 (varies)
Forest is a unique type of productivity app. Sometimes you need to put down your phone and concentrate more on your work. Apps like Forest can be useful. It essentially gives you an excuse not to use your phone. If you use your phone, the app will grow a tree that will die. As you progress through the game, you collect various trees. Google used a similar concept with their Digital Wellbeing app, and YouTube also has a timer. We also like 5217, an app that times you for 52 minutes and then gives you a 17-minute break. It's an intriguing category of apps that, if you find the right one, can help you increase your productivity.
You May Like
Productivity and Profitability

Productivity and Profitability

Productivity and Profitability

Productivity and Profitability