Planning a Start-Up, Why Not go for Handmade Crafts?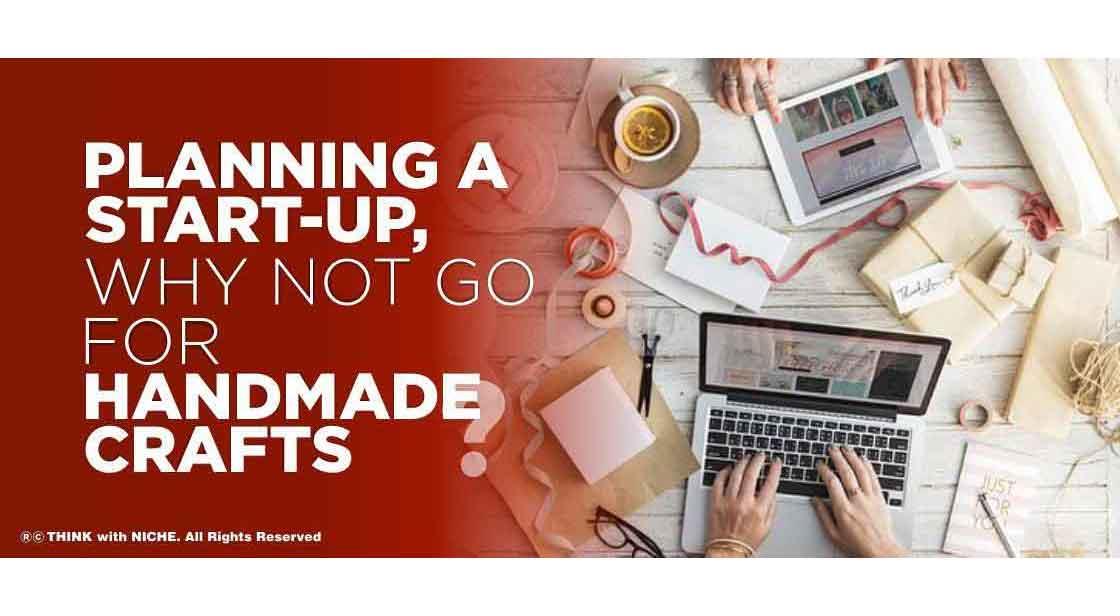 Handmade crafts have gradually become very popular among people. The environment-friendly materials products attract with their vibrant colors and earthen style. So if you are planning a start-up, handicrafts are the best idea. In this blog, we will learn about the manifold benefits of a handmade crafts or handicrafts business. #ThinkWithNiche
Continue Reading..
Handicrafts!
The moment you think about this word, beautiful pottery made of rich colors and handloom clothes flash before your eyes! The beautiful Red and Blue ceramic jars, beautifully designed candles, dolls, woodwork, decorative lanterns, mirror glass embroidery table cloths, handmade soaps, etc take our hearts away, and we are instantly eager to buy them. Such is the beauty of these handicrafts or handmade crafts!
The Batik print sarees and dress material are a big hit with ladies. Many women have made Handmade Fashion Accessories a regular part of their costumes. Who can forget the captivating elegance of the Chikan embroidery of Lucknow? It is famous all over the world. Everyone takes pride in wearing it, whether men or women! Chikankari art is a big industry of artisans. We can say it's 'Neighbors Envy Owner's Pride', as the one who wears it flaunts it but, people who notice it, also never fail to compliment - 'O' you are wearing a Chikan Kurta!' This is the place of handmade crafts in the eyes of the people!
Handmade crafts or handicrafts are, as we all know, made by hand. We use only basic instruments, and there is minimal use of machines. The craftsmen use their talent, imagination, and creative skills to make the materials. Whether it is painting, embroidery, or carpentry, it is all the result of the passion and hard work of the artist. He puts in all his creativity and knowledge to create the product. But, by no means does it lack in the finish. Rather, they are more beautiful than the designer, branded products.
History of Handicrafts
The history of Handicrafts goes back to the ancient age when there were colonies in India. The people ask the tribals to make utility items for them. It helped them to fulfill their daily necessities. Gradually, they began to sell these items in the local markets. These markets came to be known as 'Haat'. As time passed, the colonies gave way to a free India, a modern India. But even after 75 years, the love for handmade crafts has not diminished! Rather, the craftsmen have started trading their products all over the world. So, we can easily gauge the popularity and demand for handicrafts. Naturally, we cannot ignore its tremendous potential as a business!
Why Handicrafts Business!
Handmade crafts or Handicrafts, due to their unique indigenous appeal and timelessness, can succeed as a business. If you think about it, the arts and crafts sector utilizes the talent and creativity of the regional artists. There are not many complications in it. Plus, all the materials have a unique tribal essence in them. And indigenous materials are soon catching the imagination of the people. You do not have to worry about the low demand. In this case, you have only to worry about the rising demand, which is a blessing. It has such enduring quality!
The Benefits of Handicrafts Business!
The Handicrafts business is not just another way of earning. It is a way of earning without causing harm to the environment. So let us see some benefits of the Handmade crafts business in detail –
Talented and Skilled Artisans
You do not have to employ highly qualified workers for this job. You need artists who are talented and passionate about their work. Yes, these artists must be skilled in their job as patchy work or crude finish will not sell! So the workers must know their work well. And when a person has to do some work he loves, and he is getting good pay for it, he is sure to do it to the best of his ability.
Minimum Investment
The handmade crafts business requires very low investment. You do not need any advanced machines or big property to begin the business. You just need raw materials and some passionate and talented artisans. Your faith in the business is your greatest investment. You have to believe that you will succeed in this business. Once you believe, you are sure to succeed!
Raw Materials Available
There is no dearth of raw materials. They are available easily, and at cheap rates, so you do not have to worry about the raw materials. Recycled materials can be used. Materials like discarded bottles, arts and crafts materials, and discarded fabrics can also be used. Any and everything can qualify for raw materials.
Growing Market Demand
The demand for handmade crafts is gradually catching speed. The time is such that people are slowly making distance from branded products. The Covid Pandemic has made them alert towards the environment. They have started choosing eco-friendly products. What's more, handmade materials decorate your home like no other! The beautiful colors and the specific regional appeal of the decoration pieces give it a unique joyous streak! These days, sellers and customers can connect through websites and social media. They see the products and instantly go to buy them. So no worries about the demand!
Competitive Rates
It is not that the Handicrafts created by the tribals would be cheap! Handicrafts are handmade and need the hard work and skills of the person, so they sell them at competitive rates! The price of the product depends upon the level of difficulty and the materials utilized to make it! If the product is limited edition, it also creates a difference in the price.
Perfect Business for the Environment
The Handmade crafts business is an immensely eco-friendly business! It helps you to give it back to mother earth, not take anything from it! All other businesses use chemicals and automated machinery to produce designer goods. It hurts the environment. Smog and other pollutants irritate human life also. But the arts and crafts sector uses recycled material, discarded wood pieces, clay, mild colors, and fabrics to produce charming toys, beautiful decorative items, clothing, and home essentials. So it is like doing our bit for the environment.
Creating Jobs for Unemployed Artisans
You can help others by offering employment to them. Many artisans possess various skills like sewing, painting, embroidery, carpentry, and designing, but they are sitting without work. They have no money also. Once they get a job, they will be happy and give their children a good life.
Diversify and Expand your Business
The business of handmade crafts has immense potential to grow. You can spread your branches from decoration pieces to kitchenware to handloom and so on! You can also take it as a side business if you are busy with other important projects. So you can just grow and grow in this business!
Conclusion
So if you are passionate about a craft and wish to spend your entire life serving it, the handmade crafts business is the perfect field! The handmade crafts business gives way to your talent and creativity. It helps you give unlimited deprived people a genuine source of income and at the same time get global recognition for your nation. So stop thinking, start your handicrafts business and connect with the world through your colors of success!
You May Like