Plan Your Wedding Festivities through a Personal Loan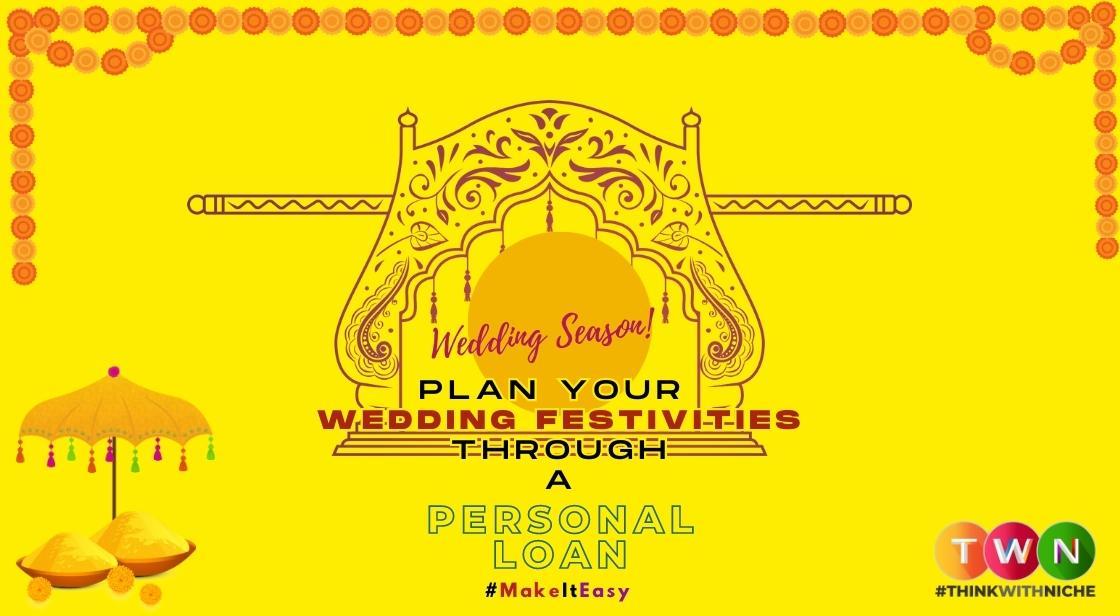 Ensure your dream wedding becomes a reality without compromising on the celebrations by considering a personal loan. Your special day deserves to be grand and memorable, but the costs involved can quickly add up. Whether it's inviting all your loved ones or planning a destination wedding, the expenses can become overwhelming. From booking the perfect venue to finding the dress of your dreams, the financial burden starts before you know it.
That's where a personal loan for marriage comes to the rescue, relieving you of financial worries and allowing you to fully enjoy your momentous occasion. Consider a personal loan as your trusted ally, ensuring your wedding festivities are everything you've ever imagined.
With a personal loan, you can plan your wedding festivities with confidence, knowing that you have the financial support you need. A personal loan provides you with the flexibility to cover all the essential expenses associated with your big day. From the venue rental to the catering, decorations, and entertainment, every aspect of your wedding can be taken care of.
Remember, your wedding day is a once-in-a-lifetime event, and it deserves to be celebrated in style. A personal loan for marriage acts as your best man in disguise, taking away the financial stress and allowing you to fully immerse yourself in the joy and excitement of your special day. So, go ahead and plan your dream wedding with confidence, knowing that a personal loan is there to support you every step of the way.
Continue Reading..
The most precious celebration in a person's life should not be compromised on. Weddings are supposed to be grand and lavish, so that the memories last a lifetime. They can be costly though, especially if you want to invite all your friends and relatives and make the occasion a grand one.
A destination wedding, for that matter, requires a considerable budget. From booking the wedding venue to buying the perfect dress, the expenses start piling even before you realize. A personal loan for marriage, keeps all financial worries at bay. Enjoy your moment, and let a personal loan be your best man in disguise.
Let's delve deeper into how a personal loan can help you plan your dream wedding.
What are Personal Wedding Loans?
Personal loans are unsecured credit instruments that allow people to borrow funds when they need them most without pledging collateral. Borrowers don't have to worry about mortgaging their property to borrow money. Many lenders offer customized personal loans best suited to the borrower's requirements. A personal wedding loan is among these loans. It is ideal for anyone planning a marriage. You can use the borrowed funds for whatever purpose you intend to, no questions asked. You must be mindful of the EMI dates and shouldn't default on the loan repayment.
Why Choose a Wedding Loan?
Now that we know what personal wedding loans entail, it makes sense to have a deep knowledge of them.
1. No Restrictions
The first and most important advantage of a personal wedding loan is that no restrictions are involved. Weddings involve many expenses, and managing all of them on your own can be challenging. A personal loan can help you cover expenses and ensure that your special day is memorable. You can use the loan to book the venue, hire caterers, buy wedding dresses, and pay for other miscellaneous expenses.
2. Repayment Flexibility
Another great thing about personal wedding loans is the repayment flexibility. Personal loans offer repayment flexibility, making it easier to manage your finances. Most personal wedding loans provide a repayment tenure between 6 to 60 months. Choose a suitable repayment tenure that allows you to repay the borrowed amount affordably. This will help you manage your cash flow and ensure you don't fall behind on your payments.
3. Unsecured Loans
Personal wedding loans are unsecured, meaning you don't need to provide any collateral to avail of the loan. You can still do it if you don't own a property and want a loan. You don't have to lose your peace of mind in case of an unfortunate EMI default. You must always try to repay the EMIs timely. You can always use a personal loan EMI calculator to choose the most easily repayable EMI amount.
4. Quick Disbursal of Funds
You might have planned things beforehand and even arranged all the necessary cash. There are times when the expenses exceed your budget. During these situations, you can opt for a wedding loan and focus on getting married instead of finances. One of the biggest advantages of getting a personal loan is that it is usually disbursed quickly. This means you can get the loan amount in your account within a few days of applying. This will help you cover the expenses without any delay.
5. Low Cost of Borrowing
Personal loans usually have lower interest rates than credit cards and other types of loans, making them the best choice in terms of the cost of borrowing. The low-interest rate makes it a cost-effective option for financing your wedding expenses. It is important to note that for the lowest interest rate, you need to have a good credit score of at least 750 or higher. By availing of a personal loan, you can save money on interest payments and reduce the overall cost of your wedding.
6. Improves Credit Score
Taking a personal wedding loan can certainly help you during the wedding, and also with the post-wedding expenses. The only condition is that you have to meet your loan obligations, i.e., pay your EMI timely. It will help you build a good credit history and improve your creditworthiness in the market. A good credit score has a lot of perks in the long run.
Final Words
Your wedding day marks a new beginning, and there should be no mistakes. Personal loans can offer an excellent option to manage your wedding expenses. Its flexible repayment options, quick disbursal, and lower interest rates can help you plan the wedding optimally without putting a strain on your finances. Before you apply for a personal loan, it is essential to understand the terms and conditions of the loan and ensure that you can repay the loan on time. Apply for a personal wedding loan today.
You May Like