More Homeowners Are Taking Personal Loans For Home Renovation: Here's Why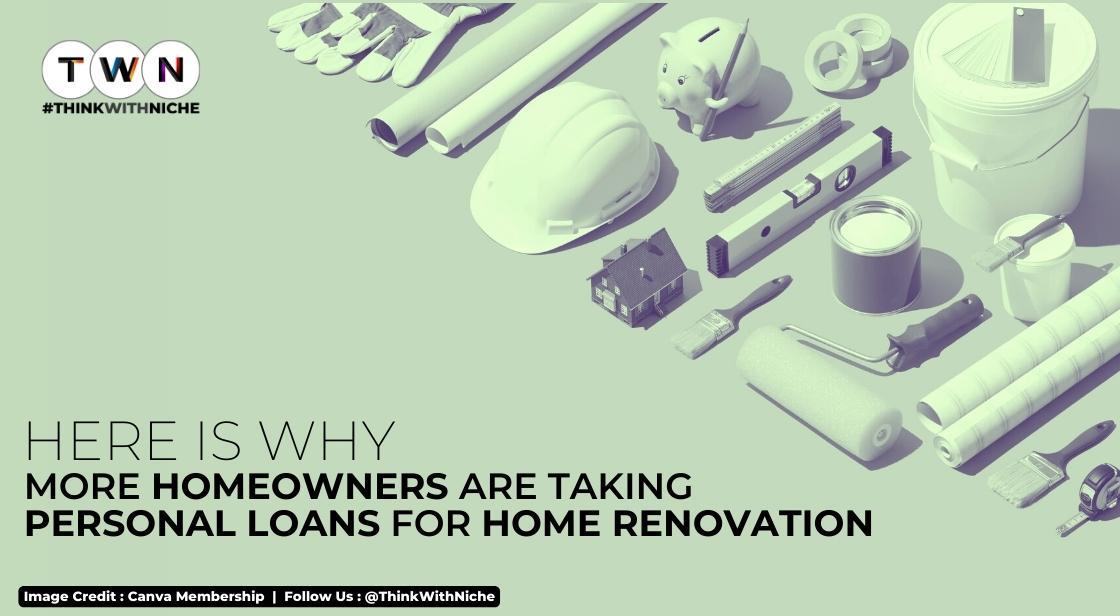 The best approach to give your house a fresh appearance is through home renovations. It keeps the structural integrity of your house while also enhancing its beauty. Obviously, this was about the appearance of the house, but aside from that, home renovation is wise financially.
It's never a smart idea to spend all of your savings or take early distributions from your investments unless there is an immediate need or emergency. And none of those conditions apply to your house renovation. Your next choice is to choose a home loan for home renovations.
Many of these issues can be solved by choosing a personal loan with no collateral for home renovation. The interest rates are also reasonable for this.
Here are some of the main reasons in favor of taking a personal loan as compared to using funds to pay for your home renovation project.
Continue Reading..
Owning a house is not just about having a roof over the head. A home is the owner's pride that reflects their status and life's achievement. Owning and living in a beautiful house is a pleasure to enjoy. Comfort and aesthetics matter as much as the property's construction quality and location. The ambience and condition of the home create the first impression that is extremely important for guests and prospective buyers. When renovating the house and making it a reflection of one's personality, the owners no longer need to wait until they save money to fund the project. They can easily obtain a Personal Loan for home renovation and start the project right away.
Let's delve deeper into the possible reasons why these loans have gained so much popularity over the last few years.
Renovating the home frequently is an ideal way to maintain its integrity and preserve its beauty. However, the project costs may run into several lakhs, for which homeowners opt for Personal Loans to fund their home improvement projects. These are the common reasons to borrow home improvement loans:
Time-Sensitive Home Repairs Due to Instant Approval
While living in the house, the property may run into different emergencies that require immediate addressing. For instance, retiling the roof or redoing the plumbing in some rooms needs substantial funds that a home renovation loan can provide.
Instant Personal Loan approval makes the funds accessible in minutes, allowing homeowners to conduct most time-sensitive repairs in an expedited manner. Lenient eligibility conditions, minimal documentation requirements, and no collateral requirement make the entire process a lot quicker than otherwise. Furthermore, the applicant can get the whole sanction amount in their bank account within a few hours, catering to emergencies without delay.
Luxury Fittings with Large Loan Sanctions
Most people opt for the latest designs and bespoke fittings while upgrading their home's structural quality. These include smart appliances, lighting accessories, etc. Further, redoing the flooring is an excellent way to spruce the house, especially with minimalistic and chic Italian marble tiles. However, these luxuries come at hefty prices that one can source with a Personal Loan for home renovation. With an ample loan sanction of up to ₹ 10 Lakh, borrowers can make the desired improvements to style their home as they wish.
Big-Ticket Upgrades With Flexible Terms
Whether the homeowner is looking to add an extra bathroom or upgrade to a modular kitchen, these are big-ticket upgrades that are quite expensive. Thankfully, Personal Loans come with flexible repayment terms, allowing homeowners to borrow according to their requirements and repay at their convenience. They can select a repayment tenure of 12 to 48 months after evaluating their monthly budget and repayment capacity. A Personal Loan EMI calculator helps plan the repayment in advance, keeping their monthly outgo in check.
Unplanned Expenses
With easy online application and instant approval, Personal Loans enable aspiring borrowers to access funds anytime their house needs a repair. Without any collateral, paperwork, or branch visits, they can borrow the amount they require for their home renovation and repay easily, along with affordable interest rates. Online loan availability immensely benefits those seeking funds to address unplanned expenses without delay.
Benefits of Borrowing a Personal Loan for Home Renovation
Although there are various ways to fund home renovation projects, Personal Loans have several advantages that make them more attractive. Here is an outlook.
Competitive Interest Rates: Using credit cards for home renovation attracts high-interest rates that significantly increase the total project cost. Personal Loans are usually available at lower interest rates, making them an attractive funding option for homeowners.
No Collateral Requirement: As a Personal Loan does not require any collateral to back up the loan, borrowers have no risk of losing their assets in case of a default. For instance, if they borrow a home renovation loan against a property, mutual fund, gold, etc., the lending institution might sell the asset to recover the due amount. However, with a collateral-free loan like Personal Loan, borrowers do not risk losing their property even if they fail to repay the loan. However, they will need to face legal consequences if they default.
Minimal Documentation: Home improvement loans entail very simple documentation compared to other funding options. The borrowers need basic documentation like identity, income, address proofs, loan application forms, and passport-sized photographs. The documentation process becomes even simpler with technologically-advanced NBFCs like Clix Capital that verify information online with KYC details.
Quick Loan Processing: Since home renovation loans are collateral-free and require minimal documentation, applicants receive instant Personal Loan approval and disbursal within a few hours. That means they can start their renovation project at the earliest without further delay.
Usage Flexibility: Borrowers can use the loan for various activities in a house, such as renovation, flooring, repairs, painting, extension, etc. That means they can use the loan amount for anything related to their home structure.
Easy Eligibility: Most reputable NBFCs have easy eligibility criteria for Personal Loans, making them easily accessible to most loan seekers. Those who fulfil the NBFC's age, income, employment, and credit score requirements can quickly qualify for a Personal Loan for home renovation and get the required funding without hassle.
Renovating the house improves the looks and utility of the house. It uplifts its spirits and gives owners the satisfaction of showing the upgraded home to friends and family. Easy availability of a hassle-free Personal Loan for home renovation removes the financial constraints that might be holding back the renovation project and making the home a little less likeable. So, go ahead and give the desired shape to the house as your heart desires.
Conclusion
If you want to renovate your house, one of your greatest options is to take out a personal loan. There is no need to spend all of your savings and take out a mortgage. Personal loans are quite practical and offer attractive rates as well as some limited-time specials.
You May Like