Mudit Pathak The Artistic Yogi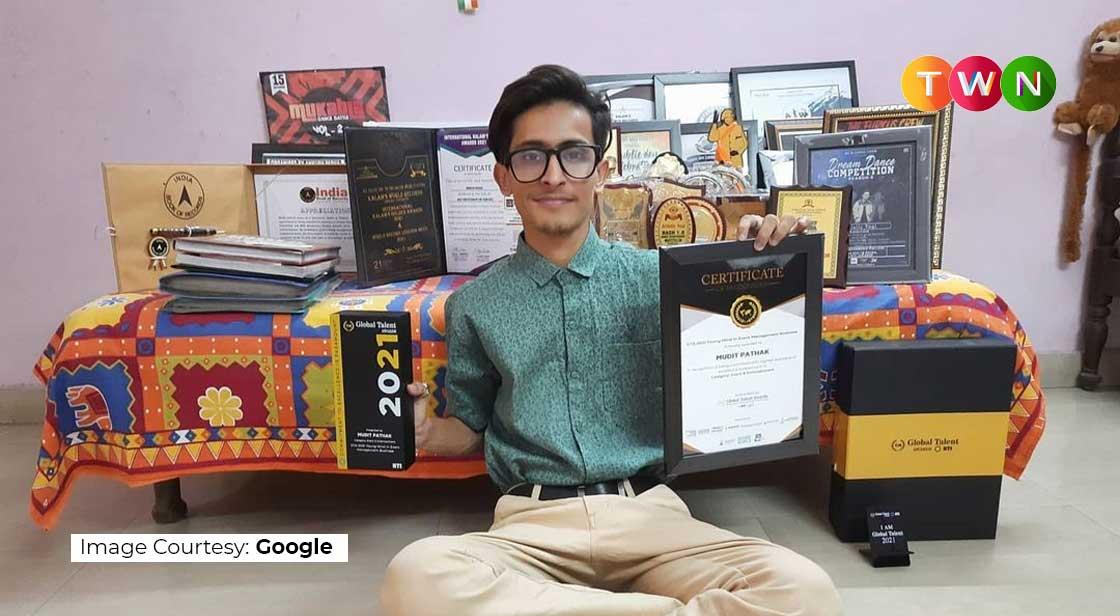 School-going youngsters often tend to take life easy. Spending time in the college canteen, watching movies, and playing video games is their sole pastime, but not so with Mudit Pathak! At this young age, he is a writer, poet, choreographer, lyricist, motivational speaker, and artist. What's more, he is the winner of India's Glorious Young Achievers Award. He also has the prestigious Padmashri Award nomination to his name. #ThinkWithNiche
Continue Reading..
Mudit Pathak, yes, this is the name of this 'Artistic Yogi' who has become a source of inspiration for the entire world at a very young age. Born and brought up in Pilibhit, he is a writer, poet, lyricist, choreographer, motivational speaker, and artist. This powerhouse of talent was born and brought up in a small town of Uttar Pradesh called Pilibhit. He studied in Little Angel's School and is presently in the third year of the Shaheed Bhagat Singh Evening College of Delhi University.
Mudit Pathak: The Thinker
Talking to him, I realized that age is just a number when you want to bring a change. 'India is a developing country!' How many times have we read this line? How many times have we thought about this line? It was the same when I was a child, and it is the same even now. I had thought that despite making so much progress, we are still developing? Many children must have thought, but it took only a class V student Mudit Pathak to leap.
An artist at heart, he has a deep respect for women and the emotion of love. He believes in true love, which led him to become a poet. According to him, love is not about physical attraction. It is much above it. His book "Khwaish" is a perfect reflection of his philosophy. He wrote it under his pen name "Artistic Yogi".
Awards & Achievements at a Young Age
Mudit Pathak had set his eyes beyond the list of awards. He wanted to bring a positive change in his motherland. Awards are just a part of the process for him.

Nominated for Padma Shri Awards 2021

Winner of the Karmaveer Chakra Global Young Leaders Fellowship Award Affiliated by United Nations
Rex Winner of the Karmaveer Chakra Award Affiliated by United Nations Foundation

Winner of India's Glorious Young Achievers Award.

"STAR 2020" Recognized By World Book Of Records, UK

Young Entrepreneur of the year award winner.

Owns 4 to 5 Firms, a first in the country

Women Safety Ambassador

Founder of PLAN_IT_FORYOU

Founder of YOGI GANG

Founder of Bharat GirlUp

Founder of Artistic by Nature

Delegate at UNESCO Virtual Conference
There are many more awards that he has received. He was just 18 years old when he started his journey. At the age of 22 now, he is brimming with confidence and dreams for his fellow countrymen.
The Birth of an Artistic Yogi
His Little Angel's School did the job of a furnace that polished his skills. He excelled in the extracurricular activities of his school. He won many awards and trophies in poetry recitation, debate competitions, singing, and dancing. He also choreographed the events. He also became a victim of the depression in the 12th standard, but very soon, he overcame it with, as he says, exploring and introspecting himself and the help of his teachers. He utilized his time in knowing about his worth. The real journey of Artistic Yogi began when he took admission to the Shaheed Bhagat Singh Evening College of Delhi University for BA Hons. Political Science.
There his creative abilities blossomed, and he learned about the practical aspects of life. He saw that the children were misguided. He decided to do something for the students. It is how we got the Artistic Yogi - the social entrepreneur with an Artistic heart!
The Young Visionary (In the words of Mudit Pathak)
In my class V, I read this beautiful line in the NCERT book that "India is a developing country." It hit me hard because my parents also read it and my grandparents also studied the same thing. So what you call Mission and Vision - I made it in my mind that I will do something at my level best to convert this into a developed country and to change this line. In my schooling, I was a very good dancer. I choreographed events on Teacher's Day. I was a poet also. I used to recite poetry. In my school, I was very good at extracurricular activities.
Once my 12th got over, I went to Delhi University. In the initial ten days of my college, I bagged two internships under the Government of India. One was under UIDAI (Aadhaar Card), and the other one was under GAIL. So once I did these internships, I got incites about myself, my exploration powers, what I am good at! After that, I introspected myself, and explored in different ways, and tried to find my best qualities.
The Social Entrepreneur (In the words of Mudit Pathak)
In the initial half of the first year, I established India's first purely youth-based Event Management Company by the name of PLAN_IT_FORYOU. So PLAN_IT_FORYOU is my own event management company. I am the founder of this company.
The main vision behind this company was to provide part-time jobs and internships to all the college-going youth so that they can become financially independent and they do not have to face struggles and financial insecurities while in college. What I analyzed while being there was that 95% of the youth in Delhi University comes from different parts of the country as well as outside the country. Parents give a limited amount of funds to their children. The house rent, electricity bills, flooding, and other expenses make it very hard for the youth to sustain in that amount.
My vision was to give them financial independence and to provide them with something that is known as a relationship with the corporate practical world. I wanted to let them know that how this corporate world works. So I ran this event management company. We organized good events, theatre festivals, modeling competitions, and dance competitions. We helped collaborate with various universities to give the platform to youth.
Mudit for Youth (In the words of Mudit Pathak)
After the event management company was going fruitfully, I thought we must do something more because what I felt in my class XI and XII was that practicality in education was missing in the country, right! So, keeping this point in mind, I started a Youth driven organization by the name of YOGI GANG. YOGI stands for Youth for Global India and GANG because when we use the word GANG, a feeling of belongingness and togetherness comes into the picture. So I started YOGI_GANG. The vision of YOGI GANG is to implement the vision of practicality into the education system. We organize seminars, sessions, and workshops in different schools and colleges to talk about the practical issues that are not talked about in this country.
Practical issues are sex education, period education, menstrual hygiene, climate education, climate change, entrepreneurship, the art of volunteering, and all the practical knowledge that the colleges and schools do not give us. We collaborate with different schools and colleges to redo and polish the education system and focus on practicality, shifting the youth from career mules to an entrepreneurial mindset. It has been two and half years since this Event Management Company and the Yogi Gang. We have been organizing campaigns and seminars, and we do various things offline as well as online.
Mudit the Artistic Yogi (In the words of Mudit Pathak)
I am an artist, right? So seeing the conditions of artists in this country – they are not well paid, have financial insecurities, they are not getting a proper platform to grow and explore, they do not get support from family and society. So I started another organization by the name of "Artistic By Nature."
"Artistic By Nature" is a community of artists. We provide support. We motivate, inspire and encourage the artists. We provide them with a platform to grow. Till today we have collaborated with 1000+ events and 1000+ schools and colleges all across the globe to encourage artists to help artists to grow and explore, and many of our community artists like Varun Dagar and Tiger Pop, you must have seen them on "India Best Dancer," "Dance +" So, Artistic from this Organization and Yogi from the Yogi Gang combined makes it "Artistic Yogi!"
Mudit for Women Empowerment (In the words of Mudit Pathak)
Then, in this lockdown, way back before the first lockdown, in the Holi time, what we saw was that women inequality, women empowerment in the country was very much into the picture. So I was aiming to do something for Women's Empowerment, but it is a very strong issue, so I did not have the guts to do it alone. So I took the help of one of my friends and messaged her, and I asked her whether she could help me to start this organization for women empowerment. She agreed to help me out, and we both started this organization called Bharat GirlUp, affiliated with the UNO Foundation. She is the President and founder, and I am the Vice President and founder.
So Bharat GirlUp is an organization that works for women empowerment and women's inequality. We organize campaigns, seminar sessions, and competitions both online and offline. We do it to spread the word 'Equality' and let the world know that equality is not just a word written in the constitution but must be applied in the practical world as well. It has been more than a year, and we have done lots of things like doing 500+ events to support the idea of equality.
Message for Children
Mudit is the perfect role model for children. He has an immense concern for them. He dreams of a modern India that has a practical viewpoint. He thinks that:

Children should just explore themselves.

Children should not compete with anyone but with themselves.

Children should be the best version of themselves and work for that

Not being a career mule but being with a creative mindset, out-of-the-box thinking, Entrepreneurial Mindset.
My Thoughts
I came to know about Mudit Pathak through my brother. I had thought that he was just another talented youngster. But meeting him was a learning experience. Rarely, you get to meet a young man full of ideas and determined to bring a positive change to the country, and I am sure that with his effort, the time is not far when India will be known as a developed country! Hats off!
You May Like