Marketing Strategies from the Biggest Food Chain - Barbeque Nation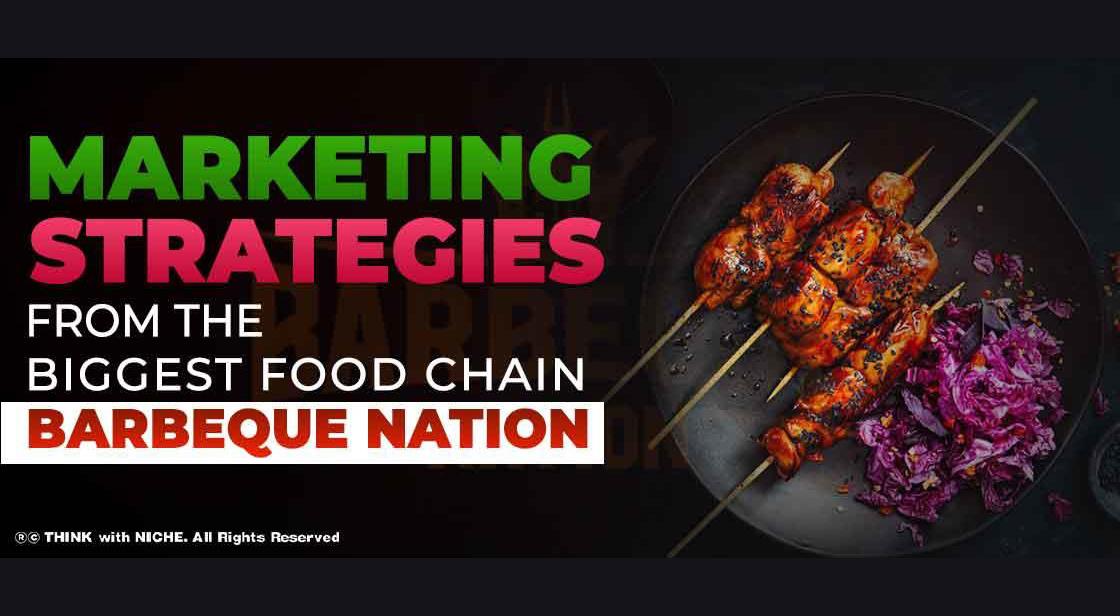 Many restaurant businesses come and go, but it takes a strong vision and unwavering determination to get to where Barbeque Nation is now. Under the guidance of Kayum Dhanani, who is currently the company's Managing Director (MD), the restaurant chain has grown by leaps and bounds. #ThinkWithNiche
Continue Reading..
Barbeque Nation has more than 130 locations around the country and has yet to close a single one, demonstrating the chain's profitability. In an interview with Entrepreneur, the company's CEO, Kayum Dhanani, stated that 95 percent of their outlets are successful, with the other ones taking 6-12 months to break even.
Location
Barbeque Nation does not always seek out 'affluent' locales to open a franchise. An outlet can be found in any conventional shopping mall or street. The restaurant has been able to maintain a reasonable rent-to-revenue ratio as a result of its flexibility. Its rent-to-revenue ratio is 10% lower than that of other casual eating establishments.
Price
Barbeque Nation has always been careful not to overcharge for its products. The live grill and a full buffet were priced at INR 450 per person in 2006. At INR 599 per person, the pricing is still very reasonable after twelve years.
Targeting customers in small cities
Barbeque Nation isn't simply a metropolis phenomenon. They also have locations in far-flung locations such as Jammu and Guwahati. Since 2016, they've been concentrating their efforts on tier 2 and tier 3 cities.
According to reports, by the end of 2016, the corporation has opened 64 new locations in towns, including Meerut, Madurai, and Tirupur. Barbeque Nation's turnover has increased dramatically as a result of this relocation. Profits increased from INR 4.3 crore in 2013 to INR 10.2 crore in 2017.
Taking customers' feedback seriously
Customers are the ones who can make or break a company. Keeping this in mind, the organization collects feedback from 20 percent to 25 percent of the tables via an online connection within 24 hours.
All team members, regional managers, the CEO, and managing directors can see this input, which the corporation refers to as the "Guest Satisfaction Index." When a consumer posts a poor review, the regional manager meets with them in person to remedy the problem as soon as possible - even if it affects other customers. The CEO contacts the customer if the regional manager is unable to settle the issue.
Presenting the local flavor
In an interview, Kayum Dhanani, the current CEO of the company, revealed that they were having trouble with their Lucknow branch at first since clients didn't enjoy the taste of their biryani. He took over the company after his elder brother Sajid died in 2012. They quickly learned that the "Mumbai-style" biryani they were preparing was unappealing to the Lucknow residents. As a result, the company engaged a local chef who was well-versed in the local cuisine and was able to produce exactly what the customers desired.
International expansion
Barbeque Nation isn't only for Indians. It also has locations across the Middle East and North Africa. Because most Middle Eastern countries do not impose any taxes, the corporation generates a large amount of revenue in the former region. The firm is now preparing to expand into Malaysia, Nepal, Sri Lanka, and Bangladesh.
Conclusion
When Kayum took over the restaurant business following the death of his brother Sajid, who launched it in 2006, there was a lot of pressure on him to deliver. Despite all of his professional challenges, Kayum has led Barbeque Nation to the peak of achievement. Barbeque Nation's success story and case study will be studied in depth by up-and-coming businesses for years to come as more retail stores open across the world.
You May Like