Learn and Explore the Content Management Framework for the Government of India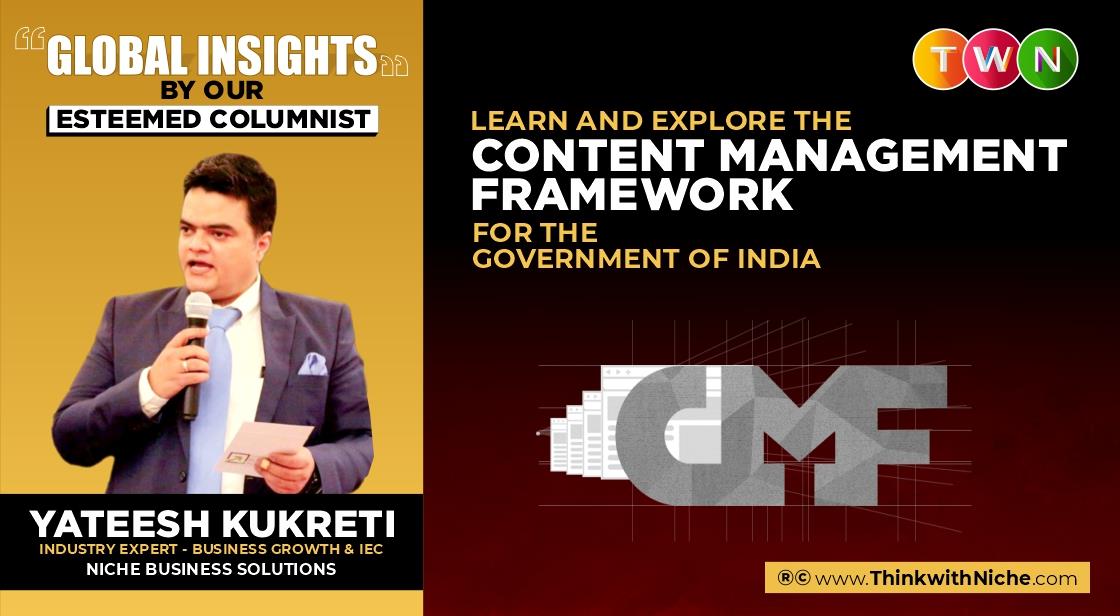 This Knowledge Blog is to highlight the purpose of strategizing and incorporating a Content Management Framework #CMF for the Government of India. In this Blog #TWN will cover the best practices stipulated in the CMF.
The Content Management Framework was envisioned as a standardized framework that should be used for the websites and portals #DigitalPlatforms of Central Government Ministries and Departments. Content Management Framework comes under the Digital India Programme for Government Websites.
It is imperative that Government Websites implement qualitative and quantitative transformations as a result of the changing expectations of users, given the increasing diversity of the ICT Landscape.
It was envisioned that Central Government Websites would be able to use a standard framework to improve their presentation, usability, and consistency.
#GovernmentOfIndia #MyGovIndia
#ContentManagementFramework #ICT
#Presentation #Usability #Consistency
Continue Reading..
The Content Management Framework (CMF), a project to standardize and improve the presentation and delivery of content on Central Government Ministry/ Department websites, was initiated. CMF will be used to develop citizen-centric, universally accessible websites by 100 Central Government Ministries/ Departments.
BENEFICIARIES AND TARGET GROUPS:
Both Government Departments (1) and Citizens (2) will benefit from the implementation of CMF:

1. GOVERNMENT DEPARTMENTS
The CMF scheme is designed to make Government websites more user-friendly, accessible, and user-centric. This will help Web Managers to understand web design and technologies better and improve the management of their portals and websites. They will be able to get high-quality websites built at a lower cost and with less effort.
2. CITIZENS
Websites that are CMF-enabled would be a huge benefit to citizens, businesses, and the Indian diaspora. Users can search and navigate easily to the information they need with universally accessible citizen-centric sites. They can also access schemes/ services offered by Government anytime and anywhere.
CMF KEY FEATURES:

GIGW COMPLIANCE- Conformance to the mandatory guidelines of the compliance matrix for GIGW
RESPONSIVE DESIGN- Accessible via Smart Phones, Tablets, and Desktop PC
WEBSITE ANALYTICS- This dashboard allows you to view statistics about website usage
THEMES- You can easily create themes that will make your presentation visually appealing
BILINGUAL- Made available in Hindi and English
SEARCH- Search integrated to make it easy to find content
CMF SALIENT FEATURES:
WEB CONTENT ACCESSIBILITY-
Web accessibility means that people with disabilities are able to use the web in a way that is understandable, navigates, interacts, and contributes. CMF has built-in rule sets and checks that ensure the content is compatible with the web content accessibility guidelines. This makes the site accessible for people with disabilities.

BUILT ON OPEN RESOURCES-
Content Management Framework is a Government Website that uses open-source technology. It facilitates standardization, improvement, and improved content delivery on Government websites. CMF allows static websites to be converted to dynamic portals. A set of functional features and embedded modules are available to Ministries/ Departments upon adoption of CMF.

STANDARDIZED DESIGN COMPONENTS-
The header and footer regions of the website should be consistent and easily identifiable to make it easy for people to navigate around the pages. CMF provides a standard header and footer that can be used on all websites. This ensures #consistency in the format of Government Websites. However, it is flexible enough that #customizations can be made to suit the needs of each Ministry/ Department.

SEARCH-
A Search Function that is efficient allows users to quickly find the information they are looking for. CMF offers a comprehensive website search feature that allows users to search within the site efficiently.
CMF LATEST UPDATES:



Latest STQC Certified Websites- Department of Industrial Policy & Promotion, Department of Agriculture Research and Education & Department of Financial Services.
Latest Launched Websites- Department of Fisheries & Ministry of Coal.

This Blog Post was curated for citizen awareness on the proactive and responsible strategic outlook of the Indian Government towards developing Smart Technology Emidded Web Interfaces (IEC) for the Government and its Departments.
In case there is any valuable inputs or concerns or query related to this blog post, kindly email us at editor@thinkwithniche.com
#ThinkWithNiche
#TWN #IEC
#BestPractices #WebContentAccessibilityGuidelines
You May Like