Know How InMobi Became First Indian Unicorn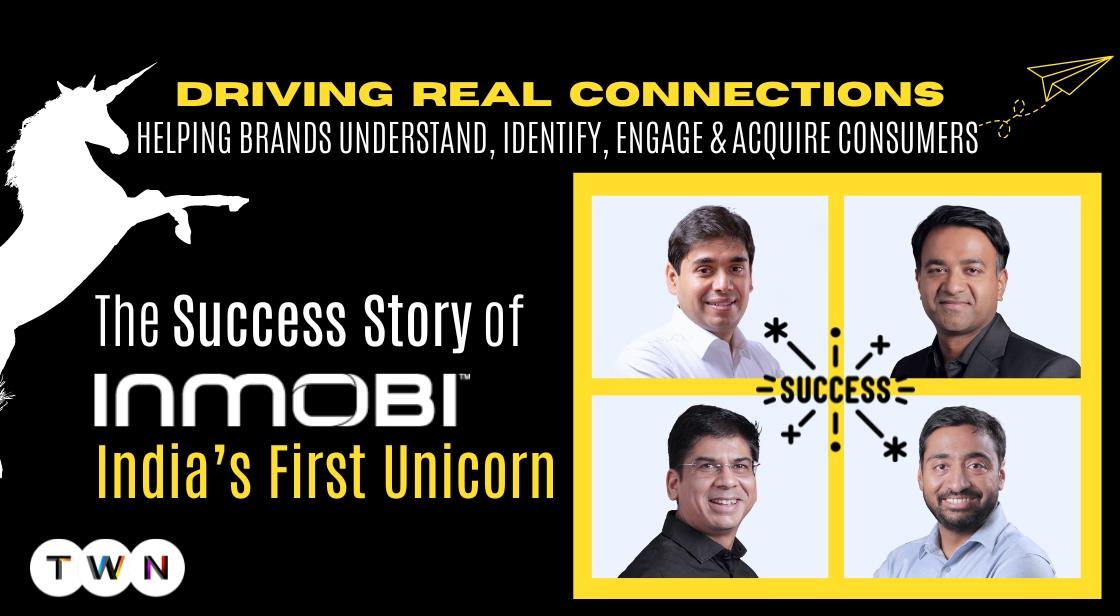 InMobi was founded at a time when the term "start-up" was increasingly becoming commonplace in everyone's everyday interactions. InMobi had already reached new heights before the start-up culture took off. It was launched in 2007 as mKhoj, an SMS-based search and monetization startup in Mumbai, by Naveen Tewari, Mohit Saxena, and Abhay Singhal, and its name was changed to InMobi in 2009.
It grew to become one of India's most successful mobile marketing and advertising platform providers, with a global reach and an impact on over a billion people's lives. SoftBank, Kleiner Perkins Caufield Buyers, Sherpalo, and the University of California all made investments in the startup in collaboration with Ratan Tata. In 2011, InMobi became the first Indian unicorn startup company. Tewari recently spoke on the ups and downs of developing a multi-million dollar company at the Ascent Conclave 2019.
Continue Reading..
InMobi, a mobile advertising technology startup, is India's first unicorn, but it wasn't achieved overnight. Behind its achievement is a long narrative of struggle, sacrifice, and strategy. To make a long tale short, if we walk into the Inmobi office today, we will find workers working on computers who are barely in their twenties. The open workplace is filled with the delicious scent of freshly brewed coffee, and the conference room has the odd name 'out of the blue'.
There is a separate area with sporting amenities, including cricket nets. Naveen Tewari, the founder and CEO of InMobi, is a cricket lover, therefore the existence of cricket nets comes as no surprise. He used to play cricket, and he still does when he has the time or at least watches a cricket match on television and the IPL in the Bengaluru stadium.\
How Did InMobi Begin?
InMobi is now situated in Bengaluru, however, it began in Bombay as mkhoj, a Business Startup. mKhoj was a business concept focused on monetizing SMS, whereas InMobi was focused on mobile phone advertising. That would be an interesting idea at a time when internet use was increasing.
So why the shift? The creators believed that mkhoj may become a profitable mid-sized firm, but that it could not grow into a major enterprise. Of course, the founders did not abandon everything in their late twenties to start something small. Yet, if they stick to mkhoj, their success will be limited. While the difficulties of entrepreneurship are the same, why not aim for something big?
The founders faced a difficult dilemma because they had already invested everything they had in building mkhoj and altering the business strategy would be extremely difficult. The founders used to spend more than 18 hours in a room contemplating the next move during this time. They were certain that there will be more smartphones in the future, and that people would utilize different sorts of content on their phones, therefore InMobi would be a wonderful business concept.
Initially, their concentration was on Asia since they saw it as a bidding market rather than North America. This was their incorrect assumption. Now, over half of InMobi's business is in America, 20% in China, and the rest in Asia and Europe. Therefore, now that they had a comprehensive transfer in mind, they decided to change the location as well, because they needed high-quality engineers in huge numbers, and Bengaluru was the greatest fit.
Naveen says they are delighted they made the choice to relocate the business to Bengaluru since they discovered the greatest quality of engineers, product skills, and design talents, all of which contributed to the company's success. Several skeptics questioned the prudence of establishing a product firm outside of India that was not well-known for its product expertise. Nonetheless, this choice was critical to InMobi's success, and it was this decision that propelled the firm to the status of a Unicorn Startup.
About InMobi
InMobi is a B2B SaaS company that provides a full-service advertising and marketing platform. From the standpoint of the end user, InMobi allows them to freely use the content. This was achievable due to numerous advertising and marketing techniques. In addition, the organization collaborated closely with the advertisers to guarantee that they receive their money's worth when supporting the content. The software was built to make things run smoothly. It means that advanced technology and artificial intelligence were utilized to ensure that advertisers' money was spent wisely in order to improve the customer experience.
The Key to InMobi's Success
There are various reasons for Inmobi's continuous development and success. As a company beginning, the key and one of the most important reasons is that the founders and core staff are still together and have contributed to the company throughout the years. Few firms can claim to have nurtured a culture of continuity for so long. Another factor as quoted by Naveen is 'Innovation is in our genes'. He claims that InMobi would release more creative products in the coming days. According to the creators, the firm is now growing at a pace of 40%. They expect a similar pace of growth to continue in the future.
So far, Inmobi has raised over $250 million, become profitable in 2016, and is able to reinvest the profits in the business. Even the investors have been with the company for a long time. It's longer than they generally commit to any project. It's clear that investors don't mind sticking with you as long as you're producing money and developing.
Once a year, Inmobi asks investors whether they have an exit strategy in mind, so that if they do, the optimal time to execute it may be determined. They will almost certainly go public in 2021.
Achieving the Status of a Unicorn
Inmobi was the first Indian firm to reach Unicorn status and became a Unicorn Startup in 2011. That was a great achievement for the company since it demonstrated that they were right and had overcome all obstacles to get there. This was the reward for all of their efforts, hardships, and, most significantly, inventions. They now have greater motivation to construct something much larger.
Piyush Shah, co-founder of InMobi
Piyush Shah is the Vice President and General Manager of Performance Advertising and Developer Platforms of InMobi. He is in charge of InMobi's worldwide performance advertising business's overall vision, strategy, and execution, which includes assisting customers in acquiring quality consumers through app installations and lead generation products. Piyush also leads InMobi's Developer Platform efforts and sets the roadmap to help global app developers recruit, monetize, and retain users successfully.
He has over 13 years of expertise in entrepreneurship, strategy, business development, product management, and operations, which he contributes to InMobi. Prior to joining InMobi, Piyush worked as an Associate Vice President at Deutsche Bank and as a Product Manager at Citigroup. At Deutsche Bank, he was part of the core team that launched their Payments & Private Banking business in India. He also launched LearningSpiral, an educational site, and youth marketing enterprise, and was named by Business World as one of India's Innovative Young Entrepreneurs.
Piyush works out of our Bangalore office. He earned an MBA in Strategy and Marketing from the Indian School of Business (ISB) in Hyderabad and was chosen President of the Mumbai Alumni Chapter. He earned his Bachelor of Engineering degree from Delhi College of Engineering.
First funding to InMob
In 2006, Mumbai Angels, a financial organization, provided the initial funding for this initiative. After the business model was altered, Naveen Tewari met with the heads of financial institutions in order to generate money for the project. His vision was clear, and he was able to make his point while dealing with investors. This enabled him to move forward with the new initiative.
Kleiner Perkins Caufield & Byers and Ram Shriram's Sherpalo Ventures contributed $7.1 million to InMobi's first round of funding. This was the series A fundraising, which was followed by the $8 million series B funding from the same investors. Softbank invested $200 million in series C funding in 2011, and the next round of investment, totaling $5 million, also came from Softbank in 2014.
Naveen Tewari Founder and CEO InMobi Group
InMobi was founded by Naveen. His idea of continuous innovation and disruption is deeply ingrained in the DNA of InMobians and resonates across InMobi. His ambition is to reimagine advertising in a truly "user-first" manner, therefore unlocking the actual potential of the mobile ecosystem.
He holds a Bachelor's degree from the Indian Institute of Technology (IIT) and a Master's degree in Business Administration from Harvard Business School, where he was also given the Dean's Award for outstanding leadership and achievement. His alma university, Indian Institute of Technology, Kanpur, awarded him with the prestigious 'Distinguished Alumni Award' in 2013 for his entrepreneurship achievements.
Naveen has personally invested in and supported over 30 start-ups in India to date, including NestAway, SlideRule, Mettl, Moneysights, Bombay Canteen, Zimmber, Razorpay, and others. He co-founded iSPIRT, a change agent with the brain of a think tank, with the goal of addressing government policy, creating market catalysts, and improving the maturity of product entrepreneurs in order to convert India into a hub for new-generation software products.
He also created and leads India School Fund, a U.S.-based charity that supports and establishes schools in rural India, a topic he is passionate about.
Naveen is a Paytm board member who has been acknowledged for his entrepreneurial abilities across several platforms. Many prizes and recognitions have been bestowed upon him in recent years:
Awards and recognitions of Naveen Tewari
Naveen Twari's 'Future Leaders Award' was delivered by Indian Prime Minister Narendra Modi 2015.

Fortune's '40 under 40' list of the most powerful, influential, and significant persons in business in 2015.

The award for 'Pathbreaker of the Year,' 2014

Forbes India Leadership Award for 'Best Start-Up,' 2014 '

'100 Most Creative People in the World,' 2014

The 'Pathbreaker of the Year' Award, 2013 presented by Narendra Modi, Indian Prime Minister

'7th Most Important Person' by Business Insider's Mobile Power List, 2013

'Mobile Top 50' in The Drum, 2013

'2nd Most Important Person' by Business Insider's Mobile Power List, 2012
You May Like