Interpreter Is The Best Way To Communicate With The World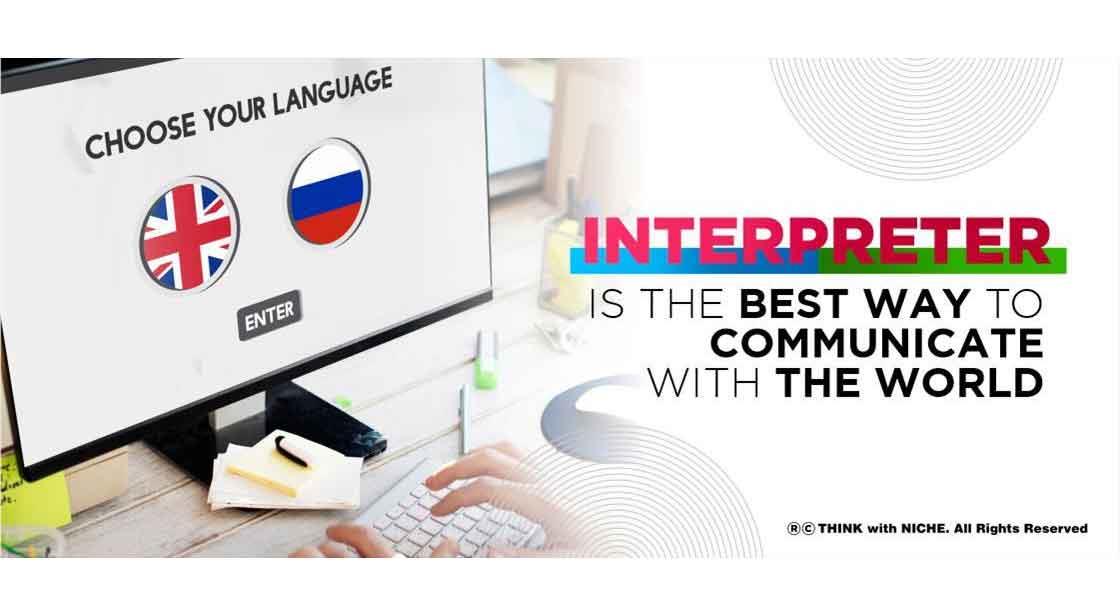 Being a translator is a delicate profession! Therefore, those interested in pursuing it as a career should have excellent interpersonal skills as well as excellent interpretation abilities to better understand the differences between languages, cultures, and individuals. Read the following article to learn more about why interpreting as a career is on the rise. #ThinkwithNiche.
Continue Reading..
As widely known, working as an interpreter can be both rewarding and challenging. You could choose to become an interpreter if you want to be there in the middle of the conversation, assisting speakers of various languages to understand each other in real-time. The job of an interpreter has a lot of good elements that attract new individuals to the field and keep those who have been doing it for a long time interested. There's a good combination of adventure, learning, cultural enrichment, and travel here. If you dislike doing repetitive duties, this is the job for you.
Here are just a handful of the advantages that working as an interpreter will provide
1. Wide Communication
One of the most gratifying aspects of working as an interpreter is assisting people in understanding one other and communicating effectively. The simple thank you or emotion of the people you work with is the finest reward for your efforts in learning a foreign language and perfecting the art of interpretation. One of the most unique advantages of this profession is the ability to convey the correct message from one language to another and therefore break down communication barriers. It is very much satisfying.
2. Learning New Things
As an interpreter, you must keep track of new changes in the world around you. It has to do with the languages you deal with as well as the translation and interpretation technology. By pursuing this job, you are committing to lifelong learning and a variety of approaches and trends. Because of the vast range of interactions with people from various origins and cultures, translators may maintain themselves one step ahead of the competition concerning learning new things.
3. Mixing up with New Cultures
As an interpreter, you will be required to travel to several places and countries. This is ideal for those who enjoy traveling since it allows them to see new locations while learning more about their culture and traditions. That is why learning about them is so interesting. These civilizations and languages today number in the thousands. By acting as an interpreter, translators gain access to the mouths of these languages and learn things about them that only native speakers are aware of. Translators are among a company's most valued and knowledgeable workers.
4. Countless Options for Work Settings
As an interpreter, you might work in a variety of settings. Corporate interpretation services are the most prevalent, with many conferences, seminars, educational institutes, business locations, and other areas using them. Interpreters are also required in hospitals, and courtrooms, among other places. You have the choice of working full-time, part-time, or as a freelancer, which provides you with a lot of flexibility. It's also one of those areas where people who wish to work freely or prefer working autonomously can find plenty of chances. Working as a freelancer or for an organization allows you to build a solid professional career that is not dependent on co-workers or the whims of the employment market. Because of the global nature of the work, the translator must create relationships and links all over the world to turn their vocation into a fully-fledged business.
5. Increasing Demand
As the globe becomes more of a global village, more and more businesses are forming partnerships or affiliating with other international businesses to expand their market. Corporations rely on interpreters to persuade foreign companies to spend their resources. Therefore, to expand their business, corporations are hiring more and more translators. Interpreters who can work in many languages are in higher demand and are paid more. Because of the great demand, those who are talented can find a job immediately soon.
6. Excellent Income Option
International corporations now engage translators and pay them substantial fees to assist them in communicating with individuals of other languages and cultures, as well as acting as a medium to decipher various languages. As a result, translators do not need to be concerned about money because they may earn a solid living by working with businesses.
According to certain US Bureau of Statistics estimates, the need for interpreters and translators is anticipated to rise at a pace of 46 percent between 2012 and 2022. Furthermore, according to PayScale, the hourly wage ranges from $11.80 to $39.24, with a typical rate of $20. There is also a bonus for working overtime. For example, a translator has a lot of expertise in dealing with international clients while working. Therefore, firms may utilize these translators to acquire project bids from foreign companies. If the project proposals are approved, the translator may be eligible for a large bonus or incentive, and if the firms do not reach an agreement, the translator will be paid the agreed-upon salary for work.
However, there is a procedure for becoming an interpreter. Here they are:
1. Devote Yourself To Learn New Languages
Achieving professional-level fluency as an interpreter is almost impossible unless you grew up multilingual. Even though there are many innovative techniques to aid language learning, such as utilizing Duolingo or creating and translating children's stories, it is still a long-term commitment. You must be dedicated and enthusiastic. To interpret professionally, you must have a superior level of language knowledge. Because mastering only the essentials might take months, you must keep yourself motivated to strive.
2. Select Your Field Of Interpretation
Interpreters operate in a wide range of professions, with some specializing in certain types of translation. You must be aware of the various job options accessible to interpreters.
Health care interpreter – You might help speakers of different languages comprehend their diagnosis, prognoses, and treatment options as an interpreter at a hospital or medical office. Medical interpreters are another term for health care interpreters. Hospital interpreters are those who work primarily in a hospital context. Working as a medical translator necessitates a thorough understanding of specific medical languages.
Court/legal interpreter – A court interpreter, similarly a medical interpreter, must operate with extreme accuracy and caution. The consequences of court proceedings might have severe implications on your clients' life.
Business interpreter – An interpreter for business might assist firm owners in negotiating with one another or management in communicating with staff who speak a different language.
Diplomatic interpreter – Diplomatic interpreters are also required during international meetings, such as those between heads of state. Although not all international meetings are diplomatic, some of them may be business-related or professional conferences, diplomatic interpreters can also be conference interpreters.
Travel interpreter – Travel interpreters assist tourists in navigating linguistic and cultural hurdles in a foreign country, helping them to have more effective international travel experiences.
3. Certificate And Experience
You are always welcome to study any of the numerous on-demand international languages. Chinese, Korean, Russian, Spanish, French, and more languages are available. You must study the language of your choosing, and there are a variety of courses that provide certified training. Certification isn't required for many forms of interpretation. Having formal certificates, on the other hand, can boost your employment chances and help you make more money. Different internships may always help you get to experience as an interpreter.
4. Education
Most individuals are aware that a medical degree is required to become a doctor. Law school is required for aspiring attorneys. The training requirements for interpreters aren't always obvious or not any fixed path. In many situations, obtaining a bachelor's degree is a criterion for working as an interpreter. There are numerous options available to you if you are pursuing a bachelor's degree intending to become a professional translator. A Bachelor's or Master's in any kind of language course along with any subject is absolutely fine. Many universities offer various international language courses in academics.
5. Great Listening Skills
Even if you have native-level proficiency in your second language, you may occasionally misunderstand something. Of course, you'll want to reduce the odds of this happening, especially in a professional setting, by actively strengthening your language listening abilities and learning to avoid frequent listening errors that might erode your confidence. Low listening skills will loosen your chance to interpret properly.
You May Like