Ideas For Restaurant Interior Design That Will Surely Attract Customers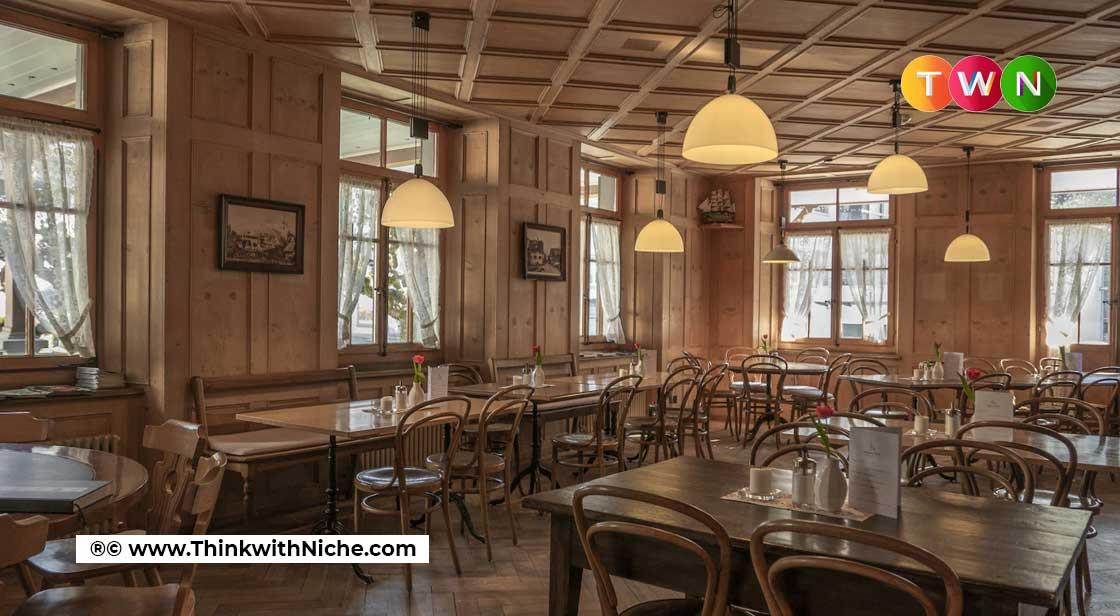 Are you a restaurant owner? Then before taking care of anything else learn how to win your customers' hearts. The interior design of the restaurant is an important thing that creates your first impression. So, quickly read the article below and make your restaurant memorable.#ThinkWithNiche
Continue Reading..
Restaurant businesses always need great attention to attract customers. One sentence can be the guide for attention-seeking, that is "Design your Restaurant and make a great first impression to the customers.". It is not enough to set the outside sitting neat clean, and colourful but the interior design also matters. It must remain as an unforgettable impression upon customers. Let's look into some of the ideas that will surely attract customers

1. Display The Local Art
If you are thinking of a unique idea to design the interior part of your restaurant, then here is a great idea for you. Use local art and culture as the design theme. Suppose you are targeting senior citizens, you can use mythological images and wall paintings. This will surely leave an impression on their mind. You can stick to one single theme or can use multiple themes for decoration.

2. DIY Lighting And Decor
DIY art and crafts have a very good demand and attraction nowadays. In the restaurant, the creative lighting can have a great impact. The light must not be too dark or too bright. The light should be sober and to make it unique you can use DIY lighting. Paper lights or basket lights, these type of lights looks very beautiful.

3. Unique Seating Arrangement
Don't make the seating arrangement like normal people do. Don't set it at the row or column-based seat. Try to arrange it in a different good-looking style, in a separate shape. You can arrange them in a diagonal order, in a heart or diamond shape.

4. Designer Wall Painting
Don't paint the wall just in a single colour, it will make no difference to an office wall and restaurant wall. People come to the restaurant to release their stress, to make fun. So, give it a different look. Paint the walls with some pictures, using colourful looks.

5. Greenery
The colour green always has a soothing effect. It can be stress-reducing and have a calming power. Use natural, designer green plants to design the interior of the restaurant. It will work as a showpiece and can have a unique modest look.

6. Photo Or Selfie Zone

People love to take photos and selfies while visiting any place, especially the young people who tend to click pictures wherever they visit. Design your restaurant in such a manner that every corner looks so perfect for taking pictures. You can keep or design a separate selfie zone , It will surely be impactful and memorable for your customers.

7. 'Write Your Memory' Wall

Don't design the whole wall as you use. Visiting your restaurant can be a memorable visit for your customers. Create a wall named a " Memory Wall", where the customers can write down their small memories. Writing memories on the wall is really an amazing idea. People can also feel amused while reading others' compliments. Old customers can recall their memories by connecting with write-ups on the wall.

8. Don't Forget The Ceiling And Shelves
Don't ever forget to decorate the ceilings and the shelves in a unique manner. Ceilings are also part of interior design. You can decorate the ceiling with balloons or dim lights or even with small paper crafts, small stars, or something similarly. The ceiling must have to look attractive and also photogenic. Decorate the shelves with small cup plants or flowers or even with small bottles. But make sure to design it with an attractive look.

9. Mirror Wall
To make a luxurious and gorgeous look, you can use mirror walls. Small glass particles, colourful pieces of glass make the look so stunning, it always attracts customers. The mirror wall can be a very unique and attractive interior décor idea.

10. Table Design
Now, last but not the least, the table design. The place where the customers will sit, definitely must be decorated with a cool look. You can place colorful scented candles and also use a flower vase to design the table. It is not necessary to put regular tables and chairs. If you use different shaped tables and chairs it will make your restaurant look more attractive and unique.
And lastly, DON'T FORGET TO KEEP THE RESTAURANT NEAT AND CLEAN.

You May Like