How Can You Prepare For A Recession In 2023?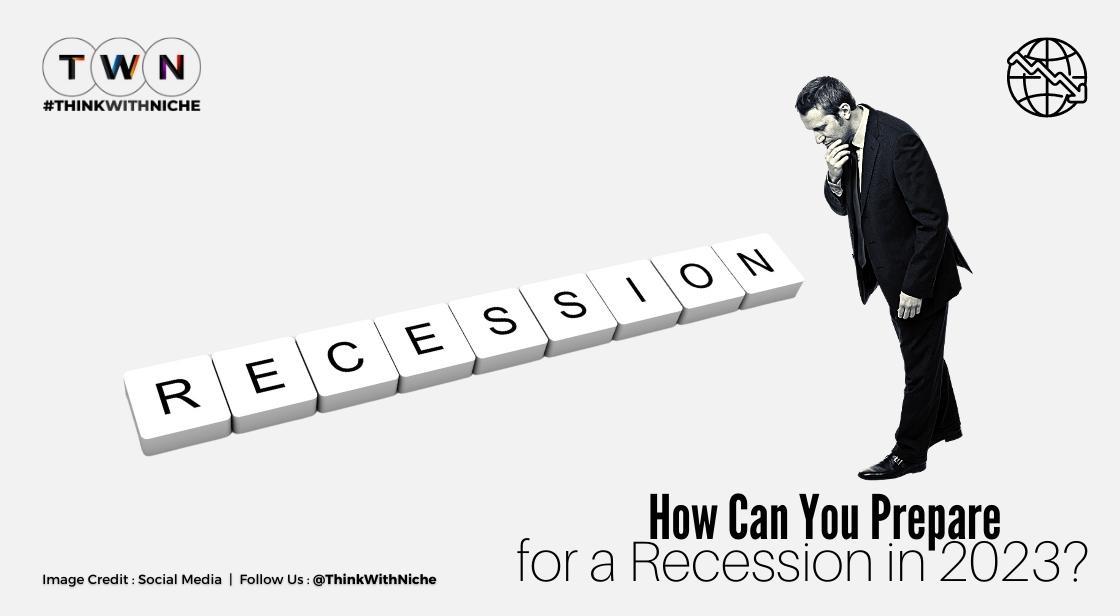 A recession, according to the National Bureau of Economic Research, is a prolonged period of declining economic growth or economic collapse. Over time, the economy of a country or the entire world is affected.
Did you know that India's unemployment rate during the most recent recession was the highest it had been in 45 years? Unsettling, huh? especially in light of the recession's impending threat in 2023. One should be ready for it whether it happens or not. Hence, in this article, we'll examine a checklist on how can you prepare for a recession In 2023?, as well as what it exactly means, the signs of one, mistakes to avoid during one, jobs that are recession-proof, the answer to the question "Is a recession coming to India?" and more.
Continue Reading..
The world economy had a year that was like riding a roller coaster! After two pandemic-hit years, the majority of sectors have only recently begun to show signs of recovery. Sadly, economic sentiment has once again been harmed by Russia's invasion of Ukraine, a crisis in the cost of living brought on by inflationary pressures, and the slowdown in China. There are rumours that an economic recession may hit us as 2023 draws near.
We'll talk about what a recession is. if we're actually in one, and how to manage it in this post.
What is a Recession?
A prolonged period of the economic downturn is known as a recession. Indicators of it often include a reduction in the GDP, an increase in unemployment, and a decline in consumer expenditure. The gross domestic product (GDP) is the total market value of all finished products and services produced within a nation's borders over a given time period.
The majority of economists agree that a technical recession occurs when real GDP growth (or inflation-adjusted GDP) falls for two consecutive quarters. It might be brought on by a drop in company investment, an increase in interest rates, or a reduction in consumer confidence. People will have to pay more to repay loans when interest rates are raised or the cost of borrowing increases, which will lower their purchasing power. People will have less money in their pockets to spend, which will result in lower income for businesses.
As a result, firms can find it difficult to survive a recession. Finding or keeping a job can be challenging for some people. Governments may be required to offer more financial aid or stimulus packages to individuals and businesses. India experienced a recession in FY21, similar to most other nations, as a result of the government's stringent lockdowns designed to stop inflation.
Indicators of a recession
To evaluate whether the economy is in a recession or not, economists and analysts look at five indicators:
GDP declined for two or more consecutive quarters.

A decrease in customers' real income or purchasing power.

Retail and wholesale sales of items adjusted for inflation.

The robustness of the manufacturing industry (whether there is a trade surplus or deficit)

A high unemployment rate (the economy is already in a recession if the rate is 6% or higher.)
Mistakes to avoid during a recession
Making a list of things you shouldn't do during a recession is just as important as planning for one. These are the leading five items. –
Avoid taking on any new debt.

Don't let fear influence your financial decisions.

Remember to establish and maintain an emergency savings account.

Keep your fixed expenses from rising.

Don't forget to prepare a fallback strategy.
What Causes A Recession?
Several things can lead to a recession. Increased interest rates, a stock market crash, decreased industrial productivity, a decline in purchasing power, poor economic management, war interruptions, a credit crisis, and the unnatural disaster of deflation are a few of these issues.
Recession-proof jobs
Certain jobs are immune to economic downturns. They are typically less erratic and may even see growth during turbulent economic times. For instance, during the Covid epidemic, the telehealth and cleaning industries have experienced tremendous development. The following six industries are recession-proof:
Health care

Public safety

Education

Utilities

Financial services

Social work
As previously noted, you can begin training for any of these recession-proof jobs to put yourself one step closer to protecting your future from a global slowdown.
Will 2023 See a Recession?
A global recession is expected to start in 2023, according to a number of financial professionals and organisations (including the Centre for Economics & Business Research). WHY? Actually, a number of things, including increased interest rates (to fight inflation), trade disputes, and unrest in the world of politics, can cause an extended economic slowdown.
In reality, the International Monetary Fund (IMF) forecasted weak worldwide growth in its annual economic forecast for 2023. It focuses on three issues: the impact of Russia's invasion of Ukraine, the long-term consequences of the Covid-19 pandemic, particularly in China, and rising inflation and tight monetary policies. We might now be paying for our efforts to lower inflation to more manageable levels!
Although you have no control over the market, you can learn how to anticipate risks and safeguard against losses. Here are five suggestions to help you prepare your work life and portfolio for a recession. This list can be used as a checklist to see if your financial situation is recession-proof.
1. Determine your financial priorities in step
The initial step in determining your financial wellness should be a review of your own finances. Review your financial objectives and goals in light of your present income and outgoings as you move along.
2. Focus on budgeting
One of the best methods to stop wasting money is to review your budget each month. Find out where your money is going and eliminate it. It is always beneficial to get the assistance of a financial counselor for this important step because it will help you manage your financial health.
3. Build an emergency fund
As recommended by the majority of investors and financial gurus, you should have enough money set aside for emergencies to last you three to six months. Your emergency fund savings should not jeopardise your retirement plans. In the event of unemployment or an emergency, it can keep you afloat. Due to growing inflation and the potential for a recession, adding more money to your emergency fund can be beneficial in the long run.
4. Paying down high-interest debt should be prioritised.
With a small monthly payment, debt may make anything appear more reasonable, but you are actually paying more than the retail price. Also, it is preferable to have as little debt as possible when getting ready for a recession. You can start accumulating financial reserves and paying off debt as soon as today.
5. Invest in yourself
A wonderful method to increase job security and guard against decreased income during a recession is to invest in your career. Here are some strategies for doing so:
To improve your present work possibilities, pick up new skills.

Learn to enter a field in healthcare that is recession-proof

Create your personal brand.

Improve your abilities to create additional income streams through freelancing.

In order to fully control your financial situation and steer it in the direction of your objectives, you can also learn about personal finance and money management.
You May Like