Green or Eco-Friendly Wedding Ideas!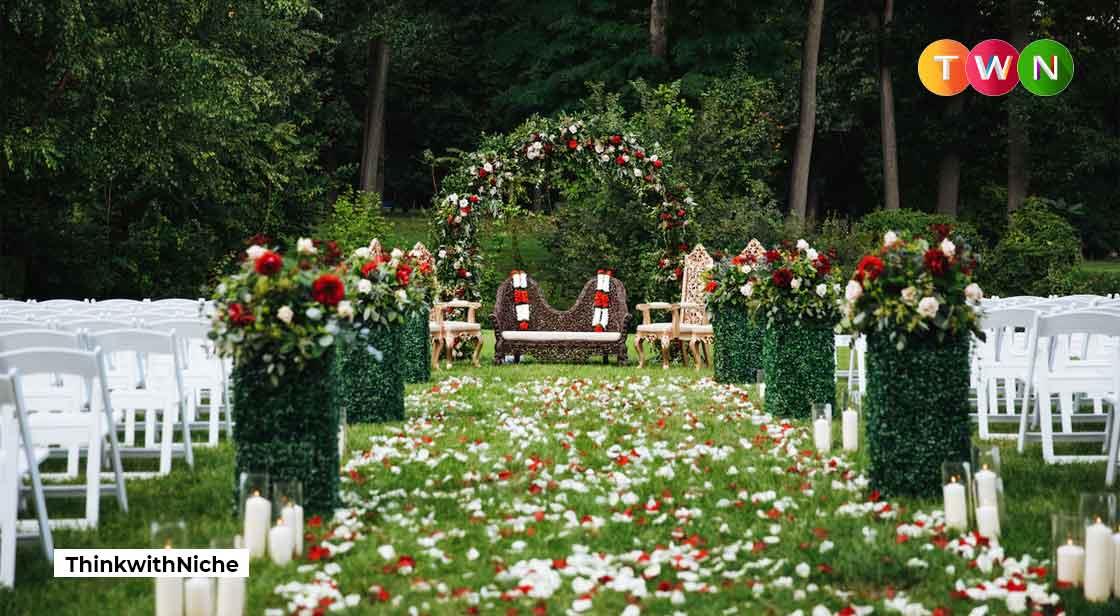 We have suffered heavily during the Covid-19 pandemic that also taught us many things. One of them is the value of Sustainability. It is the reason, perhaps why couples are now opting for a Green or an Eco-Friendly Wedding! A Green Wedding protects the environment, renders a message, and enhances the beauty of getting married. Let us learn about some Green Wedding ideas! #ThinkWithNiche
Continue Reading..
How many times have we heard the phrase 'The Big Fat Wedding'? In our culture, a wedding is one of the most costly affairs. Everything is done lavishly, from the venue to the invitation cards to the outfits to the cuisine! It is such an elaborate show of wealth that it becomes the talk of the town! What is the bride wearing? Have you heard the cost of her ring? These are designer weddings, full of glitter and glory!
Now we are in the post-Covid-19 era, and its shadow is looming large on our lives. We all have suffered during the pandemic, whether mentally or physically. We have not yet recovered from it, but we have now realized the value of Sustainability. We understand that for healthy living, it is essential to protect the environment. Due to this reason, some aware couples are opting for a Green Wedding! One of them is the famous Bollywood actress and social worker Dia Mirza and her husband, Vaibhav Rekhi.
As Dia Mirza says, "So making it sustainable would entail going local, and it also makes it just more easily accessible, earthy, and beautiful." So why wait? Let us learn more about some ideas for an eco-friendly wedding, or shall we say 'The Grand Slim Wedding'!
The Grand Slim Wedding'
An Eco-Friendly Wedding does not mean to be a wedding that is dull, boring, and short of sparkle. It is grand in the real sense! You can think of various organic items and make it grand! It will be a beautiful and memorable experience. Slim reflects in the expenditure. It means less expenditure. So 'The Grand Slim Wedding' is the same as 'More Elegance in less Expenditure wedding'! What say!
A Vintage or Reusable Gold Engagement Ring!
So let the festivities begin! We start with the engagement ceremony and what it needs is a beautiful gold ring! But little do we know that the making of gold jewelry causes a lot of damage to the environment. According to the World Gold Council, every metric ton of gold emits about 32,689 metric tons of Carbon Dioxide during mining. The amount of pollution it infuses into the environment is beyond imagination! For this reason, some eco-conscious couples opt for Vintage engagement rings and jewelry. This ring can be an old ring belonging to your family. You can also take the ring and melt it into a gorgeous new piece. This way you get many benefits. You protect the environment, reduce the expenditure, and best of all, you take the family tradition forward.
Eco-Friendly Invitations
For an eco-friendly wedding, the invitation cards must also be eco-friendly! So we must choose invitation cards made with recycled paper. They are E-Invitation cards also, but they lack the feel of love and closeness! Better still, we can choose a very new and unique paper called the Seed Paper. The seed paper sprouts into beautiful flowers when sown in the soil. Isn't it beautiful? It would become memorable! Other materials are fabrics or wood. They are sustainable, and your guests will never forget your wedding!
Natural Beauty as the Venue!
A Wedding is an occasion to celebrate love! What better than to share the happiness with your near and dear ones in the lap of natural beauty? What better to have the waves dancing in approval or the mountains singing a chorus in happiness! It will save money and give your loved ones a moment to remember! Dia Mirza chose her garden as the venue for her wedding. While Nupur Agarwal, a marketing consultant and social worker in Kolkata, chose the beach! The only condition is to avoid littering.
Sustainable Wedding Outfits & Accessories!
The Brides and Bridegrooms are giving value to Sustainability more than ever! They are giving preference to sustenance over glamour and hence choosing sustainable outfits. Some brides are going for rental clothes and accessories. It saves money also. Others are choosing clothing that is designed and produced in an eco-friendly way.
Eco-Friendly fabrics are used to create Wedding outfits. Breanna Simmons, founder and creative director of eco-conscious bridal wear brand, Nordeen says, "Sustainable Fashion would be clothing that is produced in a responsible way that supports earth to sustain itself rather than harm it!" Some designers are also coming up with Vegan shoes for brides. Now brides are opting for clothing that they can wear after marriage also. Another Designer Carmen Llaguno says, "It was truly important for us to create a dress that would live beyond that one special night - something classic and timeless that I could dress up and keep in my closet for years to come." This sentiment is slowly catching up with the brides, and so a timeless classic is a perfect choice this season!
Décor to Please the Eyes!
Wedding Decoration is one aspect of the wedding which takes a lot of thought. But there are better alternatives to glittering lights. It is not friendly to the environment also. Instead, the couples are choosing eco-friendly decor for their wedding! Seasonal flowers and reusable furniture and materials are perfect for the wedding. It adds a beautiful touch to the decor and does not disturb the environment also.
Gifts for the Environment!
Gifts are an essential part of the wedding. The guests and relatives have a hard time thinking about what to gift the special couple. But no worries here! You can request them to contribute to your charity instead! They can also buy from stores supporting the cause of the environment. You can get various plants, gift hampers, bath essentials, hair care products, and much more. Trust us the special couple would be delighted with these gifts.
Crockery Banks: Plastic-free Treat!
Wedding Festivities take about three to four days. While the catering company presents plastic-free crockery at the wedding, there are other functions where snacks and drinks are such that plastic plates come into use somehow! However, there are crockery banks that rent plastic-free crockery. You can wash and use them again. They provide it at very affordable rates. Now, these crockery banks are increasingly becoming very popular. Steel utensils or ceramic wares are very sustainable. Ceramic pottery is very colorful and looks beautiful!
A Sustainable Feast!
How can a sustainable wedding be complete without a sustainable feast? No need to put on your thinking caps! A vegetarian meal is earthy, healthy as well as tasty. So you can have baked and roasted veggies, mushrooms, and soft cheese on the menu. You can support local farmers and go for seasonal vegetables. Your remaining food will not go to waste as many food banks pick it from your doorstep. So let your guests enjoy your feast without any worries. The taste of this feast will linger on in the hearts of your guests for a long time!
Return Gifts with Love!
Return Gifts are immensely valuable. They are a token of love for the guests and relatives. You want to thank them for attending your wedding and showering their blessings upon you. So the return gifts need to be very special! You can choose handmade items with little messages. You can also give beautiful candles, potli bags, jute bags, and other handicraft items as return gifts. You can also plant a sapling in the name of every guest. It will be heartwarming for them.
An Eco-Friendly Honeymoon !
So it was a perfect event. Everyone enjoyed it a lot! What now? An eco-friendly Honeymoon! After a fun time with friends and family, now is the time to fly with your beloved to the other side of the moon! But then we have to remain eco-friendly, remember? So there are many destinations in the world where you can get eco-friendly resorts like Thailand, France, and the Maldives. They conserve water and energy and refrain from anything that harms the earth. You can visit a Wild Life Sanctuary or a National Park to complete the beautiful cycle! A hand-in-hand stroll on the river bank will enrich your bond of love!
Conclusion
So this way, we end our beautiful journey. Your wedding is supposed to be the greatest event of your life, and by doing your bit for the environment, you will make it the most memorable day for everyone! So try these eco-friendly wedding ideas and let the love bloom in the air forever!
You May Like
Climate Actions and Goals
Climate Actions and Goals

Climate Actions and Goals
Climate Actions and Goals